In Memoriam: Betty Ashbury Jones, MA French '86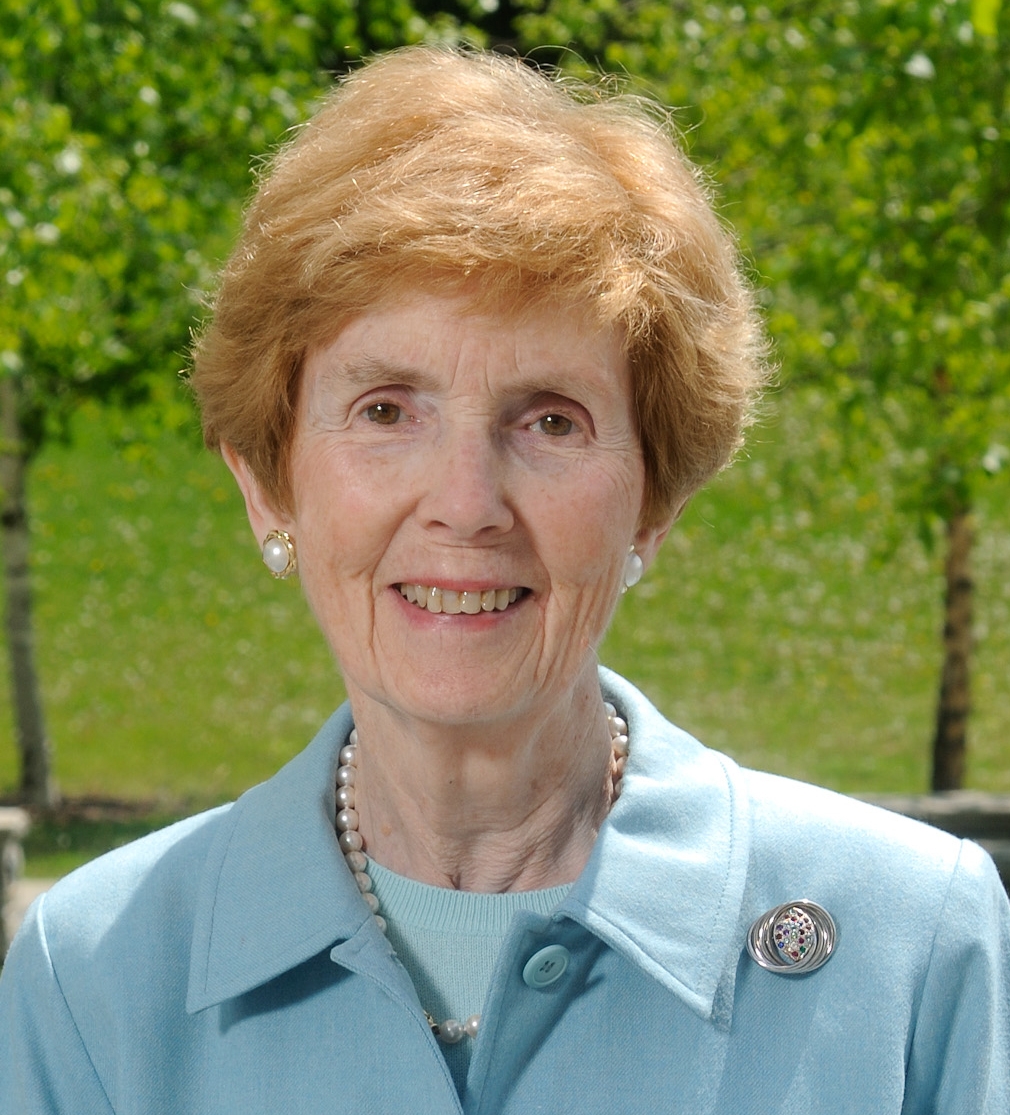 Betty Ashbury Jones, MA French '86
Betty Ashbury Jones, MA French '86, a trustee emerita of Middlebury (1994–2009), alumna of the Language School that now bears her name, and champion of language education, died peacefully surrounded by family in her native Louisville, Kentucky, on Friday, August 16, 2019. She was 86 years old.
"Betty Jones was an invaluable advocate for the power of education and its ability to transform lives," said Middlebury President Laurie Patton. "She stressed that we all should become more engaged with the world, both near and far. Her influence was especially profound in her native Kentucky—and here at Middlebury."
A philanthropist and teacher, Jones possessed what one colleague referred to as a "quiet wisdom" and an outsize presence when advancing the cause of education. The daughter of a teacher, Jones was instructed at an early age to not take an education for granted, a notion reinforced when she was a graduate student at Middlebury.
"When I first met Betty and her husband, David, we had a long conversation about the role of education in American cities and about her experience of graduate study at Middlebury in the 1980s," Patton said. "She emphasized that her focus on the power of learning later in life—a focus that was fierce—was a result of her understanding that for women in the mid-20th century, access to intensive learning environments such as Middlebury was limited, and she wanted to create opportunities for all people to have what she was able to have at Middlebury: the opportunity to explore new worlds and cultures, regardless of one's circumstances."
Born in Louisville, Kentucky, on March 1, 1933, Jones was a member of the last all-girls class of the J. M. Atherton School for Girls and attended the University of Louisville, where she graduated with honors. She married David Jones, a fellow graduate of the University of Louisville, and the couple lived in Connecticut and southeastern Virginia before eventually returning to their hometown, where they would settle and raise five children.
Jones was the daughter of Prosser Lee Ashbury, a pharmacist and proprietor of Ashbury Berman Drugs, and Lillias Hutchins Ashbury, a teacher, who taught at Louisville's Masonic Home School and Eastern High School.
Like her mother, Jones gravitated toward the field of education, teaching middle school in Norfolk, Virginia, and preschool in New Haven, Connecticut, while her husband served in the Navy and then attended law school at Yale.
The couple resettled in Louisville, where David Jones would cofound and serve as chief executive officer and chairman of Humana, a publicly traded health insurance company. While raising a family, the Joneses became active philanthropists in their community, supporting education and healthcare initiatives, and public-private partnerships in their hometown. Upon Betty's passing, the governor of Kentucky, Matt Bevin, stated, "[We] grieve with the Jones family today as they mourn the loss of a truly extraordinary wife, mother, and grandmother. She blessed the lives of many."
A fervent believer in lifelong learning, Jones returned to school once her children were grown, earning a master's degree from Middlebury's French School in 1986. She then returned to the classroom, teaching French for more than a decade at the University of Louisville and Jefferson Community College. Jones subsequently received honorary degrees from Middlebury College in 2009 and the Middlebury Institute of International Studies in 2014.
"Betty has said that her experience studying French at the Language Schools was an intellectual challenge, the likes of which she had never experienced before," read a Board of Trustees statement presented upon the completion of Jones's 15 years as a Middlebury trustee in 2009. "It was during this time, Betty explained, that she learned what really good teaching was. Upon earning her degree, she not only put into practice the Language Schools pedagogy as an instructor of French in her home state of Kentucky, but she became a committed supporter of the institution that informed her view on language education."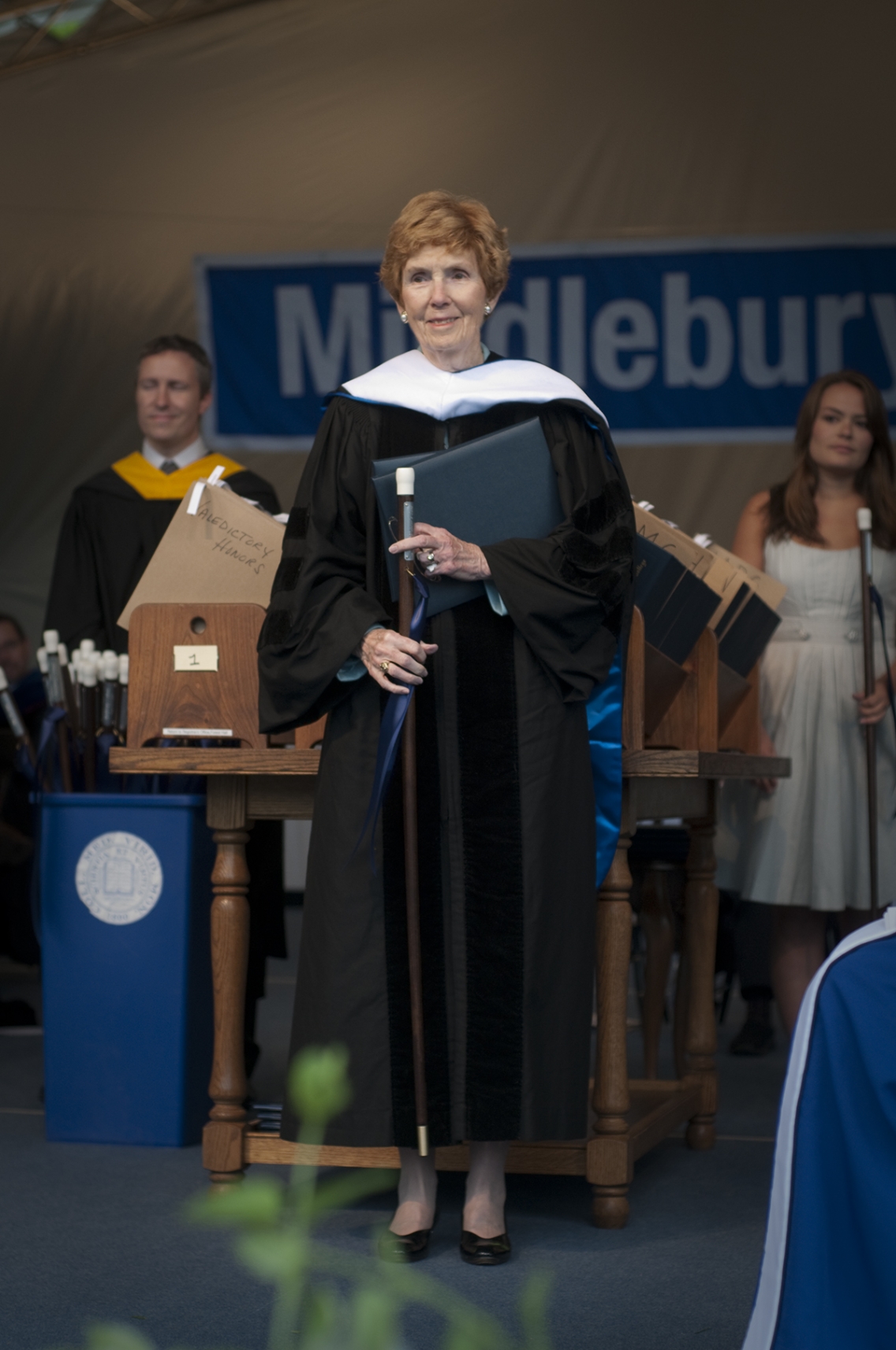 Betty Ashbury Jones, MA French '86 received honorary degrees from Middlebury College in 2009 (above) and from the Middlebury Institute of International Studies at Monterey in 2014. Photo: Brett Simison
As a trustee, Jones chaired the ad hoc graduate and special programs committee and the nominating committee, was a member of the educational affairs committee, and served as vice chair of the conference committee and as a member of the prudential committee.
"Betty's quiet wisdom and abundant generosity defined her, and these characteristics endeared her to us all," said Patricia Judah Palmer '57, a trustee emerita, who served alongside Jones on Middlebury's board. "We knew her as a contributor of good ideas, meaningful advice, and commonsense solutions across the Middlebury spectrum. Her inspirational initial gift to the Bicentennial Capital Campaign established her as a philanthropic role model for Middlebury alumnae in particular. Our Middlebury world without Betty Jones is much diminished."
"As a trustee, Betty was instrumental in helping support and advance Middlebury's mission as a global liberal arts college," said Al Dragone '78, a Middlebury trustee. "As a charter member and then trustee emerita, Betty's influence spanned decades and impacted generations of trustees and senior leaders at Middlebury. Her wisdom, counsel, and holistic view of the institution helped guide our deliberations, and she could always be counted on to offer sage advice at just the right moment. She was a dear friend and colleague, and she will be greatly missed."
Jones and her husband, David, have been among Middlebury's most generous supporters, focusing their philanthropy on teaching, language acquisition, and cultural fluency. Their reach has been broad at Middlebury, with no segment of the institution untouched by their generosity. During the past three decades, the Jones family has supported the Middlebury Language Schools, the Middlebury Institute of International Studies at Monterey, the Bread Loaf School of English, and the College, embracing initiatives that promote and advance multilingual and cross-cultural understanding, with an emphasis on teaching.
In 2015, Middlebury named the Betty Ashbury Jones MA '86 School of French in her honor.
Jones is survived by her husband of 65 years, David, who is a former member of the Middlebury Institute's Board of Governors; five children, Susan T. Jones; David A. Jones Jr.; Matthew L. Jones; Daniel H. Jones, an attendee of the Chinese School; and Carol Jones, herself a former Middlebury trustee and an attendee of the German School and class auditor of the School of Hebrew; and 11 grandchildren.