In Memoriam: Robert (Rob) Pekor

The following was sent to Middlebury College employees in an email from AVP and Chief Information Officer Vijay Menta on February 18, 2020.
Dear Staff and Faculty,
It is with deep sorrow that I write to tell you that our colleague Robert (Rob) Pekor passed away unexpectedly last Saturday, February 15.
Rob was a beloved and revered staff member in our division of Information Technology Services. A full-stack developer, Rob was the one we turned to when facing the most complex systems challenges, the one who posed the questions that made us think in more imaginative ways.
Beginning his Middlebury career as a senior programmer and analyst in 2005, Rob supported numerous departments and projects over the years with the highest level of professionalism, skill, and dedication.
Rob was born February 1, 1960, in Braddock, Pennsylvania, a son of the late Stanley A. and Pauline Sabol Pekor. He is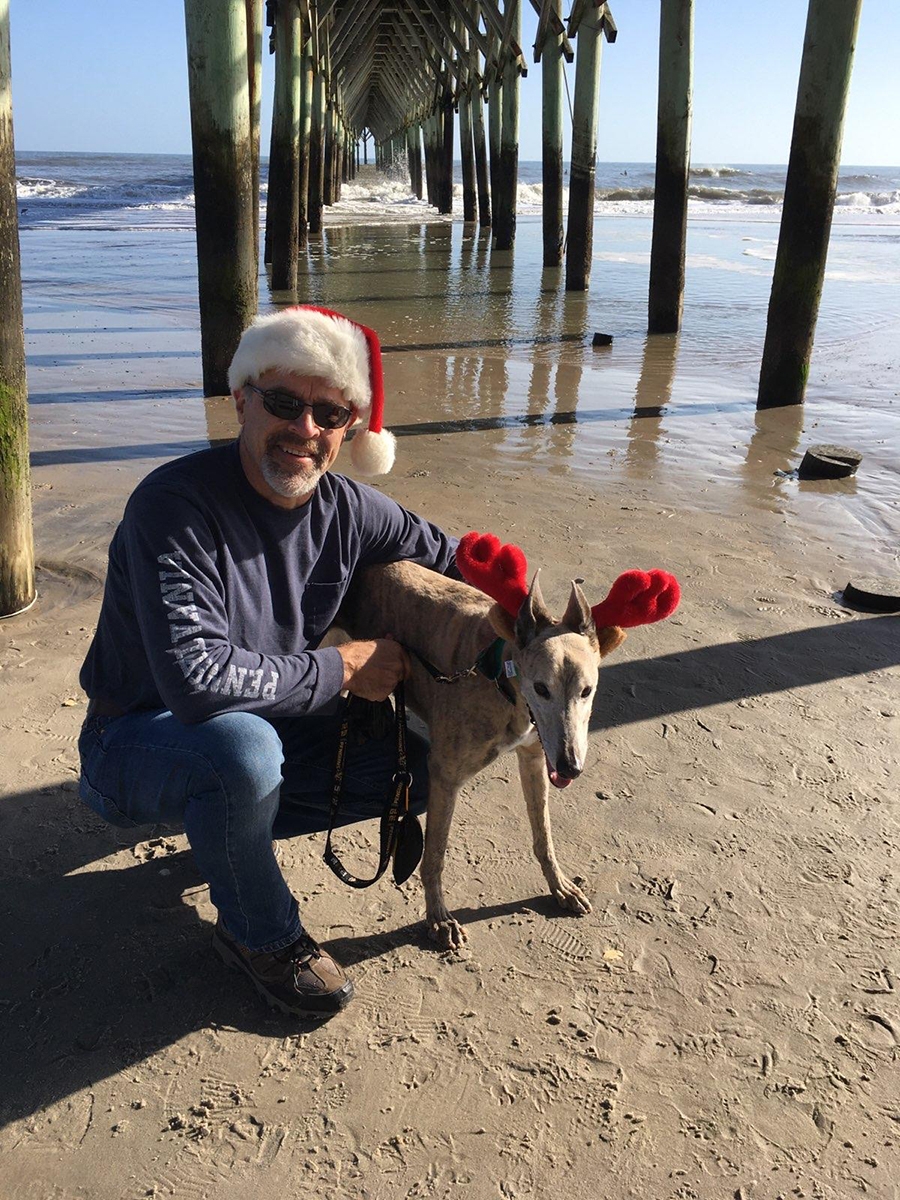 Rob Pekor and his dog Sadie
survived by the love of his life, his wife, Joanne Andrejco Pekor; two sons, Zachary W. and Adam A. Pekor; a sister, Marianne (Sam) Arbutina; six brothers, James S. (Susan), Edward J., Martin P. (Renee), Bernard A. (Kris), Leonard M. (Mary), and David F. (Jennifer) Pekor; numerous nieces and nephews; and best friends David and Mary Morrone. He was the best "Pet Dad" to his faithful companions, Sadie and Moosey.
Rob's former manager, Chris Norris, recalls the "steady head and hand" that guided his colleagues through the thorniest projects. "Whatever the work, he consistently kept his cool," Chris said, "in a roomful of people who each wanted him to work on their issue next!" Rob was "quick with a smile, had a great reputation with customers and peers, and was unfailingly patient." He was a teammate and helped his ITS colleagues realize their personal abilities and deepen their own understanding.
Rob's career accomplishments at Middlebury were many, though these initiatives stand out: his partnering with the Office of Advancement on the Volunteer Module and Gift History, the Banner/ListManager integration project, enhancements to the Agents in Action module, and work on online services for our alumni. Rob's influence extended beyond Middlebury's boundaries over the last 18 months with Middlebury's partners in the Green Mountain Consortium staff, who relied on Rob's expertise to stabilize the Oracle implementation.
"We all looked to Rob to walk through a problem, brainstorm solutions, help us test those solutions, and get it done," said Corinna Noelke, the Consortium's executive director. "Without fail, Rob would answer our calls and, with the help of his dry humor, keep calm in the center of a storm."
Jami Black, associate vice president for Advancement operations, said, "Rob was the person who asked the question no one else thought of and helped us come to a successful resolution. He was incredibly thoughtful and talented, the ultimate team player, always willing to go a step beyond what was needed—and did so with humor and kindness."
We are so grateful that Rob has been part of our Middlebury community.
Vijay Menta
AVP and Chief Information Officer
——————-
Campus Memorial Service and Donations
The Middlebury community is invited to honor Rob's life and memory on Friday, February 28, at 3:00
p.m. at Kirk Center.
In lieu of flowers, donations may be made to Grey2K USA Worldwide, P.O. Box F, Arlington, MA 02476, a greyhound protection organization.
Resources for the Community
During difficult times of stress and grief, we encourage any employee who would like additional assistance to contact the Employee and Family Assistance Program at 800-828-6025 or the Scott Center for Spiritual and Religious Life at 802-443-5626.