In Memoriam: Dr. Jan Knippers Black
Jeff Dayton-Johnson, vice president for academic affairs and dean of the Middlebury Institute of International Studies, sent the following announcement to the Middlebury community on August 17, 2021.
Dear Middlebury and Monterey Communities,
I write with sad news.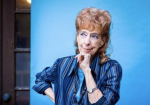 ed away peacefully in her sleep at her home in Monterey on August 15, 2021.
Jeff Dayton-Johnson
Vice President for Academic Affairs and Dean of the Middlebury Institute of International Studies