In Memoriam: Miguel Sanchez-Tortoledo '23
President Laurie Patton sent the following message to the Middlebury community on August 19, 2021.
Dear Students, Faculty, and Staff,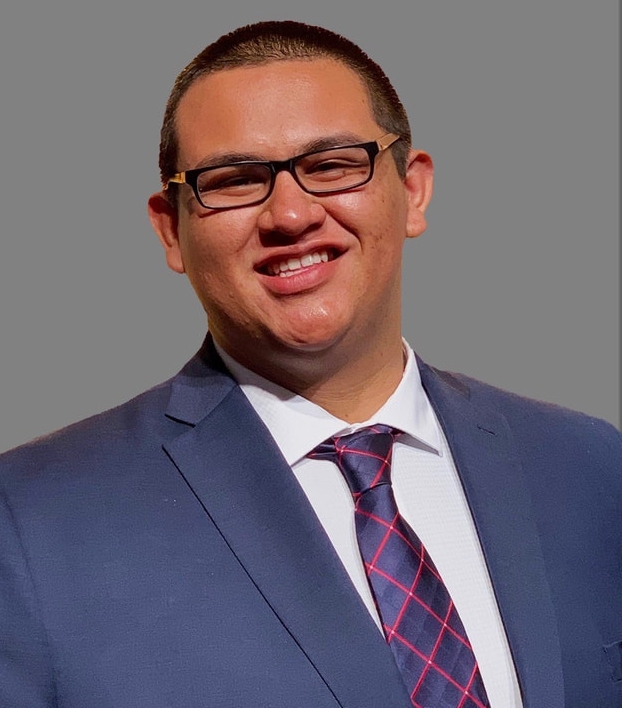 Miguel Sanchez-Tortoledo '23 (Photo: Middlebury SGA)
I write with a heavy heart to share the news that one of our students, Miguel ​​Sanchez-Tortoledo, died this past weekend after a battle with cancer that began last spring. Miguel was a remarkable young man and a standout in our community. I had the personal good fortune to get to know him as a member of our Student Government Association who thoughtfully presented his ideas and solutions about how to make our community better. In his all-too-brief time at Middlebury, Miguel spread love, positivity, and support among all he met, especially his fellow students.
A member of the Middlebury Class of 2023, Miguel was from Bell Gardens, California, and attended Bell Gardens Senior High School, where he was school president, sergeant of his 100+ member marching band, and an intern at Bell Gardens City Hall, among his many activities.
At Middlebury, Miguel quickly distinguished himself as a student leader, having been elected SGA class senator as a first-year student and re-elected for his sophomore and junior years. With SGA, he served on the First-Year Committee, Dining Affairs Committee, Finance Committee for MiddKid Mega-Project, and as Second Student Constituent Advisor to the College Board of Advisors Selection Committee.
"Miguel was a dynamic student who literally—from the moment he arrived on campus—worked to make Middlebury a wonderful place for his peers," said Valerie Nettleton, assistant director of Student Activities. "He was kind and cheerful, with the most engaging smile. He will be greatly missed."
Miguel was rightfully proud of his civic achievements with SGA. His fellow students have repeatedly noted his drive for advocacy and justice. As a senator, he helped bring forth legislation to support student activities and anti-racism initiatives, hosted the Sophomore Social, advocated for mental health resources, and worked with community partners to ease life on campus during COVID-19. Having completed the First@Midd program himself, he was especially interested in increasing resources for other first-generation students.
As a sociology major, Miguel brought the same energy to his classes. Associate Professor of Sociology Linus Owens, Miguel's advisor, says that, despite the challenges of getting to know students through remote learning last year, Miguel was an eager and active participant in his fall course, Society and the Individual. Linus writes:
"Rather than shrinking from ideas that challenged his ideas, Miguel ran towards them, eager for the opportunity to deepen his own thinking and relationship to the world around him. Miguel often used class assignments to explore the questions he found most pressing. In the fall, this meant using different theoretical paradigms to analyze the way social inequalities played out through the ongoing pandemic. Even though Miguel had to return home during our Urban Sociology class for cancer treatment last spring, he remained committed to completing the course. In particular, he was excited to apply ideas from the course to better understand the complex workings of his hometown of Los Angeles."
Miguel was a member of Tavern social house, UMOJA, Middlebury's African student organization, the Student Investment Committee, the German Club, and MiddVolunteers. He served on Community Council and as a MiddView leader.
"He was an incredible presence on campus and I feel very lucky to have been able to know him," writes classmate Calvin Dupree '23. "He greeted me by name with a smile and a wave every time I saw him, and I know that my classmates and I will keenly feel his loss. I know so many people who feel the same way as I do about him, no matter how briefly their paths crossed, because he put his heart and soul into our community and everything else he did. It was impossible not to feel the warmth and care with which he moved through the world."
Miguel is survived by his mother, Juana Tortoledo, and his father, Miguel Sanchez. We will announce plans to celebrate Miguel's life in a future communication. Miguel's family has requested any photos that you would like to share as a part of their remembrances back home—and that may become part of a campus celebration of Miguel's life this fall—be sent to: photosofmiguel@gmail.com before August 25.
Miguel embodied the spirit of Middlebury—caring, solution-oriented, and always thinking about how to make his community better.
Sincerely,
Laurie Patton
President