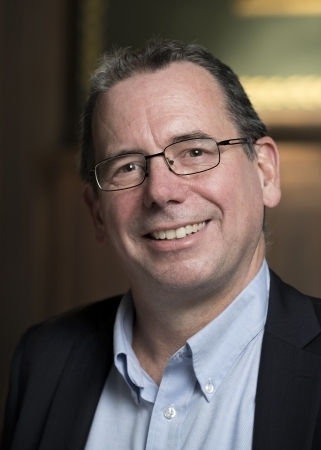 President Laurie Patton sent the following message to the Middlebury community on July 19.
Dear Faculty, Staff, and Students, 
I know that you all share my deep sadness as our community mourns the loss of Jeff Cason, executive vice president and provost and the Edward C. Knox Professor of International Studies and Political Science, who died on July 14. I write to you now with a remembrance to highlight his many contributions as a valued friend, colleague, faculty member, and administrator and to share information about a celebration of his life on Saturday.
Jeff knew and loved Middlebury deeply. He had a sense of excitement about building and deepening this wonderful institution for the 21st century, and he embodied the idea of "innovation with a keen eye to tradition," which helped to guide us through work ranging from new initiatives, such as the expansion of the Schools Abroad, to unexpected challenges, including the COVID-19 pandemic. The joy we had in working together was deep—a sentiment shared by many who worked with Jeff. In my own experiences, we were in constant conversation, and shared a language, a sense of humor, a purpose, and a vision.
After earning his bachelor's at Earlham College and his master's and doctorate at University of Wisconsin–Madison, Jeff began teaching at Middlebury in 1994 as an assistant professor of political science, launching a lifelong career here, where he would take on increasing levels of responsibility and oversight, building on his experiences. He became an associate professor in 2001 and was named a professor and dean of International Programs in 2006. In 2008 he was appointed to the professorship honoring Edward Knox, College professor emeritus.
Fluent in Spanish and Portuguese, Jeff was an accomplished scholar and expert in development, economic integration, and democratization in Latin America. He received several Fulbright Awards to support his research in Brazil and Uruguay, and his coauthored volume—Overseas Research: A Practical Guide (Routledge, 2020)—is now in its third edition. His research also led to the publication of more than a dozen articles in journals and edited collections, as well as a book on the South American trade bloc or Common Market, The Political Economy of Integration: The Experience of Mercosur (Routledge, 2010).
As dean of International Programs and in the years that followed, Jeff expanded Middlebury's global network to include Jordan, Israel, Morocco, Japan, Brazil, Cameroon, Egypt, India, and the United Kingdom, in order to provide a greater variety of study abroad opportunities for students. Leading and mentoring staff around the globe, he was steadfast in his approach to managing crises brought on by challenging world events, including political uprisings and natural disasters. His experience in this realm contributed to his skill in managing and adapting our approach to teaching and learning during the height of the pandemic.
Jeff believed strongly in the value of connection with others, personally and professionally. As an example, a highlight of the summer meetings of the directors of the Schools Abroad was a cookout on Jeff's screened porch. He grilled and prepared mountains of food and took time to laud each director. 
He served as dean until 2015 when he became the vice president for Academic Affairs and dean of the Language Schools, with additional responsibilities for the Bread Loaf School of English, the Bread Loaf Writers' Conferences, and the School of the Environment as well as International Programs. In January 2018, he was appointed executive vice president and interim provost of Middlebury—a position that became permanent one year later. 
With oversight of the entire academic program of Middlebury, its international and summer programs, and the Middlebury Institute of International Studies at Monterey, Jeff took on the challenge with his usual skill, charm, determination, and good humor. He helped to navigate Middlebury through the anxieties of the COVID-19 crisis, while continuing to develop academic programs for both the Vermont and Monterey campuses. His relationships with the Board of Trustees and other members of the administration were exceptionally honest, supportive, and productive. He had a keen awareness of faculty and student concerns as well.
Travel played an important role in Jeff's life and career. Aside from his work-related trips to South America, Europe, Africa, and Asia, he and his family took memorable sabbaticals in Brazil and in Italy. He loved music and shared that passion with family and friends.
Faculty colleagues, a former student, and fellow administrators offered reflections on Jeff's visionary and enduring impact at Middlebury. 
"In the classroom, students and department colleagues appreciated Jeff's humor and kindness and respected him for his academic rigor," said Amy Yuen, professor and chair of the Political Science Department. "Our department has lost an excellent scholar, a beloved teacher, and a cherished friend." 
Brian Deese '00, director of the National Economic Council in the Biden administration and a former student of Jeff's, said, "I am one of the countless people whose life was changed by Jeff. He was an extraordinary mentor to me. He made it clear he believed in my academic capability when I needed that. He was tough on me when I deserved it, and most of all he had a magnetic passion for the ways that political change could help people's lives all around the world. He helped spark in me a passion that I carry to this day and try to instill in my kids.
"I know I am just one of scores of people, now all over the world, whom Jeff touched in this way," said Deese.
Steve Snyder, dean of the Language Schools and vice president for Academic Affairs, said, "Jeff made everyone who worked with him feel seen and supported. He knew how to lead in a deeply human way, and he knew how to make us laugh. He understood Middlebury, the College, Institute, and Schools better than anyone, and his love for the place and people was obvious in every decision and interaction."
"Under Jeff's leadership, the Middlebury Schools Abroad grew to become a significant portion of what we today refer to as Middlebury's global network," said Carlos Vélez, dean of International Programs. "His impact on the trajectory of the institution is undeniable. Jeff was a leader, a colleague, a mentor, and above all a dear friend of 27 years. I will miss his irreverent humor, his unwavering support and encouragement, and his irrepressible and infectious laughter."
Jeff is survived by his wife, Gail Borden, director of special projects for the Provost's Office; his son Gabriel; stepson Elias and his fiancée Allison; stepdaughter Sophia; and by his father, stepmother, siblings, and their family members.
A celebration of Jeff's life will take place Saturday, July 23, at 1 p.m. on the plaza behind the Mahaney Arts Center. In case of inclement weather, the event will be held indoors in the Middlebury Chapel, with masks required.
As we struggle to comprehend this incomprehensible loss, I hope we can take his generosity and wisdom into our daily lives to carry on his legacy. We have lost a great Middlebury soul too soon.
In lieu of flowers the family has asked that donations be made to The Refugee and Immigrant Center For Education and Legal Services (RAICES) or The Middlebury Area Land Trust.
In sorrow, 
Laurie L. Patton
President
View the livestream of the Memorial Service.
Read President Laurie L. Patton's remarks.