In Memoriam: Marcia Parlow Pomerance '81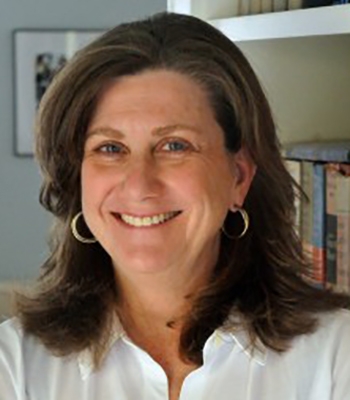 Dear Middlebury Community,
I am writing to share the sad news that Marcia Parlow Pomerance, a staff member, alumna from the Class of 1981, and three-time Middlebury parent, died of cancer on July 20 in Rye, New Hampshire.
In her time of service to Middlebury as managing editor of the New England Review (NER), Marcy is remembered for her passion for literature, dedication to her work, her warmth, and her down-to-earth nature. With her many ties to Middlebury, Marcy had a deep love for the College, and the positive effect she had on colleagues, writers, students, and faculty will have a lasting impact. 
As a Middlebury undergraduate, Marcy majored in English and attended the Bread Loaf Writers' Conference. After her graduation from Middlebury, she worked in book publishing at William Morrow and Houghton Mifflin, and attended the Bread Loaf School of English. In 2013 she became managing editor for the New England Review (NER), where she worked until 2021.
During her time at NER, Marcy embraced the ways digital capabilities changed the landscape of publishing and created NER's first social media presence and podcast. The podcast, "NER Out Loud," features the annual live performances of student actors reading selections from the New England Review. NER Editor Carolyn Kuebler noted, "Changes in publishing came quickly and often digitally these past several years, and 'I'll figure it out' was one of the most hopeful, and common, phrases we could hear from our managing editor."
Marcy possessed great skill with words and a deep love for the work of literary publishing. With her sharp eye, she had an understanding of both NER's old design and the new and found memorable art for dozens of covers. She loved the intellectual work of reading, editing, and questioning of commas and word choice. Carolyn noted, "No task was too big or too small for her, and she brought with her a steady supply of energy, calmness, and wisdom."
In her exchanges with authors and staff members, Marcy connected with genuine interest in their work. Ernest McLeod, NER fiction editor, said, "I corresponded with Marcy a few times by email before meeting her in person. She was one of the rare people able to bring a genuine sense of warmth and support to what otherwise would have been a generic work exchange. I was immediately struck by her thoughtfulness. When I did finally meet her in person, these qualities shone through even more and, though we'd only sent a few notes back and forth, I felt as if I'd known her forever. I know her warmth and thoughtfulness carried through her work at NER, and she will be missed by all of us."
Jennifer Chang, NER poetry editor, recalled, "I got to know Marcy as an NER author. Each time I worked with her I was so moved by her enthusiasm for my work and the work she was doing at NER, and those experiences increased the sense of honor I felt about publishing in the journal. How rare is it to feel genuine joy from a managing editor and over email? I loved her and I'd never even met her. I'm very sorry she's not here to keep cheering us on."
Middlebury alumna and former NER intern Natalie Figueroa '18 recalled Marcy's mentorship. "I met Marcy in the summer of 2016 when I was trying multiple career fields through summer internships. She really took me under her wing to show me the ropes of publishing and content review. Even when I came back years later during graduation and as an alum, she welcomed me as if no time had passed."
Marcy returned to Vermont from Massachusetts in 2011 and lived in Weybridge. She loved the outdoors, walking to the neighboring farmstand to purchase food, hiking, and her two Spinone dogs, Gemma and Luna. Marcy went on many outdoor adventures with her partner Nathan Dansereau—kayaking in Maine, bird-watching, and viewing art at Storm King Art Center. Remembering her love of the outdoors, Kuebler recalled, "When Marcy first came in to talk to me about the job, she had just finished a hike and left a puddle of 'Vermont muck' on my office floor. I appreciated her passion for NER and for the written word, and though she was embarrassed from leaving such a mess, I knew immediately that I wanted to work with her."
Marcy is survived by her children, Jared Pomerance '11, of Boston, Massachusetts; Justin Pomerance '13, of Durham, New Hampshire; and Lucas Pomerance '16 of Boston, Massachusetts. She is also survived by her longtime partner, Nathan Dansereau, and her former husband, John Pomerance '80.
A celebration of Marcy's life took place July 24 in Wayland, Massachusetts. In lieu of flowers, the family has asked that those who are so inclined make a donation to On Belay, a community for children who have or have had a family member diagnosed with cancer. Donations made in memory of Marcy should use Marcy's daughter-in-law's name and email (below) in the "recipient" boxes.  
Madeline Brooks
Madeline@on-belay.org
In sympathy,
Laurie L. Patton
President