In Memoriam: Richard "Butch" Varno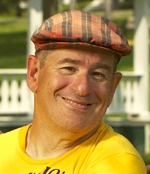 President Laurie Patton and Director of Athletics Erin Quinn shared the following message with the campus community on October 18.
Dear Middlebury Community,
As we mourn the loss of community member, friend, and enthusiastic Middlebury sports fan Richard "Butch" Varno, who died on Friday, October 14, at Helen Porter Rehabilitation and Nursing in Middlebury, we write today to share more about Butch's life and his impact on the College.
In 1960, 13-year-old Butch became a part of the College community when Roger Ralph '63 saw Butch's grandmother struggling to push his wheelchair through snow and mud on their way home from a football game and offered to pick them up. After that, football and basketball athletes picked up Butch—a lifelong resident of Middlebury who had cerebral palsy—before College games to bring him to campus. Picking up Butch became a ritual that Butch and the students enjoyed and one that continued for many years among generations of students right through the football team's game against Williams on Saturday, October 8. 
Butch's wonderful spirit and his devotion to Middlebury sports were captured beautifully in this CBS News story by Steve Hartman and an ESPN SportsCenter feature.
We remember Butch as being filled with joy, and how he loved being with the College community. And people loved being with him. He reminded us of why being together was important at all moments of life. 
Tiffany Nourse Sargent '79, former director of the Center for Community Engagement (CCE), knew Butch and many of the students who spent time with him. "He was such a remarkable person, life, and connection. An era is ending that has been extraordinary. So many Middlebury-connected lives have been impacted by their friendships with Butch. We will all miss him."
Jamal Davis '11, who was a member of the men's basketball team, said that the players could feel Butch's passion for the College and for them. "He wanted to be there for the team and we wanted to do our best for him. He was a key part of the group. It was amazing to have someone from the community be that involved. His presence and spirit added to the depth of my experience as a player."
Jeff Brown, head coach of men's basketball, said that he will always remember Butch's sense of humor. "He really liked kidding around with the students and their joking around with him. He connected with young people and he was in his element with them." 
Butch's involvement with the College extended beyond games and to the wider student population. Beginning in the mid-1990s, Butch spent time with a loosely organized group of student volunteers who would later become an official student organization under the direction of the CCE—Butch's Team—in the early 2000s. In 2003, Butch, at age 56, earned his GED, with support from one of these student volunteers, Sara Smith '04, who became a good friend. Butch and the students from Butch's Team also saw each other during weekly visits and at special events they organized in his honor, such as birthday celebrations. He also practiced his physical therapy exercises with them, took trips to campus and other parts of town, went for walks, or simply talked and spent time with them.  
Margaux Eller '24 served as an intern on Butch's Team. "Butch's friendly and playful personality always brightened any room. He was a constant source of joy and laughter in my life and I am so happy I had the opportunity to spend so much time with him over the past two years. His passing is leaving behind a legacy of enthusiasm, kindness, and resilience." 
Butch is survived by his cousin Rita Brown as well as other cousins, his nieces, nephew, and many other family and friends.
There will be a service in his memory Wednesday, October 19, at 9 a.m. at St. Mary's Church, 326 College Street, in Middlebury.
Butch's family has suggested that memorial gifts in his honor may be made to the Cerebral Palsy Foundation.
Yours in sorrow,
Laurie Patton
President
Erin Quinn
Director of Athletics