In Memoriam: Pete Sutherland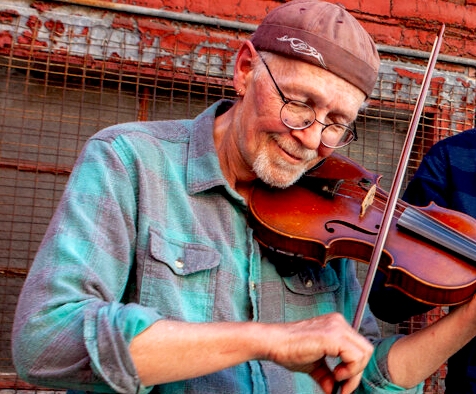 Middlebury mourns the loss of Pete Sutherland, an influential folk musician who taught many Middlebury students as an affiliate artist in the College's Department of Music. Sutherland, 71, died on November 30 after a decade-long battle with cancer.
"All of us are saddened by this news," said Peter Hamlin '73, Christian A. Johnson Professor Emeritus of Music. "Pete was a brilliant and versatile folk musician who played with musicality and flow. He moved like a dancer when he played and he added a creative spark to every moment, whether he was playing a traditional tune or an original piece or some wonderful blend of influences."
Hamlin said Sutherland inspired countless people through his playing, teaching, and mentorship of youth through the group he cofounded called Young Tradition Vermont, a program affiliated with Vermont Folklife Center, which teaches music and dance to youth.
"We have lost a beloved colleague, an exceptional pedagogue, and a gifted performer of American music," said Damascus Kafumbe, professor of music and chair of the music department. "Pete's teaching, guidance, and support have contributed to our students' growth and development as scholars, musicians, and human beings for decades. We will miss him dearly."
Sutherland was born May 13, 1951, in Burlington, Vermont, to Mary Lou and Bob Sutherland. He grew up in Shelburne, Vermont, and attended Champlain Valley Union High School and Castleton State College. He was active musically throughout his childhood, but especially took to folk music in college, where he learned to play multiple instruments including fiddle, banjo, and guitar, and began to form bands.
He was a member of multiple groups, including Pete's Posse, The Clayfoot Strutters, Arm and Hammer String Band, and Metamora, performing throughout Vermont, New England, and beyond.
Sutherland came to Middlebury in 2006, teaching, advising, and performing until May of 2022.
Musician and singer-songwriter Aída O'Brien '20 recalls learning a wide range of fiddle styles from Sutherland, including old time, Quebecois, Cajun, and Irish during her time as a Middlebury student.
"Lessons with Pete weren't just about bowing mechanics or technical prowess—they were about people, culture, and community," says O'Brien. "He always tried to get at the heart of the music and honored the musicians that came before him. He also understood the importance of passing on his wisdom to the next generation. Pete made me and countless other people feel like our voices mattered and that we had something real to contribute to traditional music. I watched him lead a performance at the Young Tradition Vermont festival in Burlington this summer and was amazed but not surprised by how many lives he has changed and enriched."
O'Brien says Sutherland was a loving and kind person with a sharp sense of humor. "He wasn't just my teacher—he was a role model, confidant, and most importantly, friend."
The Vermont weekly Seven Days, in an obituary, described Sutherland's impact on those around him. "Deeply committed to preserving traditions and discovering new musical pathways, he taught, mentored, and inspired people of all ages. Pete leaves behind a rich legacy that can be found on the many albums he recorded, produced, and played on; in his many projects, including those with the Vermont Folklife Center; and in the hearts and memories of those he touched."