In Memoriam: Professor Emeritus Robert Pack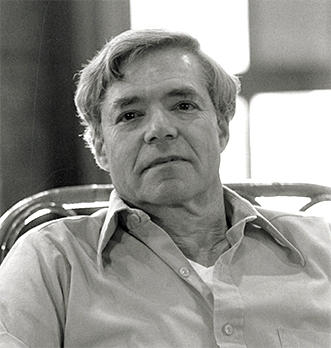 Teacher and poet Robert M. Pack, professor emeritus and former director of the Bread Loaf Writers' Conference, died peacefully at his home in the Swan Valley of Montana on June 5, 2023, with his devoted wife of 60 years, Patty, by his side. He was 94 years old. Throughout his 34-year career at Middlebury, he inspired countless students and writers.
Longtime friend and colleague Jay Parini, Donald Everett Axinn Professor of English and Creative Writing, said, "Bob Pack was nothing less than a force of nature. He was always amusing and provocative, and his own poems and critical writing revealed the same energies. He was a trusted mentor to so many students both at the College and during his stint as director of the Bread Loaf Writers' Conference."
For Julia Alvarez '71, he was not only a mentor but a muse, colleague, and friend. "He was the first teacher to encourage my writing as an undergraduate at Middlebury and without his encouragement and guidance, I would never have thought I, an immigrant into English, could become an American writer. He edited my first book of poems, hired me to work at Bread Loaf during his long directorship of the conference, and later, brought me to teach at Middlebury College, where I stayed for 28 years. He was passionate and generous, a vibrant and engaging teacher who gave of his time and energy and talents to his students."
Pack was born in New York City in 1929 and grew up in the Bronx playing sports, attending games, making friends, and escaping to the country during summer vacations with his younger sister, Marian. At Dartmouth College, he majored in English literature and philosophy, earning his bachelor's degree in 1951. While doing graduate work at Columbia University, he taught courses in poetry at the New School for Social Research. After receiving his MA in 1953, he was awarded a Fulbright fellowship to travel to Italy and translate the work of poet Gabriele D'Annunzio. Following his return to the U.S., he was hired by Barnard College, where he taught literature for six years.
In 1964 he joined the faculty at Middlebury as an assistant professor. In 1970 he was appointed as an Old Dominion Foundation professor and in 1971 was appointed the Julian W. Abernethy Professor of American Literature. He taught a wide variety of classes, including poetry writing, English and American literature, and the Hebrew Bible. He also designed and chaired the creative writing program and in 1992 was appointed the first Donald Everett Axinn Professor of English and Creative Writing. His accessible approach to teaching and his love of poetry and literature made a strong impact on his students. "I was privileged to take Bob Pack's poetry classes," said Susan Fritsch Hunter '71. "I remember him reading the poetry to us aloud and giving us insights into the verse as he went along. It was his passionate reading of the poems that made an impression on me, and in a few years, I was writing my own poetry."
A prolific and nationally acclaimed poet, Pack published 21 collections of poetry, a number of them with the University of Chicago Press, and he also published book-length critical studies of Shakespeare, Robert Frost, and Wallace Stevens. His poetry took inspiration from the English literary tradition, science, and memory as well as the Vermont and Montana landscapes. Hunter said, "As a nature poet, he wove images of the mountains and rivers in and around central questions of life and death." Alvarez adds, "His imagination was full of gusto and his poetry full of wonder and good humor and love, especially of this planet—he was writing environmental poetry before that was even a thing!"
Pack served as the director of the world-renowned Bread Loaf Writers' Conference from 1970 to 1994, where his readings of his own poetry were received by crowded rooms of appreciative listeners. He helped to shape and encourage the efforts of numerous creative writers over the years that he was part of the conference.
Upon retiring from Middlebury in 1998, he and Patty moved to Montana, where their son, Erik, designed and built for them a log home with spectacular views of the Swan Mountains. A year later Bob unretired and began teaching in the Honors College at the University of Montana. He initiated a course called Ways of Knowing, which remains the introductory course for the program's students. It reflects his interest in how writers from different disciplines comprehend the world and encourages college first-years to examine their assumptions about human knowledge and experience. Pack sometimes team-taught sections of that course with colleagues from English, political science, philosophy, and environmental studies.
During the last few years, when Pack used a wheelchair and became increasingly blind, he continued to write poetry with the help of his wife and friends. He stayed fully engaged with his many intellectual and artistic interests through audiobooks, nightly opera broadcasts, and a digital assistant. He enjoyed weekly lunch meetings with a group of Missoula friends, where he encouraged their writing, filmmaking, and teaching. He was an inveterate punster and joke teller and loved to reminisce about the dramatic highlights of his life such as pushing Roy Cohn out of his childhood sandbox, standing up to a circle of Bronx bullies, and trying to adopt an elephant, as well as holding conversations with Robert Frost and beating Norman Mailer at arm wrestling.
Pack made lasting friends of classmates, colleagues, and students and continued to hear from them long after their life paths had diverged. Both Hunter and Alvarez had recently spoken with him on the phone and, teacher and mentor to the end, he encouraged them to share their poems with him.
He is survived by wife Patty, children Erik, Pamela, and Kevin, grandson Slayden, and sister Marian.