In Memoriam: John McWilliams, College Professor Emeritus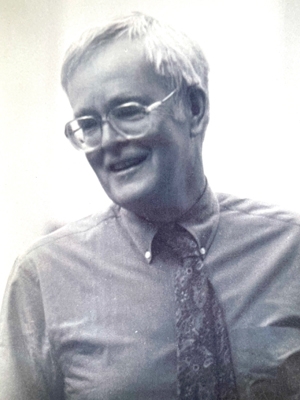 College professor emeritus John McWilliams, 83, of Middlebury, Vermont, died peacefully at his home on July 23, surrounded by his family. A revered teacher, scholar, and writer, McWilliams served on the Middlebury College faculty for nearly 40 years.
"John was one of the most distinguished scholars ever to have served on the Middlebury faculty, and I am honored to have been his colleague and friend," said Stephen Donadio, the John Hamilton Fulton Professor Emeritus of Humanities, who arrived at Middlebury the same year as McWilliams—both to teach in the Department of American Literature. "Over the years, in addition to maintaining a reputation as a superb teacher of students at every level of their education, he produced a series of indispensable, deeply researched studies in American literary history and culture, all published by major university presses. Whenever I found myself contemplating intellectual work that needed to be done, his example served as a clear indication of true north."
McWilliams was born on July 22, 1940, in Shaker Heights, Ohio. He earned his AB at Princeton University and his AM and PhD in English and American Literature at Harvard University. He held faculty appointments at the University of California, Berkeley; University of Illinois, Chicago; and the University of Maryland before joining the Middlebury College faculty in 1978. In 1988, he was appointed the Julian W. Abernethy Professor of American Literature.
McWilliams was a prolific author of several published academic books, articles, and book reviews throughout his career. He was a recipient of numerous fellowships, grants, and honors, including four National Endowment for the Humanities (NEH) fellowships, and served on several editorial and governing boards. Just before his death, he was working on a last review for the Phi Beta Kappa Key Reporter, to which he frequently contributed his insights and reflections on American history, literature, and culture.
During his Middlebury tenure, McWilliams served in numerous leadership roles, including as chair of the Department of American Literature, chair of the Program in American Civilization, chair of Faculty Council, chair of the Division of Humanities, and vice president for Academic Affairs.
Following his term as vice president, McWilliams was named College Professor, a position he held until his retirement in 2016. In that role, he developed new courses for Middlebury's comparative literature program and the departments of religion, history, and art history.
Former colleague Travis Jacobs, the Fletcher D. Proctor Professor Emeritus of American History, was McWilliams's office neighbor in Munroe Hall for more than 30 years. "John was a terrific teacher and scholar and a fine administrator," Jacobs said. "He was also a wonderful friend—who thoroughly enjoyed playing bridge. He will be missed."
A consummate teacher, McWilliams was committed to the intellectual exploration of his students and was said to never have missed a class. Many of his students continued their relationships with him beyond graduation.
"He was a life-changing teacher," said former student Claire Bowen Seiler, who graduated from Middlebury in 2002 and is now associate professor of English at Dickinson University. "John truly saw his students—all of us—and he saw us in a deep, specific way. I remember him in what was then called American Literature 201, but which we students grudgingly/affectionately called 'Puritans to Poe.' One day, he was helping us to understand what it took for women to write—to write at all—in the early 18th century. The lecture and discussion were electrifying, in a way that was both completely Middlebury and uniquely John."
McWilliams's youngest daughter, Isabel, who graduated from Middlebury College in 2010, says her father passed his enthusiasm for academic discovery on to her, noting that she would "not have had the determination to pursue a PhD without his encouragement and patience in the spirited exchange of ideas." 
An outdoor enthusiast, McWilliams taught his six children how to ski at the Middlebury Snowbowl, enjoyed long walks with family and friends on South Street, and had a love for racquet sports, especially tennis and squash. He was a proponent of handwritten correspondence, an avid stamp collector, and an accomplished piano player, passing his love for piano on to son Christopher, who is a professional pianist and organist in Montpelier.
He was a long-standing member of the St. Stephen's Episcopal Church congregation in Middlebury and loved his years as a member of the St. Stephen's choir and vestry. He was committed to charitable giving to organizations including Porter Hospital, Planned Parenthood, Vermont Food Bank, Addison County Parent/Child Center, UVM Cancer Center, MGH Fund, United Way, and numerous organizations advocating for protecting the climate and natural environment.
McWilliams is survived by his wife, Assistant Professor Emerita of French Mireille B. McWilliams, sisters Suzanne Murray and Marianne Romaine, and children Andrew, Kirsten, Elizabeth, Christopher, and Isabel McWilliams. He was predeceased by his daughter Suzannah McWilliams. He was known affectionately as "Mac" by his six surviving grandchildren, Lucca, Emmons, Teo, Gus, Barlow, and Willa.
A memorial service open to all will be held in October at St. Stephen's Episcopal Church in Middlebury. In lieu of flowers, the family asks that you consider a donation to one of the above listed organizations.