In Memoriam: Robert P. Martin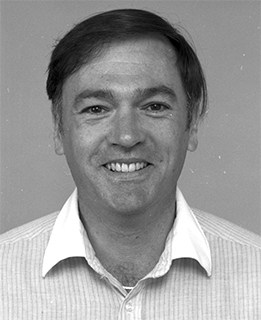 Professor Emeritus Robert P. Martin, whose curiosity and commitment helped create the computer science major at Middlebury, died June 27, 2023, at the Arbors in Shelburne, Vermont, at the age of 80 years old.
"From his first days on campus, Bob displayed an infectious enthusiasm and optimism. He was always a colleague with fresh ideas and the requisite follow through," wrote friend and colleague Mike Olinick, professor of mathematics, in the faculty minute he presented for Bob's retirement in 2010. Hired by Middlebury in 1976 as an assistant professor of mathematics, Martin quickly became known for his innovative approach to teaching math. In creating the Foundations Course in Mathematics, he sought to change students' biases about math being number crunching and solving equations by beginning the course with a serious look at the logic and illogic of Alice in Wonderland and Through the Looking Glass.
Martin was born March 10, 1943, in Hartford, Connecticut, and while his father served in World War II, he lived with his grandparents, mother, and aunt in Madawaska, Maine, where his first language was French. At the end of the war, his family moved to Windsor, Connecticut, where he attended elementary and high school before enrolling at Central Connecticut State University. After earning a BS and MS in mathematics, he earned his PhD in mathematics at the University of Maryland. Olinick said, "His outstanding dissertation on C*-algebras earned him a prestigious Ivy League postdoc position at the University of Pennsylvania before his move to our Mathematics Department."
In 1978, Martin was appointed associate professor of mathematics and in 1986 became professor of mathematics. Along with his foundations course, he was instrumental in developing a course for calculus for the social sciences and initiating a unique two-level course in cryptology, the science of making and breaking secret codes. His winter term course, Mathematics of Rubik's Cube, was one of the most heavily enrolled courses ever offered by the department.
His effect on his students resonates to this day. Will Wright '88 said, "Bob Martin was an inspiring professor who pushed me intellectually for four years at Middlebury College. While I learned a tremendous amount from him in the classroom, my most meaningful growth occurred during the intensity of a winter term. Bob challenged and encouraged a small group of students to accomplish what we all thought was impossible: Design a way to password protect the entire hard drive of an IBM personal computer. Successful completion of this project had me growing intellectually, but also resulted in self-confidence and a sense of pride. He was a rare individual that pushed people to be better in all ways. Bob's lessons live on within his students."
Martin was always ready to extend his knowledge in new directions. Friend and colleague John Emerson, Charles A. Dana Emeritus Professor of Mathematics, said, "Bob was naturally curious, and so he was always learning new things. Computers had captured his interest by around 1980 and he was scheduled for a sabbatical. I remember clearly the day he asked my advice about taking his leave in computer science at Harvard and MIT so as to gear up for a new career in that emerging field. As a result of that decision, Bob became the academic grandfather of computer science at Middlebury. Over the years, he helped build the excellent major and department that thrive today." Martin returned from his sabbatical ready to take on the challenges of teaching beginner and advanced level courses in computational science. He led the effort to create the computer science major and recruited the professionally trained faculty needed. In 1986 he became the director of academic computing, and from 2002 to 2004, he served as the chair of computer science.
While Martin was a beloved and influential teacher, he had another claim to fame at the College. He was one of the creators of the "Green Chicken Contest" with Williams College. The Green Chicken was a chartreuse, chicken-shaped chafing dish first given to Martin's sister, Linda, as a wedding gift. Linda managed to leave it in Martin's apartment when she helped him move to Middlebury, and in 1978, Martin put it to good use. He and colleague Bill Beckmann were involved with preparing Middlebury students for the National Putnam Exam, and Martin's friend Peter Andrews was doing the same at Williams. That fall, they decided to have their "teams" take a practice exam on the same day as the Middlebury-Williams football game. It was titled the "Middlebury-Williams Pre-Putnam Exam," and the competition went well, so they decided to make it an annual tradition—but it needed an award. Martin said, "It was [wife] Holly who suggested the Green Chicken be used as a trophy (perhaps sensing a way of getting rid of the poor Chicken). The big question we had to wrestle with was who should get it, the winners or the losers?!"
Martin's achievements included athletics. He was a star athlete at Central Connecticut State University and gave up a professional baseball career for graduate school. (He apparently also hit the longest home run ever recorded on the Bread Loaf campus.) At Middlebury he served as the assistant women's tennis coach in 1999 and as the assistant men's tennis coach from 2000 to 2002. He enjoyed many years of playing with the Friday afternoon faculty tennis group.
A well-respected, beloved colleague, Martin is remembered fondly for his compassion and sense of fun, as well as his many talents. Priscilla Bremser, Nathan Beman Professor of Mathematics, said, "What I will remember best about Bob Martin is his cheerful support in the mid-1980s for the idea that a woman could have both an academic career and a family. He loved kids, and he joked about setting up a small childcare center in Warner Hall." Olinick's memories include teaching classes with Martin on cryptology—introducing students to Alan Turing, the "father" of the modern computer, and to the Navajo codetalkers of World War II. "Bob was an absolutely marvelous colleague," said Olinick. "I cherish the times we worked together as coteachers and coauthors."
Martin is survived by wife Holly McKenzie '61, children Ashley, Marshall, Hilary, and Jason Cross '93, Seth Martin, Nicole Nicholson, and Michael Martin; eight grandchildren; and sister Linda Martin.