In Memoriam: Winifred 'Winnie' Ann Ryan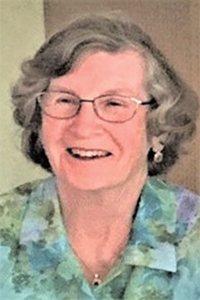 Winnie Ryan, a longtime staff member in the department of athletics, died on August 26. She was 81 years old. 
Ryan began working at Middlebury College in 1956 as secretary to the purchasing agent and to the assistant business manager, and later moved to the Department of Athletics where she served as assistant to the director of Athletics for more than 20 years. 
During her tenure, she was an integral part of the Middlebury athletics family and managed team travel assignments, secured officials for home events, assisted staff with athletic policies and procedures, and handled department finances. 
Director of Athletics Erin Quinn described Ryan as a consummate professional who had a pulse on everything going on in Athletics. "The athletic directors she served with would always describe her as 'the boss,'" noted Quinn. "She anticipated needs, understood the department, and did her job with grace and good humor."
Longtime friend and colleague Bill Mandigo, the head women's hockey and golf coach, said Ryan took care of everyone in Athletics. "She was very much in charge and was the one we ran to when we needed help," he said. "She almost always had an answer or could point us in the right direction."
In addition to managing the needs of students and staff, she greeted nearly everyone who visited the Athletics department. "Her office was just inside the front entrance, so she was really the face of Athletics and welcomed many visitors," said Quinn. 
Ryan was also known for treating colleagues to her baked goods. "Winnie's pies were out of this world," said Mandigo. "We always loved department gatherings when Winnie would bake."
Ryan was born in Grand Isle, Vermont on September 17, 1941 to Kenneth and Wilhelmina (Fadden) Poquette. She grew up in Grand Isle, where she received her early education and graduated as Salutatorian, from Milton High School. Ryan retired on November 3, 2003 and in 2018 moved to Florida to be closer to her  family. In her retirement, Ryan enjoyed gardening and cooking.
Ryan is survived by her three sons: Scott Jarvis, Rick Jarvis and Timothy Jarvis; two daughters: Tamara Tindell and Michelle Sharron; three brothers: John Poquette, Robert Poquette and Kenneth Poquette; two sisters: Annette Duckett and Rebecca Roy; 11 grandchildren and 14 great-grandchildren.
A Mass of Christian burial was held on Friday, September 8 at St. Mary's Church in Middlebury.
Memorial gifts in lieu of flowers may be made in her memory to: Middlebury American Legion Post 27, P.O. Box 28, Middlebury, VT 05753.