In Memoriam: Victor Nuovo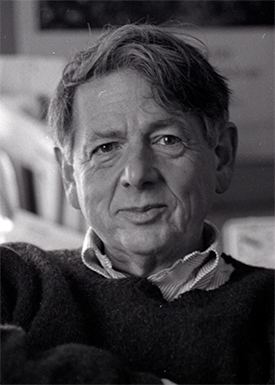 Victor Nuovo, Charles A. Dana Professor Emeritus of Philosophy, died on October 5 in Middlebury with his family by his side. He was 91 years old. For many decades, Nuovo's depth and breadth of class offerings and intellectual research inspired and informed countless students at Middlebury. He was also deeply involved in the welfare of the town of Middlebury, serving the community in many ways.
"Victor was the consummate educator and public servant whose impact on both the town of Middlebury and the College was profound," said Middlebury President Laurie Patton. "Known for his gentle demeanor, he thought deeply about the impact of his decisions on the people of his community, which was especially valuable at times when the town was undertaking ambitious projects. As a celebrated scholar, educator, and writer for six decades, his effect on generations of students was no less impactful. Victor modeled public intellectual life."
Nuovo was born in New York City on November 13, 1931. He began his studies in engineering but soon shifted his interests and graduated from Hope College in 1954 with a degree in English literature. He then pursued a Bachelor of Divinity, which he received in 1957, at New Brunswick Theological Seminary. Nuovo served as a minister at Hempstead Reformed Church in Hempstead, N.Y., from 1958 to 1961. He joined the faculty of Middlebury College as an instructor in religion in 1962 and earned his PhD from Columbia University in 1964.
After serving as an assistant and associate professor of religion, he became a professor of religion in 1975 and accepted an appointment as chairman of the Division of Humanities for 1976–1977, whereupon his title became professor of philosophy. Nuovo  had an impressive command of the history of philosophy, and his teaching covered a broad range of subjects, from Indian Philosophy and Religion to Philosophy of Law. He published numerous books and articles, particularly in the early years, on German-American theologian Paul Tillich and, later on, 18th-century thinker William Paley.
After retirement in 1994, he was appointed visiting fellow at Harris Manchester College, University of Oxford, in 1997, and was then appointed senior research fellow, a position he continued to hold.
"He became a serious scholar of the works of John Locke; in particular, Locke's writings on toleration," said Murray Dry, Charles A. Dana Professor of Political Science. "Victor edited at least one volume for Oxford University Press called John Locke: Vindications of the Reasonableness of Christianity, and he wrote a book, also published by Oxford, titled John Locke: The Christian Virtuoso. He and I shared a deep interest in Francis Bacon as well as in Locke. I believe it is thanks to Victor that the College library has an edition of the complete works of Bacon."
After retirement, Nuovo continued to teach occasional courses in early modern philosophy at Middlebury. Heidi Grasswick, George Nye and Anne Walker Boardman Professor of Mental and Moral Science and chair of the Philosophy Department, remembers him fondly. "A true philosopher at heart, Victor was always up for a deep intellectual conversation. From his carrel in Davis Family Library, he remained extraordinarily active in his research and writing, publishing a steady stream of works on the 17th-century British philosopher John Locke. As a junior faculty member arriving just as he retired, I remember his keen interest in the future of our department; the good humor and mischievous twinkle in his eye that was always present during philosophical conversations over coffee; and the interest and care he demonstrated toward the next generation of Middlebury philosophers."
Nuovo was a devoted civil servant for the town of Middlebury. He cared deeply about the community and worked for the betterment of the area and its people. He joined the town selectboard in 2006 and served until 2014, then returned for another stint from 2016 to 2020. During this time, he was involved with several ambitious and controversial projects in the downtown area: the Cross Street Bridge, the new municipal building, and the rail tunnel overhaul. He worked with the College and was instrumental in obtaining significant contributions for the municipal building and especially the bridge, which he saw as a crucial addition to the downtown to relieve traffic and boost the downtown economy. Former Middlebury College president Ron Liebowitz says the bridge metaphor is particularly apt as Victor certainly served as a bridge between town and gown. "Victor played a key role in securing the necessary funding support from the College—an unlikely scenario that came to be, thanks to Victor's persistence and persuasive voice during many lunches between College and town leaders. Looking back, we would not have had a Cross Street Bridge had it not been for Victor."
In an op-ed he wrote for the Addison Independent after the Cross Street Bridge opened, Nuovo said that the collaboration between the town and College fulfilled "opportunities to achieve something of human value that lasts for a long time, enough to unite generations and to share a common vision of public well-being."
Writing for the local newspaper became a consistent addition to Nuovo's scholarly pursuits. "Victor wrote essays on philosophy and philosophers from the pre-Socratics to Nietzsche and beyond," noted Dry. "These essays were published in the Addison Independent and read with appreciation by his fellow residents of Addison County." His newspaper column continued what his faculty retirement minute said was "the practice of an undogmatic mind taking seriously, and reflecting upon, the fundamental issues of human being."
Nuovo was predeceased by his wife of 70 years, Betty (Stagg). He is survived by son Victor and wife Pamela, son Thomas '85 and wife MaryBeth, and grandchildren Giuliana, Leo, Sofia, and Lucia.
A celebration of life will be held on Saturday, October 28, at 11:00 a.m. at the Congregational Church of Middlebury.