Middlebury Hires Karen Miller as Vice President for Human Resources and Risk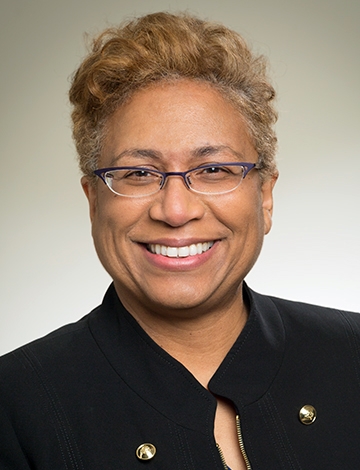 MIDDLEBURY, Vt. — Middlebury College today announced that Karen L. Miller will be its next vice president for human resources and risk, starting in April. Miller comes to Middlebury from Morehouse College in Atlanta, Georgia, where she most recently served as special advisor to the president.
At Middlebury, Miller will provide strategic leadership for the institution's Office of Human Resources and Office of Risk and Compliance, both of which serve all of Middlebury's schools and programs, including for the undergraduate College, the Middlebury Institute of International Studies at Monterey, the Middlebury Language Schools, Bread Loaf School of English, Bread Loaf Writers' Conferences, the Middlebury C.V. Starr Schools Abroad, and the Middlebury School of the Environment.
Miller's job combines two roles into one position. As vice president for human resources, she will bring a strategic perspective to staff structure, hiring, and compensation policies. As chief risk officer, she will succeed Michael Geisler, who originated the position and who will leave Middlebury at the end of June to become the 13th president of Manhattanville College.
"We are most fortunate that Karen will be joining the senior administration at Middlebury to help us address many of the issues that challenge educational institutions and large enterprises of every kind," said President Laurie L. Patton. "Managing a large and increasingly complex institution effectively and efficiently means bringing best practices to the table, and Karen's broad experience will be invaluable to us."
"I'm excited by the opportunity to join President Patton and the senior leadership team at Middlebury," said Miller. "Middlebury is an institution that has innovated in so many ways, both at the undergraduate College and across its many schools and programs. At a time when many institutions talk about being global or entrepreneurial or sustainable, Middlebury actually lives up to those aspirations and many more. That's a credit to the faculty, staff, and students at Middlebury, and I look forward to working with all of them."
Miller has served in numerous administrative positions within higher education, including academic dean at Atlanta's John Marshall Law School and in several positions, including vice president and general counsel, vice president of administrative services, senior vice president of administration, chief of staff and chief operating officer at Morehouse College. Over the course of her tenure at Morehouse, she oversaw legal affairs and compliance, human resources, government relations, strategic planning, institutional research, and technology.
Miller earned her BA from Emory University in 1979, her law degree from Harvard University in 1982, and is currently a doctoral candidate at the University of Georgia's Institute of Higher Education. Miller's research interest is in building organizational capacity, with particular emphasis on understanding and enhancing leadership capacity within higher education institutions.
Prior to assuming administrative roles in higher education, Miller began her career as an attorney working with major law firms in Philadelphia and Atlanta, before opening her own firm, practicing in corporate and real estate law. She also served on the faculty at John Marshall Law School.