J-term Scenes: Learning To Think Like a Lawyer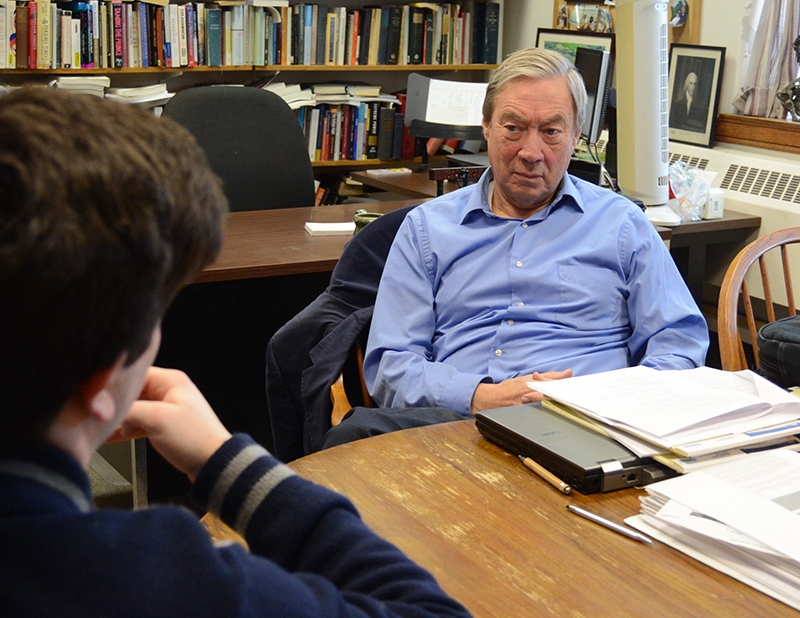 MIDDLEBURY, Vt. – When 22 Middlebury College undergraduates signed up for the Winter Term course Constitutional Rights of the Accused, they never expected to be arguing facts from real cases in front of a sitting judge with practicing attorneys in a federal courtroom in Burlington.
But Middlebury alumnus Bill Sessions '69, more formally known as U.S. District Court Justice William K. Sessions, structured his course to be different from a typical class in constitutional law. The 68-year-old jurist decided not to use a textbook, and instead assigned the students to read cases and write memoranda – all in preparation for the final day of the term when they would appear in moot court as prosecutors and defense attorneys.
"This course is all about reading cases in order to expose the students to the thinking process of lawyers," Sessions said. "In law school you learn how to analyze cases pursuant to a fairly standard outline and approach, and you learn how to think on your feet when you are questioned about what you have read.
"That is exactly what we are doing here this J-term. Lawyers always have to be prepared to take the facts from one case and apply them to other circumstances, and that is what I am asking my students to do too."
During the first week of Winter Term, Sessions told the class: "Some people say it takes three years of law school to think like a lawyer. I am going to teach you in much less time how to approach a legal scenario… It's a simple, straightforward, written analysis… When you are making constitutional interpretations, you always look at precise moments in the facts of a case."
Throughout the term, students considered actual cases involving encounters with police and the accompanying issues relating to the constitutional rights of suspects: the use of warrants, exceptions to warrant requirements, detention and arrest, search and seizure, electronic surveillance, confessions, and right to counsel. Landmark cases such as Terry v. Ohio (probable cause), Richards v. Wisconsin (knock and announce), Kentucky v. King (warrantless searches), and Katz v. United States (right to privacy) became the lingua franca of the class.
Alexandra Cohen '16 had already decided to go to law school before she took Judge Sessions' class. "I am not sure what type of law I am interested in yet, but I thought this class would be an appropriate introduction to a fundamental area of criminal law," she said. "It has been gratifying and exciting to prepare for a mock hearing at the courthouse in Burlington, and the discussions we have about criminal cases are interesting and fun."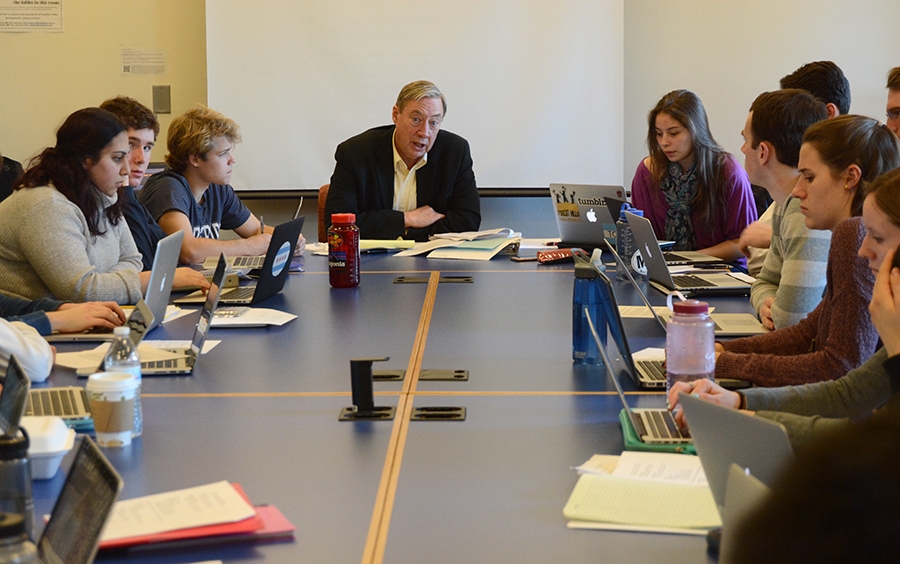 After four weeks in a seminar room (above), the class culminated in mock trials at the federal court house in Burlington. (Click image to enlarge.)

Judge Sessions, who is on senior status with the U.S. District Court of Vermont but still hearing cases, was frequently candid with his students.
On the subject of law enforcement officers wearing body cameras, he said, "The idea of having videos on police officers is fabulous. Whenever they have an encounter with the public, they are dealing with people's lives."
On whether any given traffic stop is valid, he commented, "What happens a lot in real life is the police will look for ways to detain a car, be it speeding, a broken tail light, or touching the center line."
On decorum in a court of law, he offered, "Lack of civility gets you no where in the legal system, especially in Vermont. Once you cross that line, you become a subject of disrespect and then you are no longer persuasive."
The former public defender and adjunct faculty member at Vermont Law School advised his class to "think about the law as something that's not written down in a book. The law is always subject to interpretation and movement. Your job as a lawyer is to advocate for your client and argue the facts in such a way that the law will move in a particular direction."
During the term students analyzed the Fourth, Fifth, and Sixth Amendments in relation to specific cases, both with Judge Sessions and with the guest speakers – including judges, defense attorneys, law clerks, and federal prosecutors – who came to Middlebury to share perspectives and enliven class discussions.
The visitors presented "insight into the daily grind of law" and revealed "their interesting personal journeys" in American jurisprudence, observed August Rosenthal '17.
The class enhanced Rosenthal's understanding of the three amendments crucial to the Constitutional rights of the accused, and he discovered that preparing memoranda, interviewing witnesses, and arguing a case in court "like an actual attorney" gave him insight into the field of law.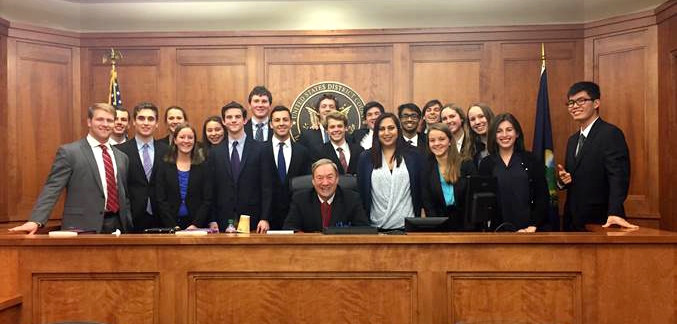 In Burlington to conduct mock trials, the class gathered around Judge Sessions at his bench in U.S. District Court.
– With reporting and photography by Robert Keren, courtroom photo by Vick Xu