Voices and Views: Life on the Campaign Trail in New Hampshire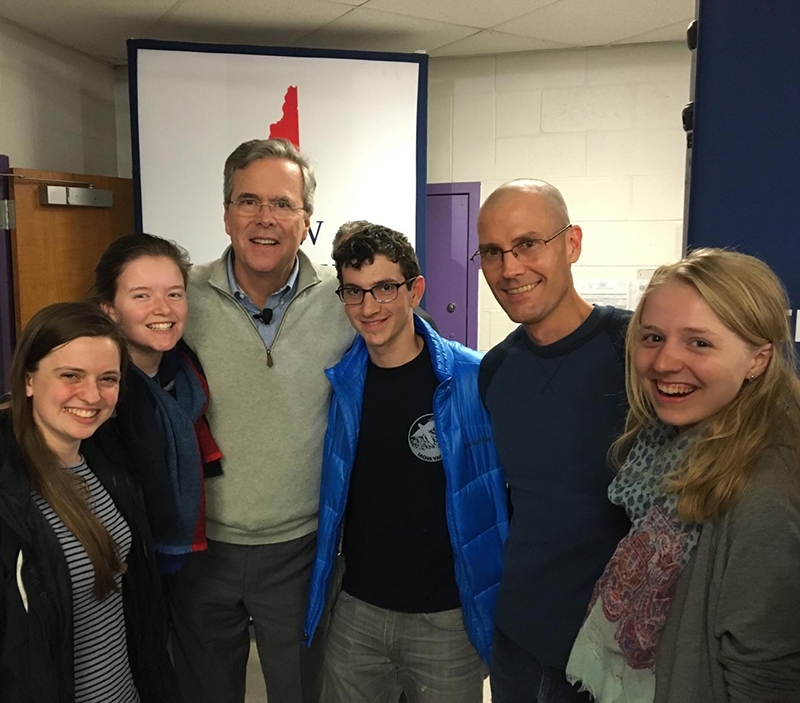 Bert Johnson, associate professor of political science at Middlebury College, and students Margot Graham '18, Nora Lenhard '18, Hazel Millard '18, and Andrew Plotch '18.5 spent Winter Term in New Hampshire doing research on voter decision making in the presidential primaries. Here they share some of the funny, sad, and enlightening moments they experienced along the way.
The British author James Bryce wrote in 1888 that American presidential campaigns – in contrast with campaigns in Europe – were full of "booming all the time." He meant that elections were not just about the candidates, but drew the associated clamor of an "infinite number of minor organizations over the country" that participate in the campaign on one side or another.
A group of us from Middlebury College – five students and a member of the political science faculty ­– has spent the last month attending political events across New Hampshire, and although the landscape has changed, we can still hear the booming. We come away encouraged by this extraordinary exercise in civic education, and we urge the rest of the country to listen in.
Among the five of us, we have attended dozens of rallies, meet-and-greets, and town hall meetings for Democratic and Republican candidates as part of a research project on voter decision making in the presidential primaries. We have waited in line in the cold for Hillary Clinton, we have sipped Carly Fiorina's complimentary coffee, we have nervously joked with Secret Service agents at Donald Trump rallies, and yes, we have taken more than a few selfies with the candidates.
Viewers on television or on the internet can experience a portion of this hoopla. But what they miss is the cacophony of voices that gravitate to the presidential race. Like snowballs rolling downhill, campaigns attract not only media, but interest groups of all description: environmental groups, civil rights groups, senior citizens groups, campaign reform groups, groups skeptical of the 'liberal media,' and so on. They linger outside venues distributing pamphlets, protesting, or encouraging those in attendance to pressure the candidates on their issue.
Campaigns also give an audience to stories of personal experience that might otherwise not be heard. A forum on addiction that featured Ted Cruz also featured wrenching personal stories of suffering and recovery. An HIV-positive questioner at a Clinton rally caused an audible gasp in a room of hundreds when he told us how much he paid per month for prescription drugs. A woman at a Jeb Bush event described her husband's struggles with cancer, and her dread at being told that her son had cancer as well.
For us, the highlights of these meetings were often not what the candidates had to say, but the conversations we struck up with other attendees. No matter the event, people were excited to talk to us about their thoughts on the candidates and the election. Probably a product of long waits for late candidates, this camaraderie provided us with valuable insight into voter decision making.
We finish our month in New Hampshire not only with a better understanding of the candidates, but also with a clearer picture of the American political landscape. The presidential race is one way in which the country educates itself about itself – whether this is intentional or not.
Debates about whether Iowa and New Hampshire should be first in the nation are as old as the modern primary system. The intense campaigning that these states saw this year is narrowly targeted at a small proportion of the U.S. population. There is a danger that many Americans not in these regions will not receive this civic education.
But a newer danger is that Americans will take advantage of the increasingly fragmented media environment to turn away from the campaign, watching on-demand TV or listening to curated playlists when they could be following the election online, on television, and in the print media.
Take it from us: it is worth it to pay attention. For one thing, the election is endlessly entertaining. For another, it is deadly serious business. The booming all the time is still taking place, if Americans take the time to listen for it.