Winter Carnival Set for Feb. 25-28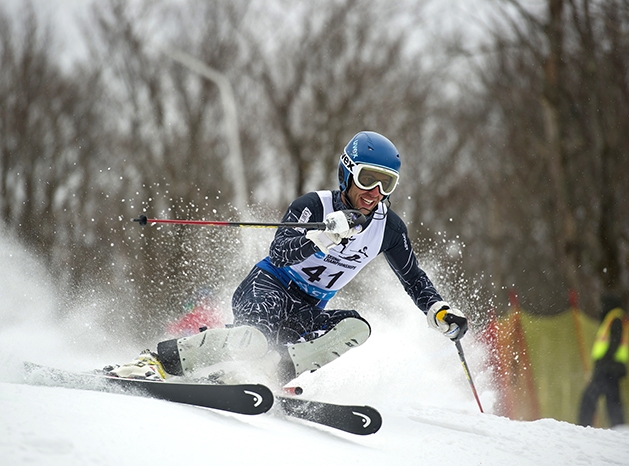 MIDDLEBURY, Vt. – Faced with the prospect of conducting winter carnival without any snow, the organizers of Middlebury College's 93rd annual event February 25-28 are learning to adjust on the fly.
"It's true that we don't have any snow right now and there's none in the forecast either, but the new events we have planned for this year's carnival will hopefully more than compensate for it," said Thilan Tudor '16.
"That's right," Hannah Morrissey '18 added. "We have designed our carnival to be weatherproof, and our events will have a retro 1980s theme."
Tudor and Morrissey, the co-chairs of the Middlebury College Activities Board's traditions committee, said they have taken a "student-centric" approach to providing entertainment at this year's carnival. Rather than hiring outside DJs, bands, or comedians, the traditions committee decided to engage students as entertainers and put the savings toward better food, refreshments, and prizes at carnival events.
And while there will be no ice sculptures, snowshoe races, or broom hockey on campus this year, there is snow at the Snow Bowl and Rikert Ski Touring Center where Middlebury's varsity Alpine and Nordic skiing teams will host the Eastern Intercollegiate Skiing Association Championships. Teams from Dartmouth, UVM, Harvard, UNH, and other EISA member schools will compete February 26-28 for spots at the NCAAs at Steamboat Springs, Colo., in March.
Winter carnival will kick off Thursday, February 25, with a bonfire and fireworks followed by a capella performances in Crossroads Café by Mamajamas and Bobolinks. [Note: the bonfire and fireworks have been moved to Friday night.}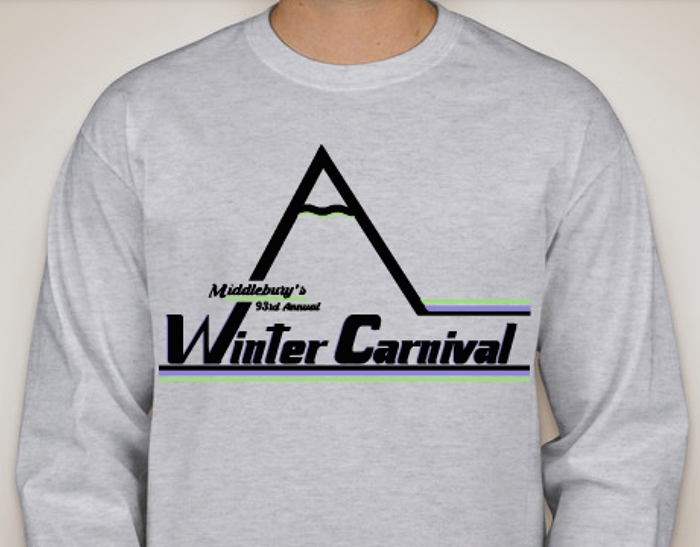 The traditions committee has desiged shirts with the 2016 carnival logo.
No classes will be held on Friday, February 26, so students will be free to join the northern lights competition on Battell Beach, enjoy the archival film footage of winter carnivals past shown in Crossroads Café with free hot cocoa, and laugh along with the student comedy ensembles Otter Nonsense and Middlebrow in Wilson Hall.
The new event on Friday night will be a 1980s dance party at the Marquis Theater on Main Street with student DJs Peter Huffman '17 and Norris Ou '17. The traditions committee is underwriting the cost of the event so it will be free to students.
For both Saturday and Sunday, February 27 and 28, the College has retained Addison County Transit Resources (ACTR) to transport students to Rikert and the Snow Bowl "to get more people involved in cheering for Middlebury's Nordic and Alpine skiing teams," the organizers said.
The Winter Carnival Ball on Saturday night in Nelson Recreation Center "will be a classic," Tudor and Morrissey said. Prizes will be given out for the best '80s costumes and other achievements, and three student DJs from WRMC – seniors Arnav Adhikari, Alex Chaballier, and Adam Kelley – will provide the entertainment.
"Students really know what their fellow students want to hear," co-chair Morrissey explained. "We have a collaborative playlist going online that will let the DJs know what the students want for music." And with an expected attendance of around 1,000 students and shuttle buses running most of the night, "the ball is always the one of the biggest and most-popular student-organized events of the year," added co-chair Tudor.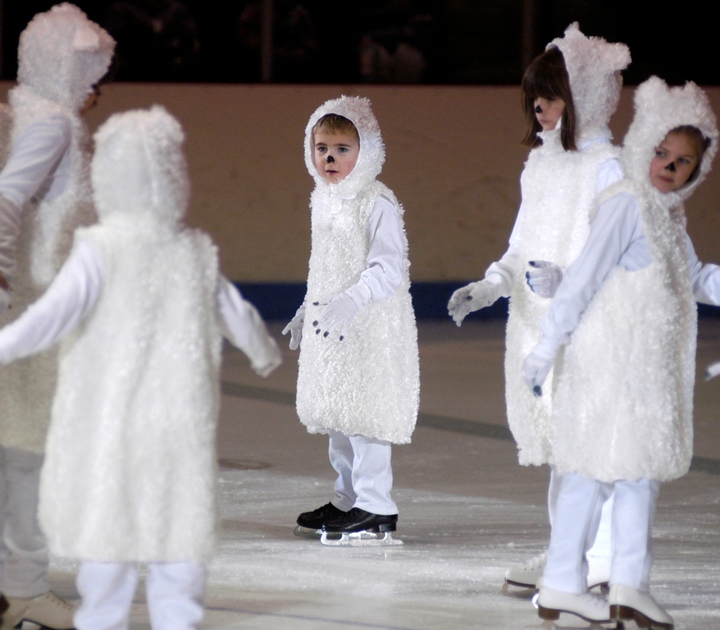 Adorable kids, college students, and guest skaters will perform at the annual ice show.
The 2016 Ice Show "Dreaming Out Loud" presented by the Middlebury College Figure Skating Club will perform on Saturday, February 27, at 7:30 p.m. and again on Sunday, February 28, at 2 p.m. in Kenyon Arena. The public is welcome to attend the ice show; tickets are available from the College's online box office.
The Middlebury College Winter Carnival dates back to February 1920 and is believed to be the oldest, student-run winter carnival in the country. It has been presented in its current format since 1934, according to College historian David Stameshkin, when skiing and ski-jumping events took on place on Chipman Hill, and snowshoe and obstacle races were held on Storrs Avenue.
Originally called "Winter Holiday," the occasion also featured hockey games, skating shows, snow sculpture competitions, and two big dances including a formal Carnival Ball and informal Klondike Rush.