Middlebury Mourns the Loss of Michael Armstrong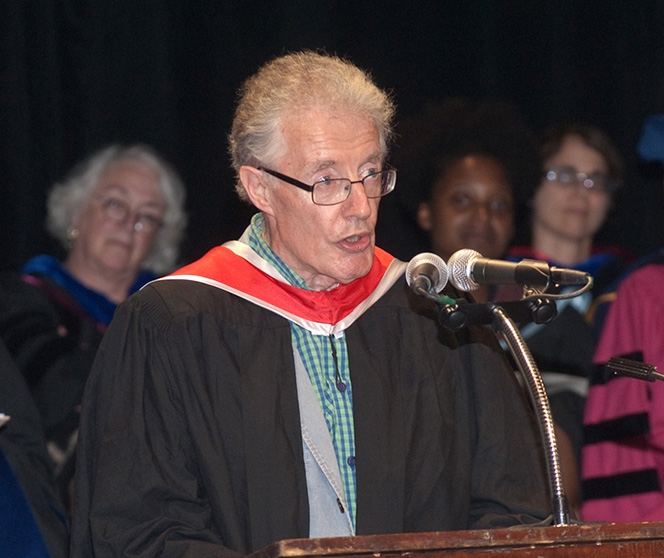 MIDDLEBURY, Vt. – The Middlebury Bread Loaf School of English is in mourning today with news that beloved faculty member Michael Armstrong passed away on March 7, 2016. A member of the Bread Loaf community since 1986, he died at his home in Southampton, U.K., from complications from a recent surgery. He was 81 years of age.
The director of the School of English, Emily Bartels, said in an email: "Michael brought exuberance and imagination to everything and everyone he touched – from his students and classes, to the educational systems in which he taught, to the Bread Loaf community."
He was renowned for his course Describing the Imagination, Bartels said, in which "Michael inspired us all to think about the richness and value of stories, especially and originally those written by young children." Required reading for the course included Adam Phillips' The Beast in the Nursery and Vivian Paley's The Girl with the Brown Crayon, as well as works by John Keats, Wallace Stevens, and John Dewey.
For 28 summers Armstrong taught courses about literature and storytelling to Bread Loaf's master's degree candidates – mostly on the Vermont campus, but occasionally on the Oxford campus and for one summer in the 1990s at the School of English's site in New Mexico. He also published three books on children's writing, thinking, and creativity.
In 2011 Bread Loaf's graduating class expressed its affection for Michael Armstrong by selecting him as their Commencement speaker and saluting him for his "inspirational investment in the power of children's art."
Bartels termed his passing an "incalculable loss," adding that he was "a master story-teller with an expansive intellect and imagination [who] brought passion, compassion, and joy to Bread Loaf summer after summer." The much-admired professor was scheduled to return to Bread Loaf for the summer of 2016.
Armstrong earned his B.A. and B. Phil. from University of Oxford, and was the head teacher at Harwell Primary School in Oxfordshire for many years.
He is survived by his wife, Isobel, who also taught at the School of English. Funeral arrangements for Michael Armstrong have not yet been announced.