Nussbaum: Anger Is the Wrong Response to Injustice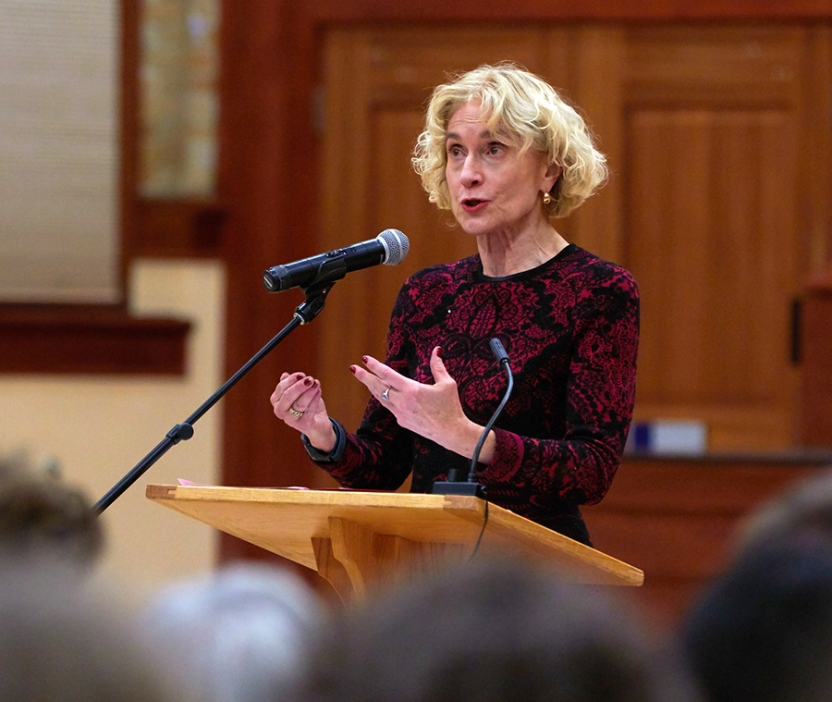 MIDDLEBURY, VT. – Philosopher Martha C. Nussbaum said anger is problematic because "inflicting pain on the wrongdoer does not, in itself, restore the thing that was lost," and the notion of payback "is deeply human but fatally flawed."
Speaking to about 200 Middlebury students, faculty, and staff, the illustrious University of Chicago professor of law and ethics – and author of more than 20 books – gave a master class on anger and revolutionary justice on March 17 in Wilson Hall. Nussbaum traced civilization's understanding of anger back to Greek mythology, explained how Gandhi, King, and Mandela channeled it to achieve their ends, and concluded the one-hour lecture with cogent thoughts on anger and the practice of liberal arts education.
The guest speaker debunked the idea of retributivism – "the view that the law must punish aggressors in a manner that embodies the spirit of anger," as Nussbaum defined it – through a close examination of Aeschylus's play "The Eumenides." In it, the goddess Athena transforms the ancient Greek deities of vengeance, the Furies, into benevolent spirits, or Eumenides, to show that the "rabid breed could not be part of the legal system," and "in place of anger, the city gets justice."
According to Nussbaum, Aristotle defined anger as "an emotional response to a significant damage to something or someone one cares about, and a damage that the angry person believes to have been wrongfully inflicted." The Greek philosopher also determined that "anger itself is painful, [but] it also contains a pleasant hope for payback or retribution."
The damage and wrongfulness aspects of an angry response are not controversial, Nussbaum said, and have been validated by modern psychological studies of the emotions. "More controversial," she said, "is the idea that the angry person always wants some type of retribution, and that this is a conceptual part of what anger is."
Nussbaum said an angry person is faced with three possible courses of action: the "path of status" about restoring one's position of prominence; the "path of payback" about believing that the offender's suffering will restore what was lost; or the "rational" path that "focuses on the real injury" and on "doing whatever makes the most sense in the situation, which may include punishment for the wrongdoer, but in a spirit that is forward-looking and not retaliatory."
The University of Chicago's Ernest Freund Distinguished Service Professor said the rational person who has been wronged soon realizes "the healthy segue into constructive and forward-thinking thoughts away from anger and into compassionate hope for the future."
Nussbaum termed this shift "The Transition, with a capital 'T,'" and equated it to Martin Luther King Jr.'s "Dream" speech, saying:
"King gets busy right away reshaping retributivism into work and hope, for how sanely could injustice be made good by retributive payback? The oppressor's pain and lowering do not make the afflicted free. Only an intelligent and imaginative effort toward justice can do that. 'The Transition' is a movement from anger, with all its defects, into forward-looking, constructive work and hope."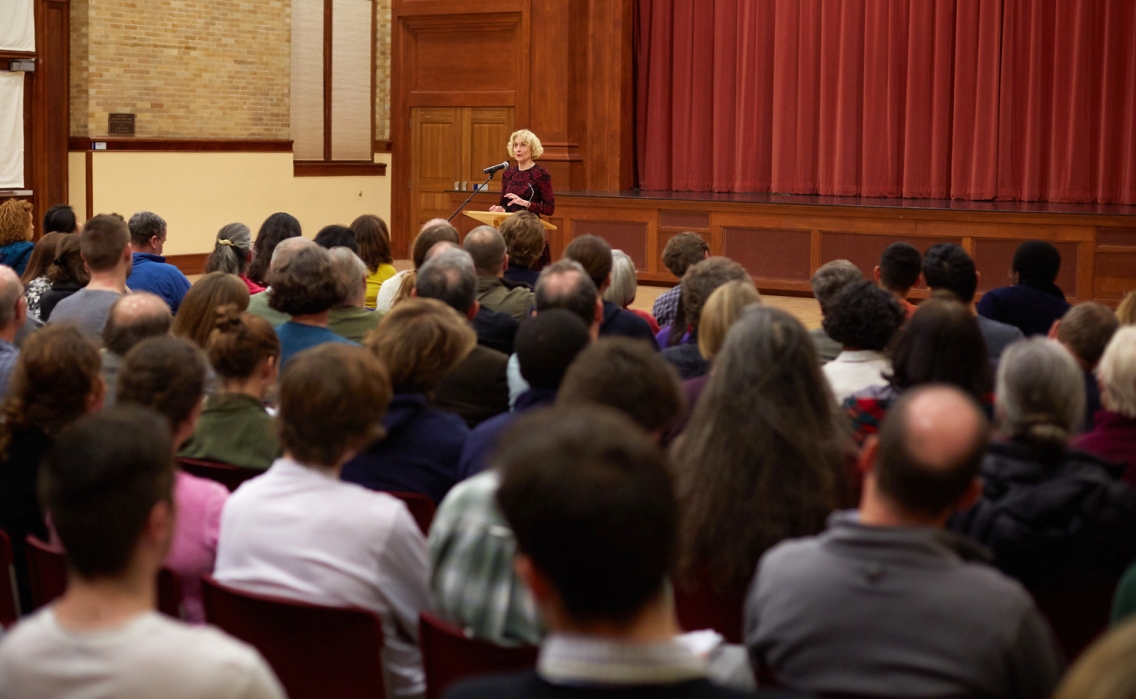 The Middlebury community came out in force to hear Martha Nussbaum speak at Wilson Hall in McCullough Student Center. (Click on photo to enlarge.)

King's dream is "not one of torment or retributive punishment, but of equality, liberty, and brotherhood." It is more like the Book of Isaiah and less like the Book of Revelation, Nussbaum said, and she closed by connecting her meditation on anger with the values of liberal education.
"You can see," she reiterated, "that listening to the voice of reason was the antidote to anger. There is something brutish and unreasonable about [anger], so there's hope for the kind of peaceful interaction characteristic of philosophical debate in gaining some distance from destructive passions and [the desire for] payback."
Nussbaum quoted Jonathan Jansen, the rector of the University of the Free State (South Africa), who told a graduating class "…never respond by rage, respond instead by reason," and observed that Middlebury President Laurie L. Patton delivered a similar message in her 2015 Inaugural Address by invoking the Jewish tradition of "argument for the sake of heaven."
Be resilient in your arguments, Nussbaum advised, and deal with problems in a productive manner "rather than slinging slogans or abuse." Learn about history, study classical literature, acquire languages other than your own, pay attention to people from other parts of the world and try to understand their experiences – and it will help you understand your own society and your own situation better.
"All of these things a liberal education offers us," Nussbaum concluded, "so in a country increasingly enchanted by anger … let's give peace a chance."
Nussbaum's latest book, Anger and Forgiveness: Resentment, Generosity, Justice, is due to be released on May 2, 2016, by Oxford University Press. Her appearance at Middlebury was sponsored by the Eve Adler Department of Classics, the Program in Classical Studies, the Department of Philosophy, and the Middlebury Institute's Deans' Seminars.
– With reporting by Robert Keren and photos by Todd Balfour