Students Bring Literary Works to Life at NER Out Loud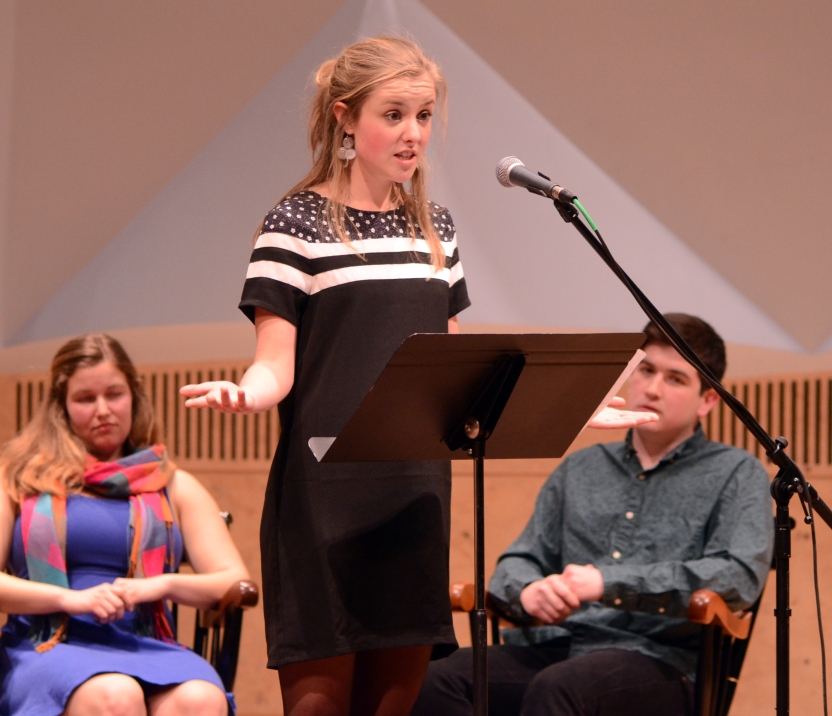 MIDDLEBURY, Vt. — Six students from Oratory Now lit up the stage at Middlebury's Mahaney Center for the Arts on Friday, March 4, with poems and stories from the New England Review. After the program, the audience gathered in the art center lobby for more readings and a reception, where they browsed copies of NER plus four student publications—Blackbird, Frame, Middlebury Geographic,and Translingual—and heard another 10 students read their own work from those magazines.
The NER Out Loud program began with a welcome by editor Carolyn Kuebler, who spoke briefly about the program and the New England Review, the national magazine published by Middlebury for more than 30 years and hosting its second annual performance in the concert hall. She thanked collaborators Dana Yeaton, associate professor of theatre and head of Oratory Now, and Liza Sacheli, director of the Mahaney Center.
Students readers were Sally Seitz '17, reading "The Red Painter" by Penelope Cray, a Vermont author who attended the reading; Alexander Burnett '16, reading a "Rediscovery" from 1870 by Henry Reed Stiles, titled "To Bundle or to Tarry;" Mariah Levin '16.5, reading the poem "High School in Suzhou" by Cate Marvin; Kathleen Gudas '16.5, reading from the short story "Forty-Two" by Lisa Taddeo; Melanie Rivera '19, reading the poem "At the Tribunals" by Patrick Rosal; and August Rosenthal '17, reading from the story "Eleven Girls" by David Ebenbach. Adding another layer of artistry, and making the event accessible to the deaf community, was American Sign Language interpreter Eliza Goodhue.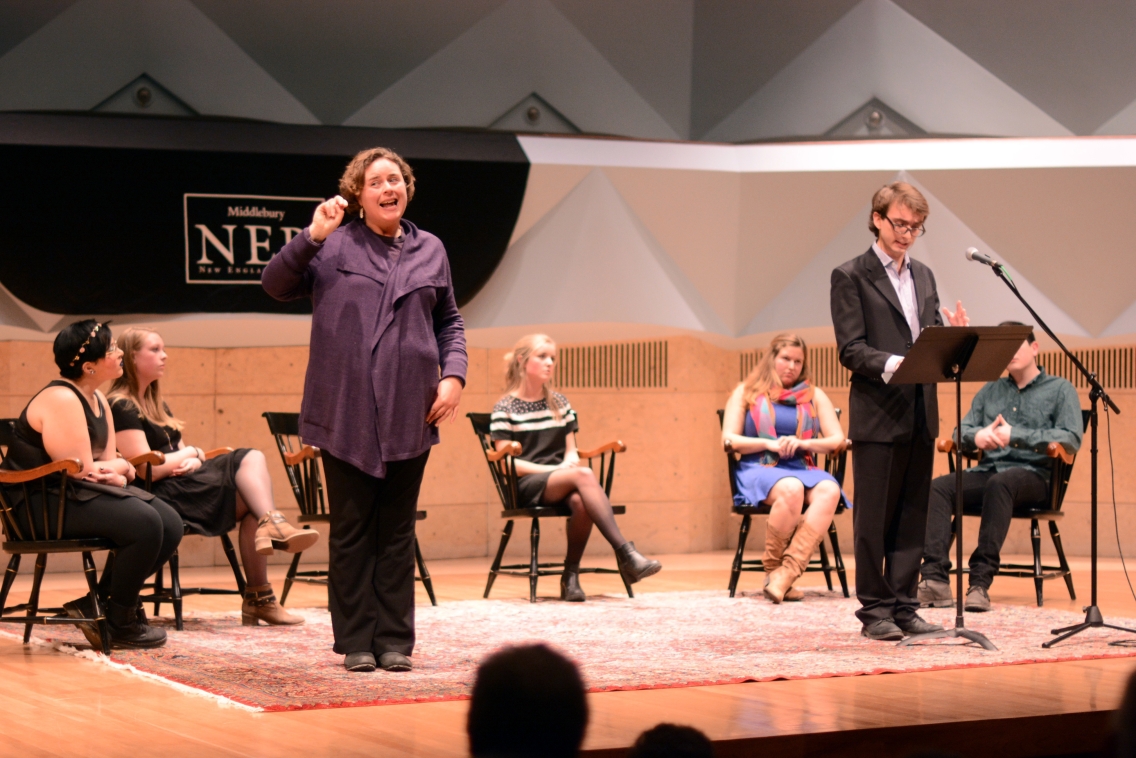 Alexander Burnett '16 reads from "To Bundle or to Tarry" by Henry Reed Stiles while Eliza Goodhue provides American Sign Language interpretation.
The evening's selections were originally published by New England Review in 2015, and recordings of the readings are available on the NER website.
At reception afterward, billed as "S'more Readings," NER intern Isabelle Stillman '16 welcomed the student magazines and readers—with chocolate and marshmallow treats. Student editors, who introduced their magazines, and in some cases read their own work, included Nicholas Kaye '17 of Blackbird, Filippos Papageorgiou '16 and Anthea Viragh '16.5 of Middlebury Geographic, Natalie Figueroa '18 and Maya Reich '19 of Translingual, and Meg Daly '18 and Wendy Walcoff '16.5 of Frame. Other student writers who read were Christina Brook '18, Anna Parker '17.5, Naomi Eisenberg '18, Lizzie Apple '18, Taylor Scott Berkley '16.5, Daria Cenedella '18, and Samuel Wegner '18.
Middlebury students edit and publish a wide range of literary magazines each year. Blackbird is a literary arts magazine presenting fiction, poetry, and artwork by Middlebury students. Frame, new this year, is a handmade staple-bound booklet featuring highlights from a student-led creative writing workshop. MiddGeo, a glossy magazine full of photography, is designed to capture and celebrate the academic work, independent research, and worldwide adventures of Middlebury College students. Translingual offers translations by Middlebury students of their own writing, and writing by others, in multiple languages. Students reading from this journal read their work in English but also in Maori, Japanese, and Spanish.
For more information, visit the New England Review.
With reporting by Carolyn Kuebler; photos by Robert Keren.
For More Information