Campus Celebrates 10th Annual Student Symposium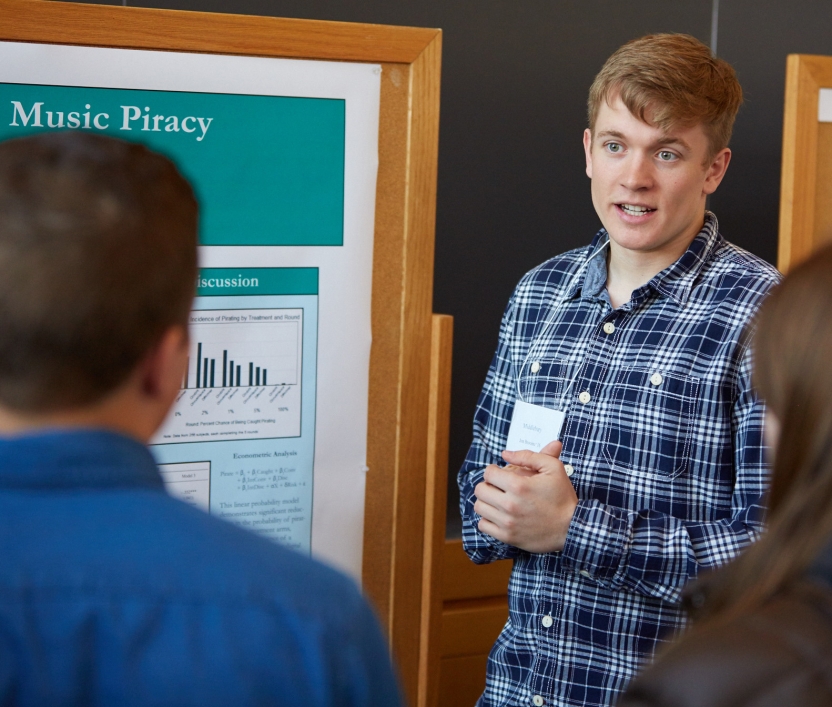 Slide Show:
[view:embed_content==516407]
MIDDLEBURY, Vt. – The sounds of people sharing their enthusiasm for learning filled McCardell Bicentennial Hall and Johnson Memorial Building during the 10th annual Middlebury Spring Student Symposium on April 15.
More than 300 students shared their work via oral presentations, poster sessions, art exhibitions, and performing arts events. No classes are held on the day of the symposium, and it is inspiring to students, faculty, and staff alike to experience the high caliber of work undertaken by Middlebury undergraduates.
"Every year a large number of students tell me the Spring Student Symposium is one of the very best things about Middlebury," said Lisa Gates, associate dean for fellowships and research, and one of the co-chairs of the event. "They are excited to share their work with friends and faculty mentors, and they get equally excited to see what their peers are working on."
President Laurie L. Patton opened the symposium and said, "Today is a day for us to admire, appreciate, and celebrate both independence and collaboration. The work showcased here today is borne of original thought and independent inquiry, and months of singular focus and effort. It also bears the hallmarks of partnerships with professors who worked alongside students…providing instruction, mentorship, and guidance, and, most especially, encouraging curiosity."
Curiosity and independent inquiry were what inspired Elisabeth Harmor '16 to inventory and preserve Middlebury's collection of antique theatrical costumes – a collection that she uncovered by surprise in a closet in the basement of Wright Theatre.
Harmor gave a poster session at the Student Symposium and termed the collection "a great resource" for costume classes and theatrical productions at Middlebury. She showed how the antique apparel was used as primary source material for costume designers on two recent Middlebury College productions. And last semester, working with Mira Veikley, a visiting artist in costume design, Harmor received a grant from the Costume Society of America to inventory every item in the collection and preserve the costumes with a dehumidifier, muslin garment bags, acid-free storage boxes, and specially padded hangers.
Meanwhile, in Room 104 of Bicentennial Hall, three film students were screening their short works for a standing-room-only audience of students, faculty, and staff. Sierra Jackson '18 showed her film "Black Girl Magic" and later explained that "reclaiming my natural hair means reclaiming a part of my identity, and learning more about my hair is learning more about myself." Jackson said she had been using "a lot of chemicals on her hair" and her film helped her distance herself from that practice.
Jackson showed her film along with the shorts produced by August Laska '17.5 ("Real") and Kirk Horton '17 ("Life's Surprising"), and the three filmmakers took questions from the audience.
On the third floor of Bicentennial Hall students were exploring "Religious Identities: Reclamation, Reflection, and Rejection" in a presentation moderated by Ata Anzali, assistant professor of religion.
Nearly every seat in Room 303 was taken to hear the results from a project completed by Hasher Nisar '16.5 and Cara Vazquez '17. The duo analyzed headlines in the New York Times and the Guardian (U.K.) from 1985 to 2014 to determine whether the "net tone" of over 4,000 stories was positive, problematic, or ambiguous as the headlines pertained to Catholics, Muslims, and Jews.
Nisar and Vazquez were followed by second-semester senior Kelsey Follansbee's report on "Imagining Islam: 19th-Century Evangelical American Missionaries' Accounts of Islam," in which she researched the letters and journals written by two members of the Middlebury College Class of 1814 who travelled throughout the Middle East. The original papers of Pliny Fisk and Levy Parsons reside in Special Collections.
Back in the Great Hall where more poster sessions were taking place, Caroline Colan '17.5 was speaking with visitors about the Sendero Pacifico, the Pacific Slope Trail in Costa Rica. Colan hopes to work toward extending and improving the trail for recreation, education, and conservation, and to strengthen the economy of the communities found along the Bellbird Biological Corridor.
The Spring Student Symposium began in 2007 with about 60 student presenters, and despite its growth over the years it continues to be a multidisciplinary celebration of undergraduate work at Middlebury College. The planning committee for the 2016 symposium consisted of six faculty members and five members of the administration. The co-chairs were Greg Vitercik, professor of music, and Associate Dean Lisa Gates.
Reporting by Robert Keren and Stephen Diehl; Photos by Todd Balfour
For More Information