College, Town Discuss New Park Plans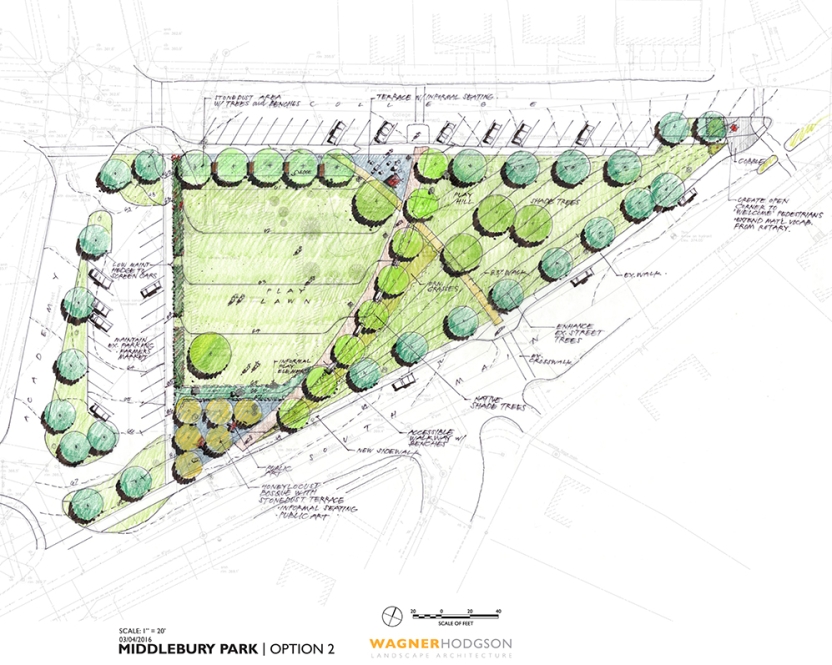 MIDDLEBURY, Vt. — Another visual transformation will take place in downtown Middlebury this June when the town will raze the town offices and municipal gym that currently stand on a triangle of land between South Main, Academy, and College streets.
What takes root in that space — a public park, owned by the College but designed with the community in mind — has been the topic of public conversation in a series of listening sessions for both town residents and students. At two meetings in recent weeks, an advisory group working on the park unveiled the very earliest of plans for the green space, and gathered suggestions about what the final design might include. As part of a deal approved by Middlebury voters in 2014, the College will assume ownership of the roughly one acre of park land, and will be responsible for upkeep and maintenance.
"It's a natural place where the College and the town meet, and should meet," said Special Assistant to the President David Donahue '91, who chairs the parks committee, at the first of the two public meetings.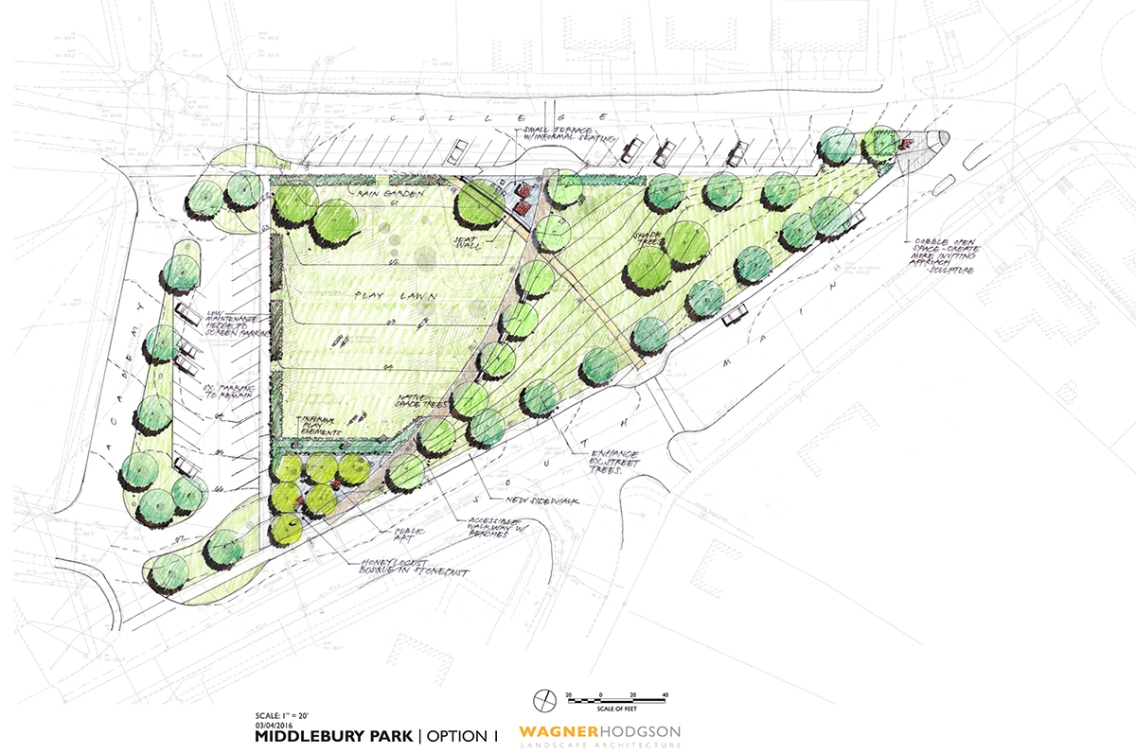 A second concept for the new park. The College is designing the park with the community in mind.
So far preliminary designs include a large play lawn — a mostly flat area intended for children's play, concerts, film screenings, and other outdoor events. A more steeply sloped portion of the park would include new plantings, and possibly seating, sculpture, or natural play structures like boulders or slides built into the hillside
"I think the thing that has resonated for me are the opportunities for especially young people to cross paths within the park space," said Morgan Raith '16.5, a student member of the advisory committee. She envisions a place for informal gatherings that is inviting to both college students and town residents, particularly small children and young families.
In both meetings, landscape architect Keith Wagner stressed that the designs are just an early step in the process of designing a public park, meant to be revised and reiterated with the help of public input. "We're still on trace paper," said Wagner, at the April meeting for students. "It's still very conceptual."
The design is being guided by a set of principles developed by the committee. According to just a few of these guidelines, the park should be family-friendly, universally accessible, and easy to maintain. The park will not include any built structures, but will include infrastructure for lighting or public events.
Public suggestions so far have been wide-ranging, from the call for public restrooms to a desire for a skating rink in the winter. At the on-campus meeting for students, one student asked for more comfortable outdoor seating areas where visitors could study, drink a coffee from a nearby cafe, or eat outdoors. Another suggested solar panel-covered walkways that could provide shade. At both meetings, participants called for native plantings, and expressed strong interest in public art and sculpture.
At both meetings, Donahue encouraged suggestions, but also tempered expectations. "We tried to be very cognizant that if we tried to be everything to everyone, we won't do anything well," he said
In addition to finalizing the park's design, the committee will also present the town with findings and suggestions about other park spaces in Middlebury that have arisen as part of the planning process
Assuming the group can finalize a park design by June 1, officials hope construction of the park will finish by early fall.