A Spring Break Trip for Social Change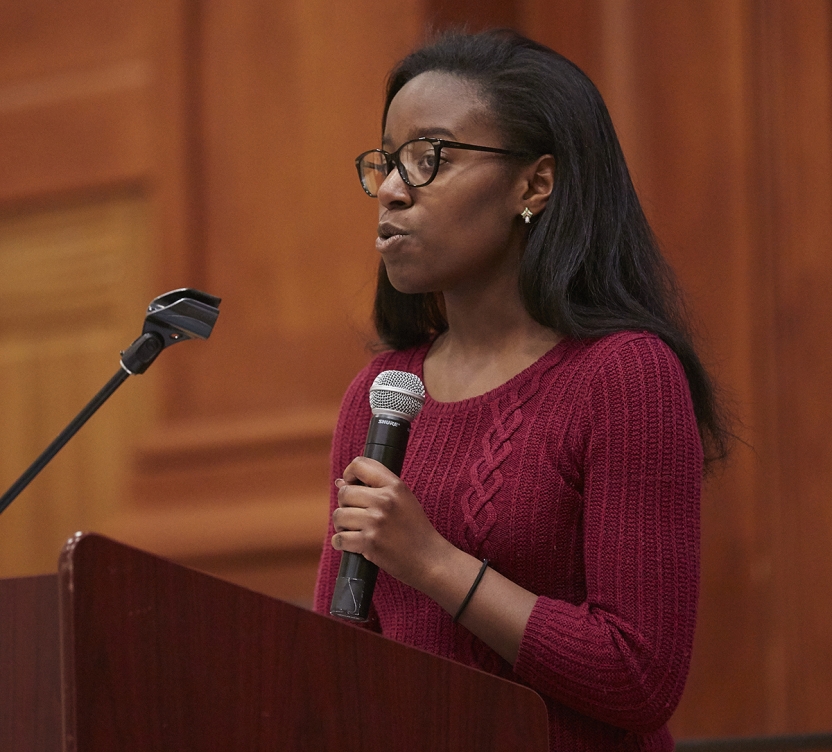 Slide Show
[view:embed_content==508011]
MIDDLEBURY, Vt. – How religion, community service, and the arts contribute to social change was the topic of discussion at a special event on the Middlebury College campus on April 6.
Social justice was very much on the minds of the 23 undergraduates and seven faculty and staff members who had just returned from an intensive, eight-day "alternative spring break" trip to Chicago. About 60 members of the college community joined them at the event to reflect upon what divides Americans today and, more importantly, what has the potential to bring us closer together.
"To engage social change issues in Chicago is to act righteously in times of danger," said Associate Chaplain Ira Schiffer in his opening remarks, invoking the phrase used by Middlebury alumna Cookie Tager, MA French '66. Tager, who co-sponsored the trip and attended the follow-up event on campus, has generously endowed "acting righteously in times of danger" travel and events at Middlebury in honor of her French host family members Pierre and Hélène Gagnier.
The Middlebury contingent traveled 16 hours by bus to Chicago and stayed in an international hostel to participate in 14 planned activities and unplanned chance encounters to bring the need for social change to light.
They attended Easter Sunday services at a Catholic church, Friday afternoon prayer with the Inner-City Muslim Action Network, and Shabbat services at a Reform synagogue.
In reflecting on the role religion plays in engaging social change, Jesus Barba '18 observed at the April 6 event how welcomed the Chicagoans made him feel. "I felt very included and I felt like [the services] were open to anyone," he said. "I could feel the energy of the people, the connectedness they shared, and I thought it was beautiful."
The group performed volunteer work on two consecutive afternoons with the Greater Chicago Food Depository, took a tour with the Rebuild Foundation of its community revitalization efforts, and visited an urban garden project called Growing Home, which inspires "healthy living, community empowerment, and economic development" in Chicago's south side.
During the discussion, Clair Beltran '16 expressed admiration for the urban garden project. "What Growing Home is trying to do about food insecurity and employment is really powerful," she said. "They are addressing the needs of the community in a way so residents can take ownership, derive benefit, and learn how to grow their own food."
In the search for ways to bring about social change, the Middlebury group visited one of Chicago's leading black radio stations, WVON, and sat in on a talk show there. They had coversations with civil rights activist Dorothy Tillman. And they met members of the junior class at a public charter high school – discussions that Rabbi Schiffer later described as "giving us the opportunity to listen to inner-city students reflect on how the pressures of high school take a toll on their spirit."
To learn about the arts, the alternative spring break delegation spent one morning at the National Museum of Mexican Art, another morning at the DuSable Museum of African American History, and an afternoon engaging with the Steppenwolf Theatre Project. The trip reached a crescendo when the visitors from Vermont participated in a writing workshop, dinner, and open mic event with the Young Chicago Authors for WordPlay organization.
Back in Middlebury, Nia Robinson '19 read from the poem she wrote at the workshop, the opening lines of which are: "Whenever I see another black person in Middlebury, Vermont / I wonder if they can see me / Or if black has become phantom after so many false alarms / I project a little more hoping they can hear the home in my voice / I try not to stare / Let's make this normal like we both belong here / Like we both want someone to understand…"
Professor Larry Yarbrough, the director of the Scott Center for Religious and Spiritual Life, closed the event by asking the attendees, all of whom were seated at round tables of eight, to reflect on the poem they had just heard. Students, faculty, and staff continued their conversations well past the six o'clock hour when the event was supposed to conclude.
Said Yarbrough of the issues raised in Nia Robinson's poem, "I know we will not cover this topic completely. It is a difficult topic. It is fundamentally part of our broad conversation at Middlebury."
For More Information