Student Group Revives Speech Contest after 50-Year Hiatus [video]
MIDDLEBURY, Vt. – Fifty years after the Parker Merrill Speech Competition disappeared from Middlebury College, a student organization, Oratory Now, is bringing it back to campus. The group's efforts will culminate in a public event where six student finalists will each give a talk of six minutes or less before a panel of alumni judges. The contest will take place at 7:30 p.m. on April 29 in Dana Auditorium.
The Parker Merrill Competition was a tradition at Middlebury from 1825 to 1965. Members of Oratory Now, which formed in 2014, wanted to restart the contest as part of the group's mission to cultivate the art of public speaking among students. Dana Yeaton, the group's director and a visiting assistant professor of theater, is coordinator of the competition.
Mariah Levin '16.5, student leader of Oratory Now, said the 2016 contest is a modern interpretation of a tradition with an exciting history. Bringing back the once annual event was not the group's only goal though. Levin thinks that the audience and the participants will enjoy themselves. "This is going to be fun," she said, "I can guarantee you."
The theme of this year's competition is "True North: A Principle to Guide Us Through Troubled Times." Students who participate must write and deliver their own speeches on why a principle close to their heart should influence people's actions. Students are judged on the five canons of rhetoric, first codified in classical Rome: invention, arrangement, style, memory, and delivery. These were the same criteria used at the first Parker Merrill competition in 1825, according to a program for the event housed in the College archives.
On April 29, the panel of alumni judges will determine the winners and award prizes – a first-place prize of $500, and two second-place prizes of $250. The following alumni will serve as judges:
Cloe Shasha '11, co-founder of TEDxMiddlebury and content and program producer for TED.
Dena Simmons '05, director of implementation at the Yale Center for Emotional Intelligence and frequent guest speaker whose popular TEDxTalks can be found online.
Jay Heinrichs '77, author of several books on rhetoric and consultant to TED speakers.
The six students who will compete have successfully completed the first two stages of the competition. During the preliminary round on April 10-11, 12 students were selected as semifinalists. These students went on to give speeches on April 14 before an audience and a panel of three faculty judges – Jane Chaplin, Nathaniel Nesmith, and Larry Yarbrough. The judges then chose the six finalists: Peter Dykeman-Bermingham '18, Tabitha Mueller '18, Dominick Tanoh '18, Nia Robinson '19, Briana Garrett '19, and August Hutchinson '16.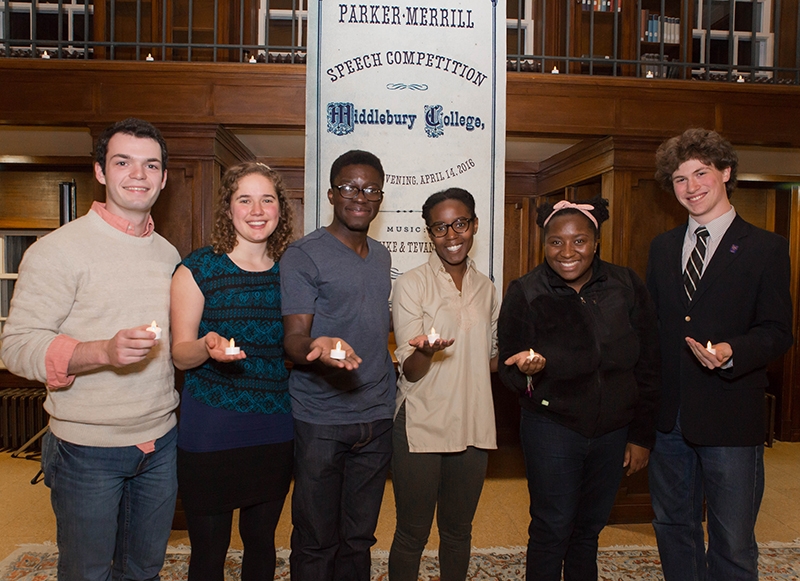 Following the second round of the Parker Merrill Competition on April 14, the six students named as finalists display the candles that were presented to them by members of the student group Oratory Now. The finalist are: (from left) Peter Dykeman-Bermingham '18, Tabitha Mueller '18, Dominick Tanoh '18, Nia Robinson '19, Briana Garrett '19, and August Hutchinson '16.
Former Vermont Governor Jim Douglas '72, who will serve as a script consultant to the finalists, was also in attendance for the semifinals. "Parker and Merrill," he told an overflow crowd in the Abernethy Room, "would be proud."
The Parker Merrill Speech Competition was founded, and in part funded, by Middlebury's first professor, Frederick Hall. When Hall was hired in 1806 he was immediately granted a two-year leave to study in Europe. While there, he was befriended by Daniel Parker, a wealthy American living in Paris, and when Hall fell ill, Parker lent him $180 to tide him over. As David Stameshkin writes in The Town's College: Middlebury College 1800-1915, "When Hall tried to repay him, Parker refused to accept the money, saying that he liked to patronize the sciences. Hall decided to give the sum (along with $120 of his own money) to Middlebury College as a prize for undergraduates who excelled in public speaking."
According to the program from the 1888 competition, Middlebury pastor and College trustee Thomas A. Merrill added his name to the Parker Merrill Prize in 1855, seeking to recognize "the student who has excelled his competitors in the care and gracefulness of his manner, in the intonations and modulations of his voice and in the propriety and elegance of his manners."
The last record of the annual Parker Merrill Speech Competition is an article in the May 27, 1965, edition of The Middlebury Campus.
Reporting by Sarah Ray; Photo by Yeager Anderson '13.5
For More Information