Hiroshima Survivor, Truman's Grandson Engage in Thoughtful Conversation
MIDDLEBURY, Vt. – Eighty-three-year old Hiroshima survivor Shigeko Sasamori held more than 500 members of the Middlebury community spellbound as she recalled the horror of the morning of August 8, 1945, and its aftermath, at an event in Mead Chapel titled "Responsibility, Reconciliation, and the Dropping of the Atomic Bombs."
Dressed in kimono, the petite Ms. Sasamori, who was 13 years old when the United States bombed her city, recalled the human suffering she witnessed and the physical and emotional toll it took on her and her family.
The bomb blast rendered her unconscious and when she awoke "it was pitch black and I couldn't see anything." In the hours that followed, as the smoke and debris started to clear, she saw, "Everyone is different. Everybody is completely changed. Clothes hanging, people bleeding, red all over, and walking very slowly. I didn't hear anything. I didn't feel anything."
It was not until five days later that she was reunited with her parents. Calling out her name "Shigeko, Shigeko," her mother and father found her alive in a school auditorium. At first "they couldn't recognize me. My hair and face was all burned off, like when you make toast and forget about it. All burned and black," and in the auditorium there were "dead people on the floor like dead fish in the fish market."
Sasamori was one 25 young women, known collectively as the "Hiroshima Maidens," who came to the United States in 1955 for reconstructive surgery at Mt. Sinai Hospital in New York.
The program on May 2 was structured as a conversation between Sasamori and Clifton Truman Daniel – the grandson of Harry S. Truman, the president who authorized the use of the atomic bomb that ended the war with Japan.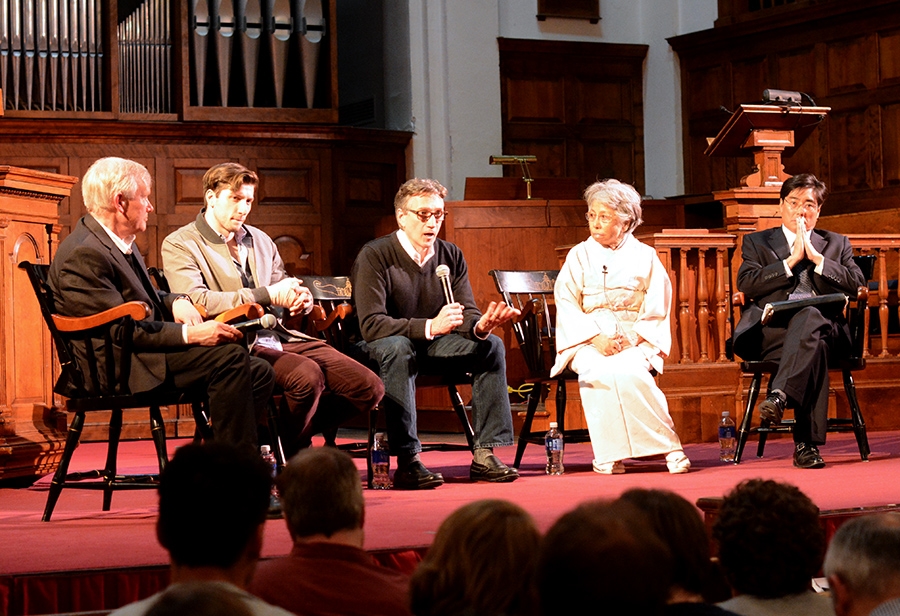 From left: Professor and moderator Stephen Snyder, Wesley Daniel, Clifton Truman Daniel, Shigeko Sasamori, and Norman Cousins Sasamori. (Click image to enlarge.)

Daniel addressed the Mead Chapel audience after Sasamori, and said that his grandfather never spoke with him about his decision to use nuclear weapons. "[Harry Truman] died when I was 15," he explained, and "history books in grade school and in high school to this day do not give you a whole lot of information about [the suffering of the citizens of] Hiroshima and Nagasaki."
"Shegeko and the other survivors that I met came to me with open minds and open hearts. No one came to me in recrimination or anger. None of them were asking for apologies. None of them made me responsible," the author and former journalist explained.
"They just wanted me to listen, to understand what it is like to live through a nuclear explosion, so hopefully we don't do this to each other again. I grew up with the U.S. narrative that the bombs ended the war; they forestalled a costly invasion of the Japanese mainland in which hundreds of thousands of people would have been killed on both sides," Daniel said, but he "threw that narrative out" when he met Shegeko Sasamori and other Hiroshima and Nagasaki survivors.
Joining the duo on stage were their sons, Norman Cousins Sasamori and Wesley Daniel, who both delivered brief remarks. (Ms. Sasamori's son was named after Norman Cousins, the journalist and peace advocate who played a major role in bringing the Hiroshima Maidens to New York.) For the remainder of the evening, and during the question-and-answer session that followed, the focus was on stopping nuclear proliferation, or as Ms. Sasamori had said in her earlier comments:
"More people nowadays are more eager to be anti-nuclear. I am very happy to know this, but it is not enough. Everyone has to do it together, not just this peace group or that peace group. Seventy years have passed since the end of the war and still people have not learned… No more war."
The director of the Rohatyn Center for Global Affairs, Professor Tamar Mayer, opened the evening and foreshadowed that the event will be "important for learning and knowing about responsibility, for engaging in a dialogue that is integral to reconciliation for learning lessons from the past, and for acknowledging that war has devastating impact on victims, perpetrators, their children, their grandchildren" and everyone else on the planet.
President Laurie L. Patton sent a message of welcome to Sasamori and Daniel, calling them "advocates for reconciliation and nuclear disarmament." In her remarks (read aloud by Prof. Mayer), the president added: "These two people are descendants of the best and the worst policies and mindset of the 20th century… They are taking the legacy of their ancestors and transferring them into a positive force for good, and they are doing so through conversation, which is perhaps the most powerful tool we have."
The event was sponsored by the Rohatyn Center, the Departments of History and Japanese Studies, Scott Center for Spiritual and Religious Life, Middlebury's Academic Enrichment Fund, Brainerd Commons, and an anonymous alumnus.
– With reporting and photography by Robert Keren