Six College and University Art Museums Form New Media Arts Consortium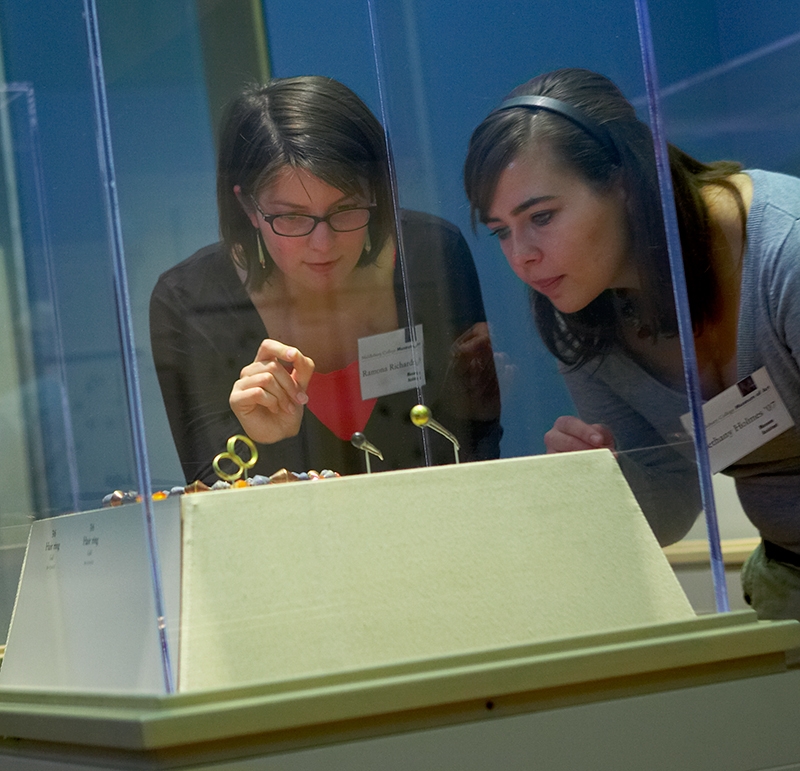 MIDDLEBURY, Vt. – The Middlebury College Museum of Art has joined with a group of five other northeast college and university art museums to form a collaborative partnership, the New Media Arts Consortium, to jointly acquire and share ownership of digital, interactive, and new media works.
Middlebury's partner's in the consortium are the Bowdoin College Museum of Art in Brunswick, Maine; the Colby College Museum of Art in Waterville, Maine; the Mount Holyoke College Art Museum in South Hadley, Mass.; the Rose Art Museum at Brandeis University in Waltham, Mass.; and the Tang Teaching Museum and Art Gallery at Skidmore College in Saratoga Springs, N.Y.
"We are thrilled to be able to participate in the consortium and to benefit from the stimulating conversations it has already provoked," said Emmie Donadio, Middlebury College Museum of Art's curator of modern and contemporary art.
The consortium's inaugural acquisition, Tango for Page Turning (2012-13), a video by South African artist William Kentridge, will be featured in exhibitions and utilized in classrooms to enrich interdisciplinary teaching across a wide range of academic fields. The consortium marks a pioneering approach to collecting new media art, a category that broadly encompasses works originating from video, digital, and computer technologies. The master copy of each acquired work will travel between member institutions for public exhibitions and screenings, and each organization will retain a copy of the work to support research and teaching. The first museum in the group to exhibit Tango for Page Turning, the Colby College Museum of Art, will display the work this summer.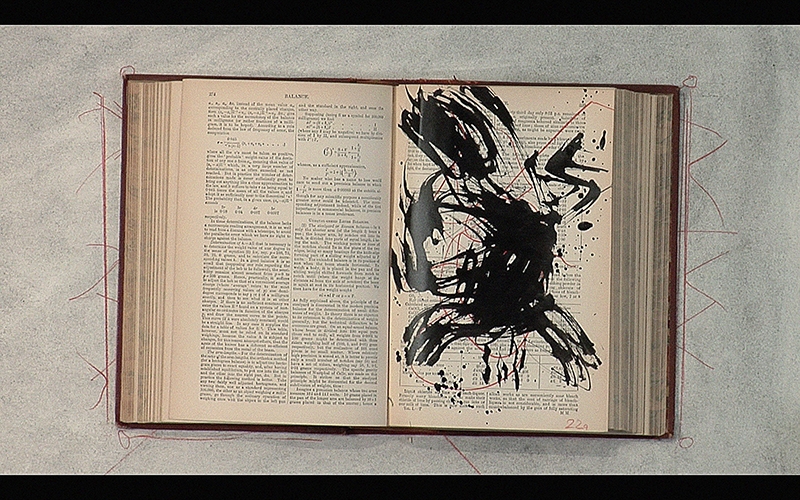 William Kentridge, Tango for Page Turning, 2012–2013, single channel HD video, 2 minutes 48 seconds. Purchased by the New Media Arts Consortium, a collaboration of the art museums at Bowdoin College, Brandeis University, Colby College, Middlebury College, Mount Holyoke College, and Skidmore College. Courtesy of the Artist and Marian Goodman Gallery.
The consortium will enable the museums to acquire a greater range of works than they would be able to purchase individually, and to draw on the resources and expertise at each institution to create a dynamic and diverse series of courses, learning opportunities for students, faculty collaborations, and programs for their campuses and public communities. All of the museums of the New Media Arts Consortium offer free admission, allowing students, staff, faculty, and the greater public to view the acquired works.
Tango for Page Turning is a single channel video by William Kentridge (b. 1955), best known for his animated films that "confront the brutalities of apartheid. The two-minute and forty-eight second video of charcoal drawings displays Kentridge's signature sketching, erasure, and stop-motion animation techniques.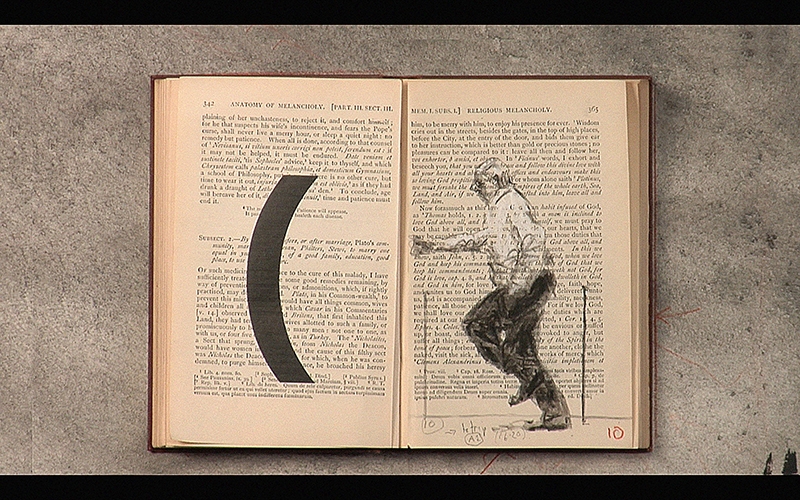 Credit above.
Originally created for the chamber opera Refuse the Hour (2012-13), Tango for Page Turning arose out of a series of conversations between Kentridge and the historian of science Peter Galison on issues including the history of the control of world time, relativity, black holes, and string theory. The video captures the turning pages of a 19th-century chemistry book, upon which Kentridge illustrated images of the South African dancer Dada Masilo. Synthesizing music, dance, and poetry, and interweaving historical sources with recent advancements in science,Tango for Page Turning embodies the interdisciplinary framework of the contemporary academic art museum and will serve as a resource for students in a wide range of departments.
"Tango for Page Turning joins a burgeoning collection of film and video art at Middlebury," said Donadio. "It will offer colleagues across the performing arts as well as visitors to the museum a close if brief encounter with the deep intellectual and esthetic concerns of William Kentridge, one of the most prolific and respected artists working in all mediums today."