Students Build Replica of Robert Frost's Morris Chair as an Independent Study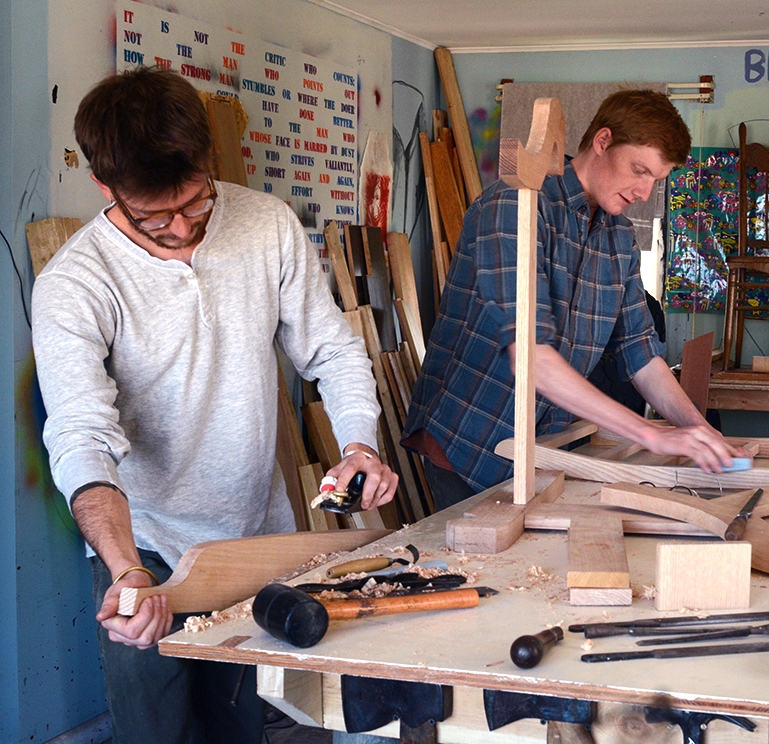 MIDDLEBURY, Vt.– Two Middlebury undergraduates who find their creative expression in woodworking have built an exact replica of Robert Frost's famed writing chair as an independent project in architectural studies.
Junior Milo Stanley and sophomore Emmet Norris are two Febs who arrived at Middlebury a year apart but became friends through their shared sensibility. Stanley, the son of a carpenter from Richmond, Maine, has a background in boat building, while Norris, who grew up near Boulder, Colorado, used the first paycheck he ever earned to buy his own woodworking tools.
They met when Stanley was Norris's Feb Orientation leader. Both students had taken gaps years and would eventually become Middlebury geology majors.
The poet's original Morris chair, which visitors can view at the entrance to Special Collections in Davis Family Library, has been a source of interest for generations of Middlebury students, including Stanley and Norris.
With support from Professor Pieter Broucke of the history of art and architecture department, and advice from boat builder (and J-term instructor) Douglas Brooks of Vergennes, the duo set out in February 2016 to build an exact replica of Robert Frost's chair – the same chair preserved from Frost's cabin in Ripton.
"Pieter told us that the chair would be a worthwhile project to replicate for the cabin, and Douglas helped us develop a plan how to build it," Stanley said. "There was no time to do it during [this year's] J-term so Emmet and I thought it would be cool to build it as an independent project in the spring."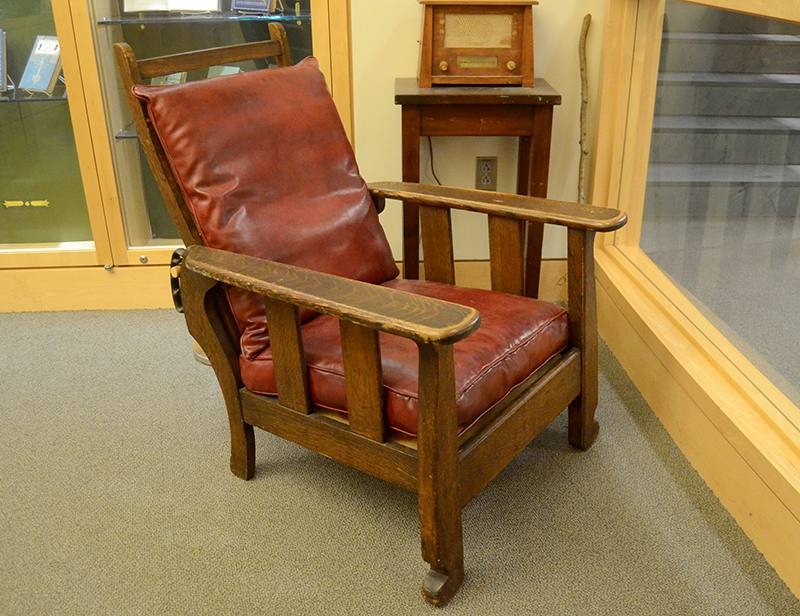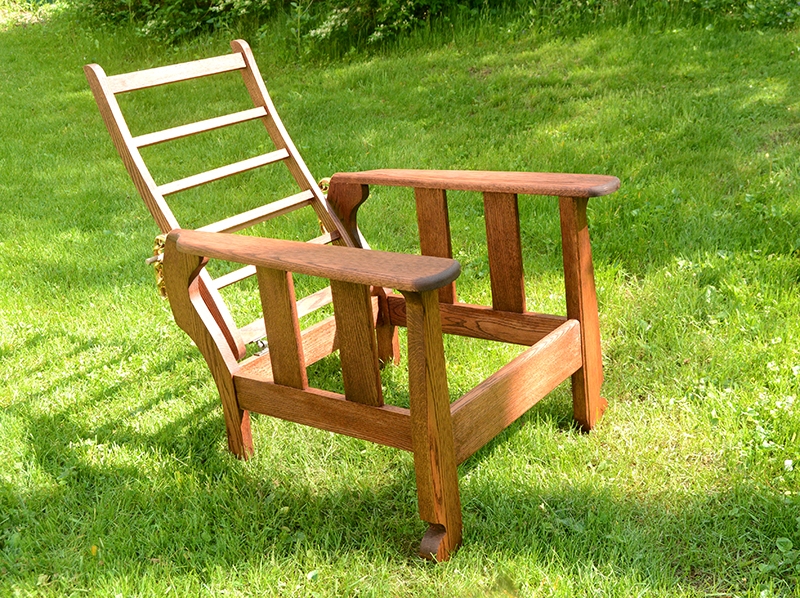 Frost's original chair on display in the Davis Library, and the new chair on the day it was stained. (Click to enlarge photos.)
But before they could cut a piece of wood, they had to build a workshop.
"The first half of the project was spent getting the space ready," said Norris. The workshop is located above the College's ceramics studio at 97 Adirondack View in a two-story house with a commanding view of the Adirondacks. "Let's just say this space upstairs was under-cared-for and filled with junk. We had to clear it out, build our workbench, and assemble the tools we needed before we actually got started on the chair."
Frost's version of the Morris chair was held together with dowel joints, but the two undergrads decided to modify the design using a more structural form of joinery: eight mortise and tenon joints.
The final product, built of locally sourced oak, has a hinged, reclining back with high, Mission-style armrests. (Frost strung a board across the armrests to do his writing.) The chair is stained a medium oak color and the plan calls for it to be placed inside Frost's cabin with cushions and a label indicating who built it, when, and why.
"We would like the chair to become part of an interpretive display inside the cabin," said Professor Broucke, and while plans are not quite in place yet to turn the cabin into a museum for the public, "the chair is definitely going to go up there where it can be seen and contextualized."
Norris and Stanley derived a great deal from the project in terms of applied learning. "The French have this great expression, l'intelligence des mains, the intelligence of the hands, indicating the intelligence involved in fine craftsmanship," said Broucke. "Emmet and Milo did a wonderful job researching the chair, both in terms of its artistic design and its commercial production. It has been an extremely successful independent study."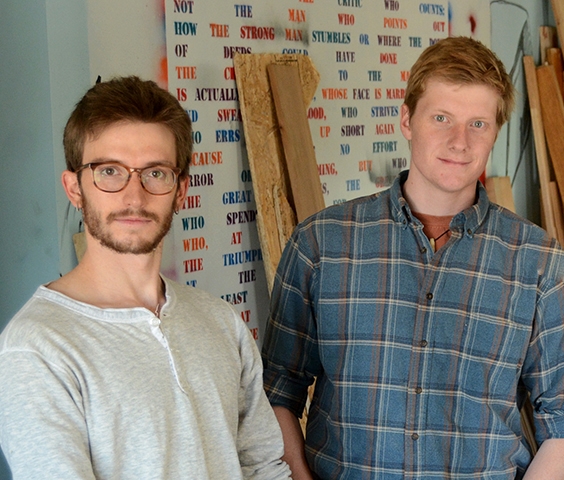 Fellow Febs Emmet Norris (left) and Milo Stanley created a workshop above the ceramics studio on Adirondack View.
"They worked diligently together," said Broucke. "It makes them accountable to each other and gives them a partner to bounce off ideas, stay motivated, and do their best work."
In addition to the chair, the students turned in a paper documenting their research about Morris chairs in general and about Frost's Morris chair in particular. They also proposed the copy for a museum label that will accompany the chair wherever it goes.
For Norris and Stanley, creating the space for woodworking was almost as significant as building the chair itself.
"Having this space I felt like I could finally slow down enough during the semester to get to that place where my creativity and expression could kick in," Norris said. "The beauty and purpose in life for me is working with my hands."
Not surprisingly, Stanley agrees. "Some of the most enjoyable hours of the semester have been spent woodworking with Emmet and reading some of Robert Frost's poems right here. Independent projects are such a change from the stress of exams and papers. It's something I have really come to value."
– With reporting and photography by Robert Keren
For More Information