Bread Loaf School of English Celebrates Commencement (video)
RIPTON, Vt. – The Middlebury Bread Loaf School of English completed its 97th summer session with Commencement exercises for 50 master's degree candidates at the Bread Loaf campus here on August 6.
Emily Bartels, director of the School of English, said the 2016 graduates helped shape "one of the most productive, dynamic, and exciting learning communities on the planet." She commended the senior class for taking on the challenges of critical inquiry, writing, collaborating, and performing – all with an eye toward using what they learned to make a difference in their own classrooms and communities.
The graduates selected Bread Loaf faculty member Amy Hungerford, a Yale University professor of English, to deliver the Commencement address. Hungerford performed a close reading of Philip Larkin's poem "Show Saturday," drawing parallels between the beauty of human labor to the collective, regenerative work performed among students and faculty at Bread Loaf.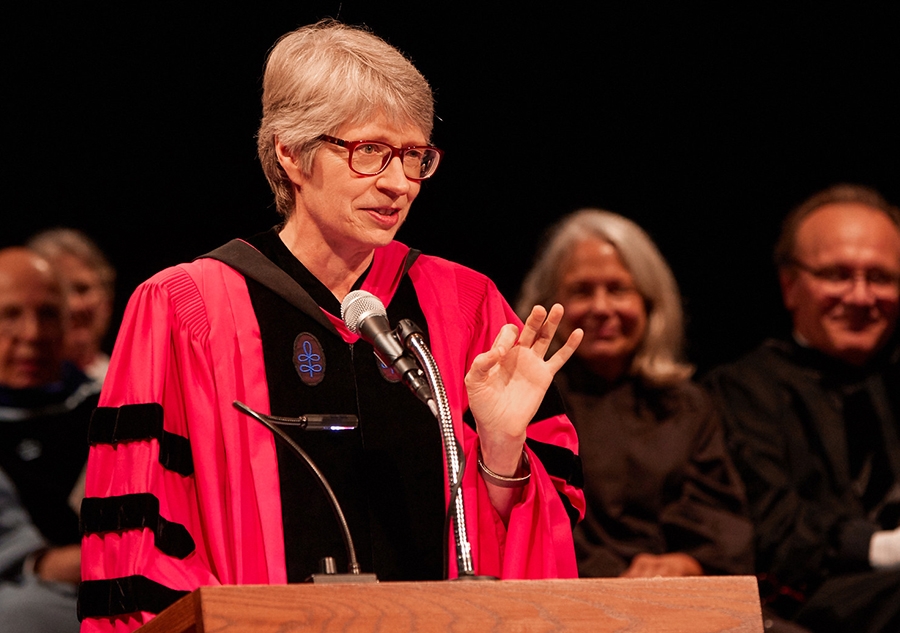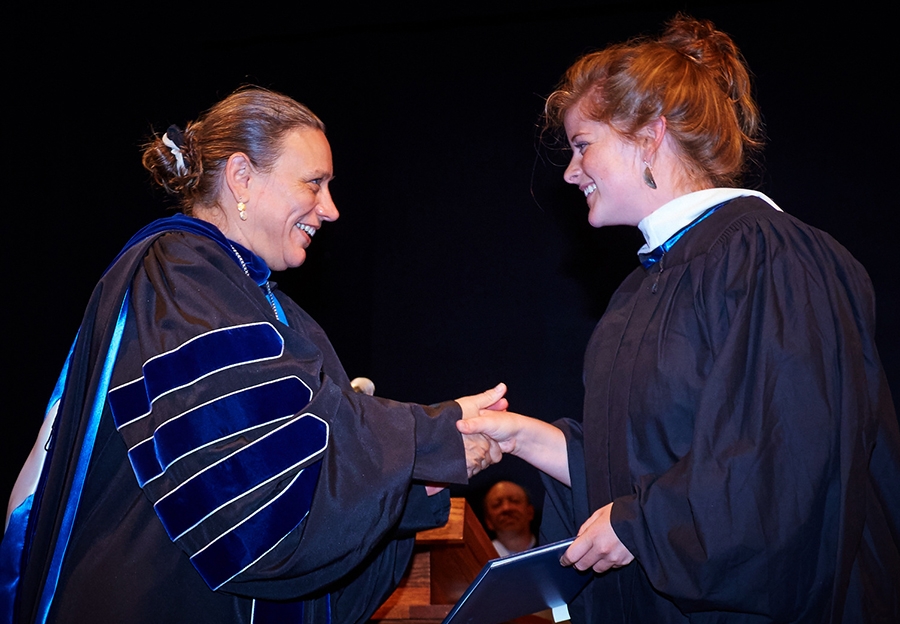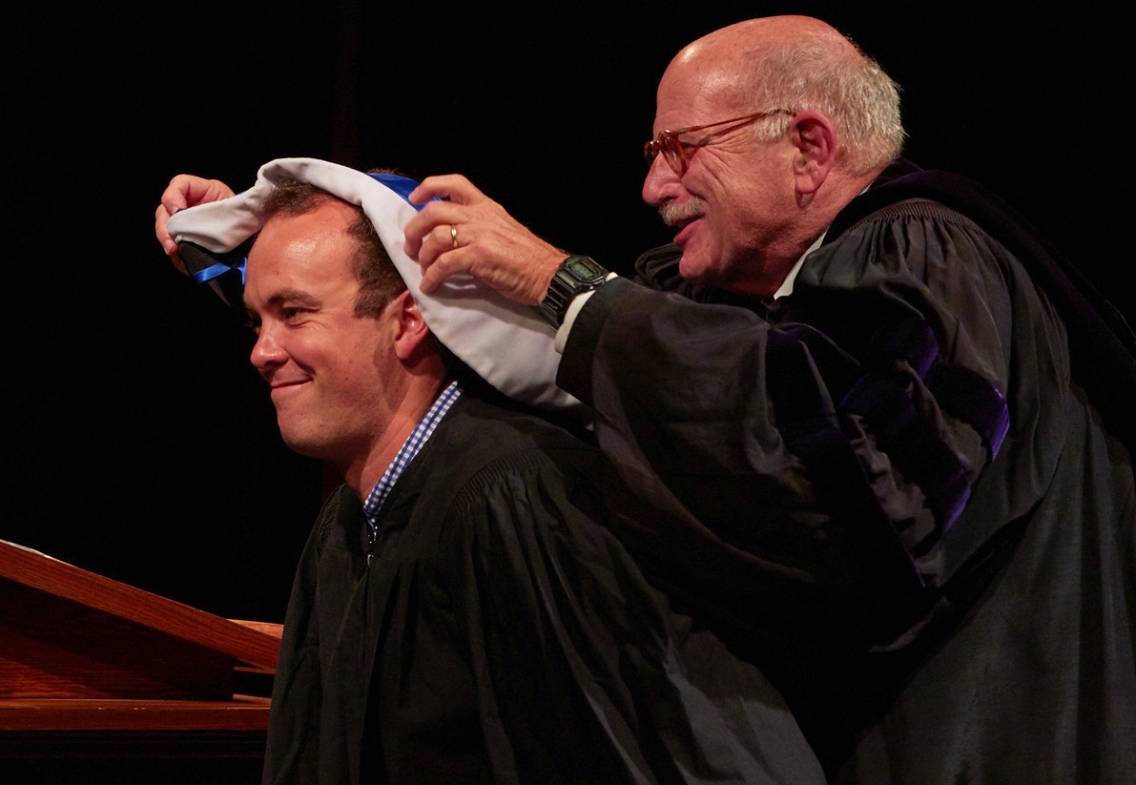 From top: Emily Bartels delivered opening remarks; Amy Hungerford gave the Commencement address; President Patton, here with Sarah Kate Neall, conferred the degrees; and John Fyler placed master's hoods on graduates, including Kurt Bennett. (Click on photos to enlarge.)
A specialist in 20th- and 21st-century American literature, Hungerford has taught at Bread Loaf since 2009 offering courses in Modernist American Literature, Religion and the Twentieth-Century American Novel, Writing San Francisco, Literatures of Solitude and the Social, and American Fiction Since 1945. Bread Loaf students praise Hungerford for asking challenging questions that push students to new territories of thinking.
During the summer of 2016 Hungerford read from her latest book, "Making Literature Now" (Stanford University Press, 2016), a text that combines ethnography, polemic, and traditional literary criticism in an exploration of the social networks that support and shape contemporary literature.
Middlebury President Laurie L. Patton conferred the 49 Master of Arts degrees and one Master of Letters degree, and spoke to the gathering in the Burgess Meredith Little Theater about one of her own remarkable high school English teachers who had taught her to remember the balance between dreaming and waking. Patton described Bread Loaf graduates' work as finding and teaching a better equilibrium between the world as dreamt and the world as it is.
John Fyler, who has taught 21 summers in the School of English including six as the on-site director of the Bread Loaf program at Oxford, placed the master's hoods on the graduates. In keeping with tradition, the graduates selected Fyler from the Bread Loaf community to serve as their "class hooder."
The president also conferred honorary Doctor of Letters degrees upon Louis M. Bernieri MA '80 and Nancie Atwell, who attended Bread Loaf from 1979-82. Bernieri, an English teacher at Phillips Andover Academy, is the founder of the Andover Bread Loaf partnership created in 1987 to promote literacy and educational revitalization inside and outside the classroom. Andover Bread Loaf has earned acclaim for its work in the Lawrence, Mass., public schools and at international locations from Kenya to Pakistan. Atwell, the author of the classic text "In the Middle: A Lifetime of Learning About Writing, Reading, and Adolescents" (Heinemann, 2014), received the first Global Teacher Prize from the Varkey Foundation and has been recognized as the Poetry Teacher of the Year by the Library of Congress.
The class co-presidents, Austin Davis and Kelsey Pitcairn, presented the class gift in honor of Michael Armstrong, the beloved Bread Loaf professor who died this year. Armstrong has had, and will continue to have, a profound influence on teachers for his work and teaching on pedagogies of the imagination, the co-presidents said. Director Bartels recognized the BLSE Class of 2016 for its unprecedented record of fund raising for the class gift: at the Vermont campus, 100 percent of the seniors participated, at the New Mexico campus 62 percent, and at Oxford 60 percent.
Davis, a teacher at Choate Rosemary Hall, reflected on Bread Loaf as a place where students build a community based on inquiry and intellectual discourse, where students renew themselves as they revel in words and engage in tough conversations. Pitcairn, a teacher at Wayland (Mass.) High School, described Bread Loaf as "imaginary" – a place students dream up and create together and then dream of wistfully once they depart, using play as a vehicle for intellectual risk.
Earlier on August 6 the School of English conferred Master of Arts degrees upon 22 graduates in a ceremony at Bread Loaf's Oxford campus, and on July 30 the Middlebury program conferred MA degrees upon 13 graduates at Bread Loaf's New Mexico campus. In total, the BLSE awarded 85 master's degrees during the 2016 session across its three locations.
– With reporting by Dana Olsen and photography by Todd Balfour
For More Information