Middlebury Voices in the News: What Took Place at the World Social Forum – a.k.a. 'the Anti-Davos'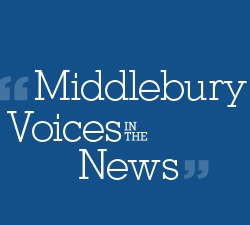 Sarah Stroup, associate professor of political science, and Jamie McCallum, assistant professor of sociology, joined thousands of others attending the World Social Forum, know as the 'anti-Davos,' held this year in Montreal on August 9-14. They recently described what they learned in the Washington Post's Monkey Cage blog.
One of their research goals was to determind whether the sprawling event leads to social change. As they state in their piece, "The short if unsatisfying answer is that it depends on what you are trying to accomplish." They note that the event draws activists from across borders and issues, and that the Montreal location made the forum inaccessible to many from outside Canada whose visas were denied. Students Dan Adamek '18, Eleanor Eagan '18, and Nina Sweeney '18, along with alumna Kate McCreary '15, attended the conference with Stroup and McCallum and assisted with their research.