Students Present Research at Summer Symposium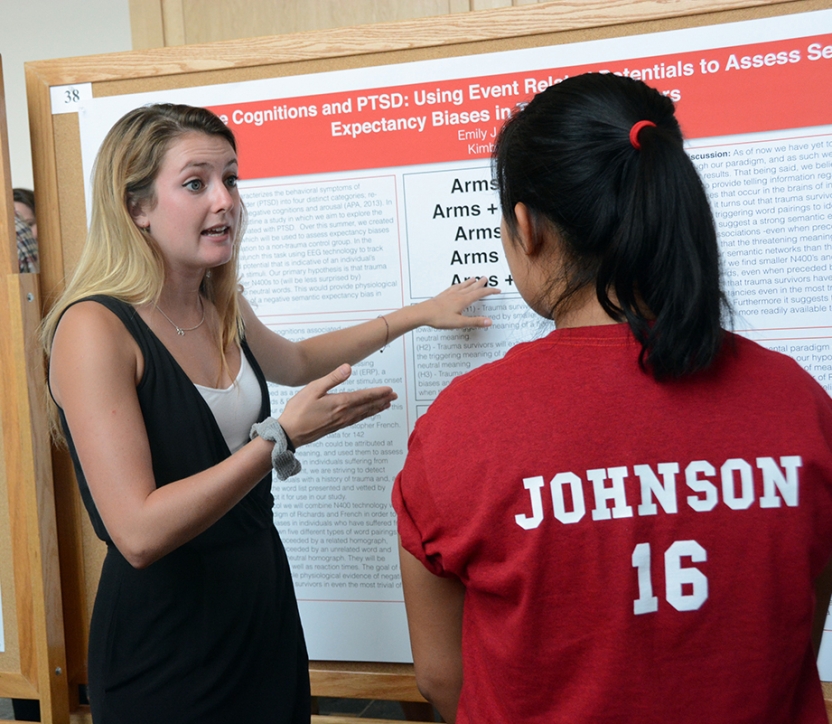 Slideshow:
[view:embed_content==538605]
MIDDLEBURY, Vt. — For one midsummer afternoon each year, students who have been toiling in labs across campus gather to celebrate their independent research at the annual summer symposium. This year, more than 140 undergraduates participated in summer research, culminating in the July 28 poster session that filled Tormendsen Great Hall. Throughout their 8-week session, students work, on average, 38 hours per week, representing 21 departments and programs, from classics to chemistry.
"It's one of the best learning experiences students can have here," said Lisa Gates, associate dean of fellowships and research. "Students participating in the symposium have worked closely with faculty mentors during the summer and it's typically a high-impact, rigorous academic experience."
In addition to the many individual students who presented at the symposium, a group of seven students who had focused on a STEM project (science, technology, engineering, mathematics) also presented the fruits of their labors: a "Remote Inspection Vehicle with Infrared" (RIVIR).
Unlike the other projects on display in the Great Hall that day, the STEM project was student-designed and engineered, under the advising of three faculty mentors. Their device – a rover capable of visually evaluating typically inaccessible places such as pipes and tunnels – will be given to the College's facilities department this fall to "improve current strategies for assessing steam trap energy efficiency." They hope the rover will be able to help staff detect notable temperature differences in the campus steam system and assist with optimizing steam usage.
Gates noted that the summer program has grown dramatically in recent years. In 2013, 20 projects were represented at the final poster session while this year, 55 projects were on display – the largest number in the history of the summer symposium.
"Faculty benefit from quality research assistance supporting their scholarship, while students benefit from the in-depth learning and mentoring," said Gates.
For More Information