Phi Beta Kappa Welcomes New Members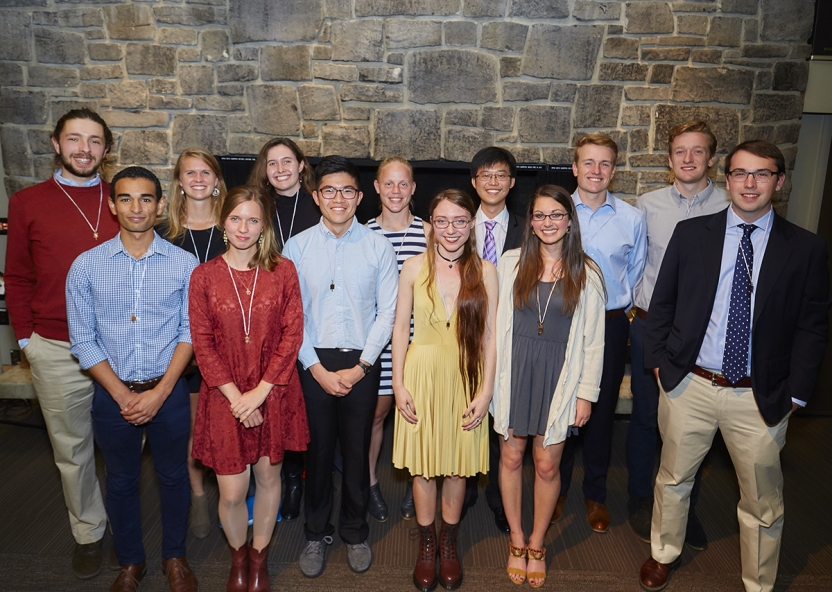 MIDDLEBURY, Vt. — The Middlebury College Phi Beta Kappa chapter inducted 13 students as new members at a ceremony at the College's Kirk Center on Saturday, October 8. The ceremony and reception took place over Middlebury's Fall Family Weekend.
The students, all members of the Class of 2017, include Noel Jean Eyman Antonisse, Taylor Scott Berkley, James Edward Burke, Davin Ming Juay Chia, Melanie Ann English, Mohamed Ayman Hassan Hussein, Yanfeng Jin, Julie Priya Merchant, Ethan McKinley Peterson-New, Nellie Rose Pierce, Katherine Ann Reinmuth, Day Dakota Robins, and Evelin Eszter Tóth.
The new inductees qualified to be Phi Beta Kappa members based on their academic records for the past three years.
At the ceremony, each of the students wore a historic Phi Beta Kappa key from alumni, the oldest of which is the Jeremiah Atwater key, dating back to 1793.
Additional members of the senior class will be elected to Phi Beta Kappa in May, on the basis of their academic work during the last four years.
Phi Beta Kappa, founded in 1776, is the nation's oldest academic honor society. The Middlebury College chapter, the Beta chapter of Vermont, was established in 1868 and is the 13th oldest Phi Beta Kappa chapter in existence.
Photos by Yeager Anderson '13.5