Student Interns Confront Poverty Issues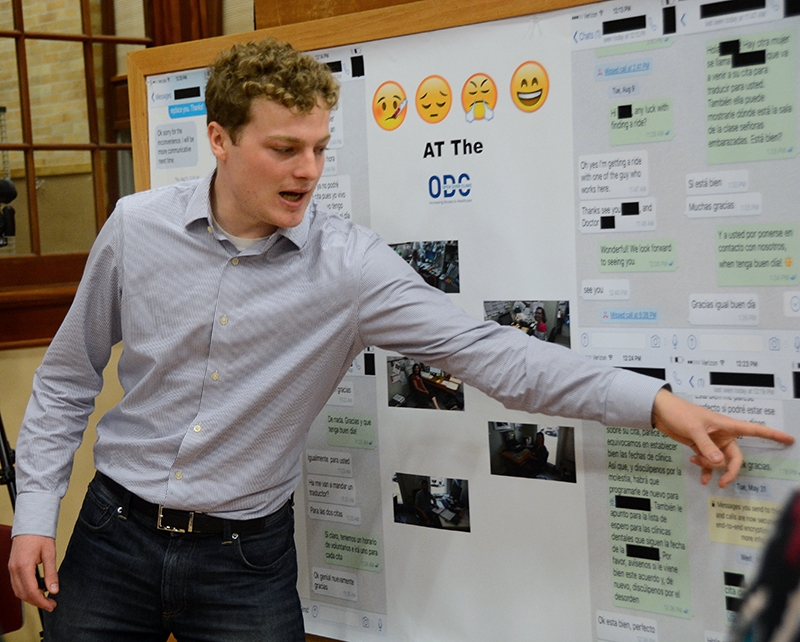 MIDDLEBURY, Vt. — Thirteen Middlebury undergraduates, who spent their summers engaged with efforts to fight poverty around the country, shared the results of their work during a poster session in Wilson Hall during the Clifford Symposium.
The students' internships ranged from Texas to Vermont on such pressing social issues as homelessness, legal aid, and health care. All of the projects were completed in connection with the new privilege and poverty academic cluster at Middlebury, a program designed to bring "coherence, relevance, and intellectual depth that complements any other major course of study."
"Middlebury students have been performing internships like this for years," said Professor James Calvin Davis, the academic director of the privilege and poverty project, "but this is the first year that we have encouraged the students to make posters and talk about their work at a poster session."
Seven Middlebury students conducted internships under the aegis of the Shepherd Higher Education Consortium on Poverty (SHECP) to learn about the multiple dimensions of the problem. The students, their poster titles, organizations, and locations:
- Meiriely Amaral '19, "Tapestri," with Tapestri of Tucker, Ga.
- Taylor Banaszewski '17, "Exploring Financial Stability: Reflections on my Shepherd Internship at Foundation Communities," Foundation Communities, Austin, Texas.
- Emma Bliska '18, "Legal Aid of West Virginia: The Value of Compassionate Representation," with Legal Aid of West Virginia, Charleston, W.V.
- Toni Cuevas '18, "Engaging in Education: In the Classroom and the Community," with CodeInteractive, Bronx, N.Y.
- Nick Delehanty '17, "Observing a Holistic Approach to Indigent Criminal Defense," with the Public Defenders' Service, Washington, D.C.
- Anna Iglitzin '17, currently studying abroad, interned at City Squash in New York, N.Y
- Klaudia Wojciechowska '17, "Incorporating Mindfulness, Empathy, and Compassion into my SHECP Poverty Internship," with CONE Health Systems, Greensboro, N.C.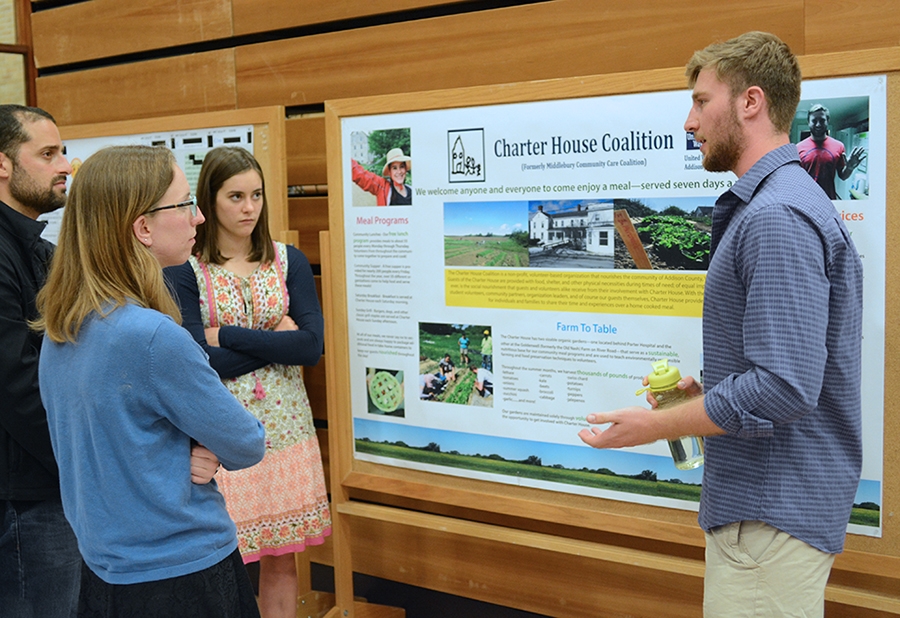 Ellie Carr and Doug Wilson discuss Charter House Coalition with Assistant Professor Marcos Rohena-Madrazo (far left) and Emma McDonald '16 (in blue), the AmeriCorps VISTA member at the Center for Community Engagement. (Click image to enlarge.)
Seven additional Middlebury undergraduates performed Addison County Poverty Internships sponsored by the college to gain a closer understanding of social justice issues in central Vermont. The students, their poster titles, organizations, and locations were:
- Ellie Carr '19 and Doug Wilson '19, "Charter House Coalition" in Middlebury
- Jonah Heiser '17, "John Graham Housing and Services" in Vergennes
- Caroline Jaschke '18, "Rural Fun Delivery with Mary Johnson Summer Program" in Middlebury
- Sarah Karerat '18, "A Summer of Advocacy at WomenSafe" in Middlebury
- J.J. Moser '16.5, "[emojis for fever, sadness, temperature, and happiness] at the Open Door Clinic" in Middlebury
- Nora O'Leary '17, "H.O.P.E. (Helping Overcome Poverty's Effects)" in Middlebury
The Addison County Poverty Internships, which are administered by the Center for Community Engagement, are also available during the winter term.