Faculty, Students Ponder What's Next Under Trump Administration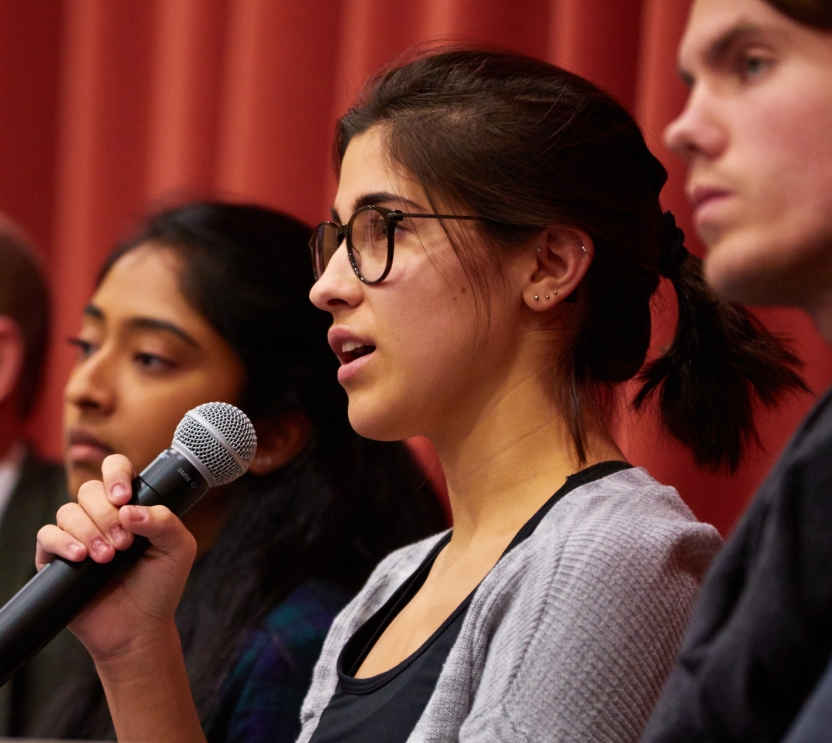 MIDDLEBURY, Vt. – A theme of uncertainty prevailed on Monday evening in Wilson Hall as a five-member panel of faculty and students tried to forecast changes under President-elect Donald Trump. The event, organized by the Student Government Association's Institutional Diversity Committee and moderated by SGA president Karina Toy '17, attracted about 100 students, faculty, and staff.
Toy opened the session with questions, submitted in advance by the student body, on a wide range of topics including impacts on the environment, marginalized groups, and international relations. Later, audience members added their voices during a Q & A.
Setting the stage, Toy asked the panel to comment on whether Trump was ever likely to evolve from his celebrity persona to a more traditional presidential role. Panelist Michael Brady '17.5, a political science and history major, said he was doubtful we would see a big change. He said many people expected a shift in behavior during the primary, but it never came.
"I think we all saw that he didn't really change his rhetoric or actions throughout the rest of the election," said Brady. "So, perhaps he will change, but if I had to guess – and especially now that he's been validated in his actions by winning the presidency – I'm not so sure that he will follow a more traditional kind of way to act while president of the United States."
Grace Vedock '20 agreed, but added that despite her many deep uncertainties, she is grateful the country upheld its tradition of a peaceful transfer of power – thanks in large part, she said, to the words and actions of both President Obama and Hillary Clinton.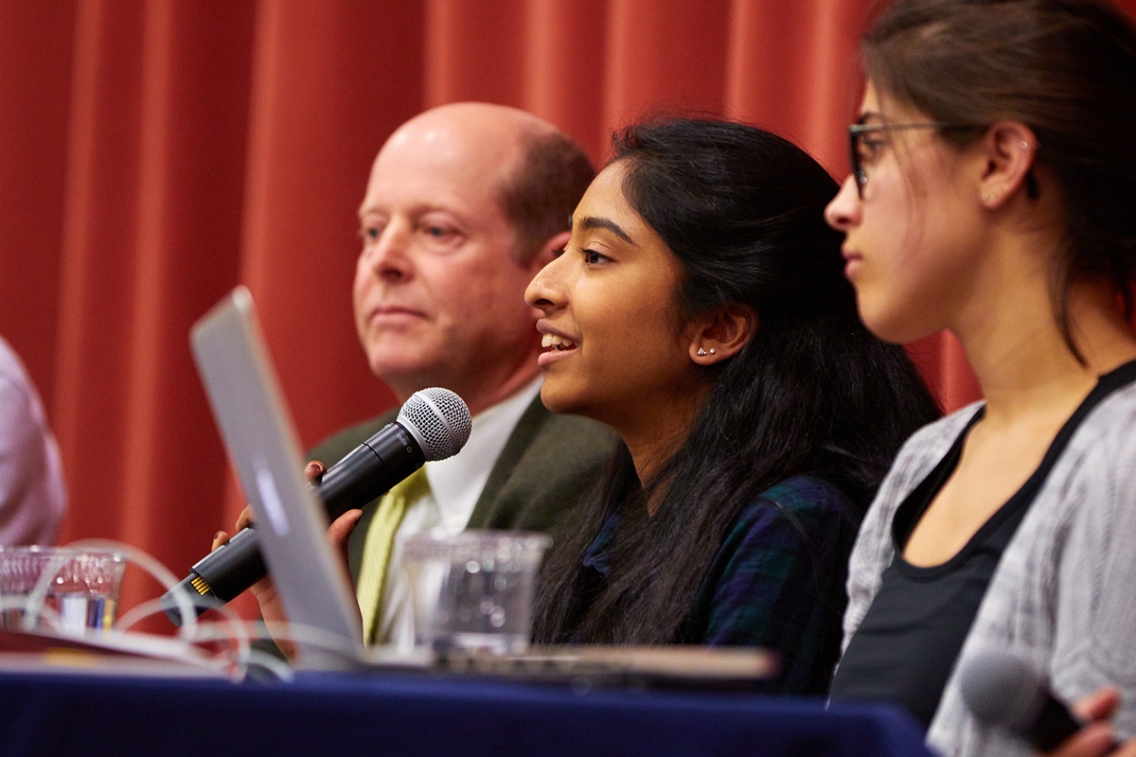 First-year panelist Varsha Vijayakumar '20, center, spoke at a post-election panel discussion in Wilson Hall.
History professor Jim Ralph and political science professor Matt Dickinson both predicted an inevitable change in Trump's behavior that comes with the presidency. "There will be some moderating effects by our institutions and the processes of the presidency… that will keep him more in line than you may have thought – at least at the outset," said Ralph.
"When you become president, things change dramatically from when you're campaigning," said Dickinson, who writes the blog Presidential Power and spent much of the past year interviewing supporters at Trump and Clinton rallies around the country. "You are now 'the president' and as a result, there's a certain expectation of norms of behavior associated not only with your responsibilities, but how other people interact with you. Having said that, there are elements of his presidency that are going to be a work-in-progress, and I think a lot of us are on pins and needles in anticipation."
Toy posed a question about whether the system of checks and balances was at risk due to Republican control of two–possibly soon to be three–branches of government. Dickinson said it would be tempting to take a majority as a sign that you don't need to cooperate with the other side, but that may have been one of Obama's early mistakes and would be a mistake for Trump as well. A lack of cooperation due to a perceived mandate often results in political backlash that can unseat a majority party during mid-term elections, Dickinson said.
The panel then turned its attention to the question of polarization and whether the fear that each side felt during the campaign will impact how people relate to one another moving forward. Dickinson said it's important not to confuse polarized choices (e.g. two presidential candidates) with polarized positions.
"When you survey most Americans on a gamut of issues and you compare their response in 'red states' vs. 'blue states,' you find that there's much more that binds us together and that we share a common set of values," said Dickinson. "It's only the case that when you're forced to choose between two candidates who may, themselves, be polarized, that it appears we are polarized as a nation. In fact, Trump supporters and Clinton supporters agree on much more than they disagree on and the question, again, is 'How do you move toward that common ground?'"
First-year panelist Varsha Vijayakumar '20 said she was looking for a silver lining in what felt like a very unhappy election result. "This precipitates us forcing ourselves to work together, regardless of what you believe in," said Vijayakumar. "Now, some of us do not feel as safe as we did before the election, but that means we need to find ways to reconnect and find ways to feel secure again, which is the best outcome that we could hope for at this point – that we are so wrong right now that the only thing we can hope for is that we're going to heal."
The Wilson Hall panel discussion was one of several events aimed at generating campus-wide discussion following the election results. On Friday, students and faculty gathered for small group conversations at the Axinn Center at Starr Library. On Sunday evening, students organized a march and demonstration through campus.