Laurie Patton Named Vice President of American Academy of Religion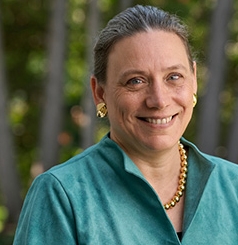 MIDDLEBURY, Vt. – Middlebury President Laurie Patton has been elected vice president for the American Academy of Religion (AAR), the world's largest scholarly society devoted to the critical study of religion. The position is a three-year term in a "presidential line," which means that Patton will serve as vice president her first year, president-elect her second year, and president her third year.
"I have known Laurie for many years and I look forward to our work together," said Jack Fitzmier, executive director of AAR. "Laurie is uniquely qualified to join the presidential line of the American Academy of Religion. Her record of excellent scholarship and administrative expertise portend a wonderful term of service for our Academy."
In the first year, the vice president serves on the board of directors and also on the board's executive committee. Patton will also serve a one-year, ex officio term on the AAR program committee, which manages the nearly 150 program units, each of which sponsors academic panels at the annual meeting.
An internationally recognized scholar, Patton is an authority on South Asian history, culture, and religion. She is the author or editor of nine books and more than 50 articles in the field and has translated the classical Sanskrit text, The Bhagavad Gita. Patton has lectured widely on interfaith issues and religion and public life, and she has consulted with White House offices on faith-based initiatives, as well as on civic engagement. She has held two Fulbright Fellowships (in Israel and India) and has held visiting appointments at the University of Tel Aviv, Hebrew University, and Deccan College (India).
Patton's term begins at the conclusion of AAR's annual meeting, which takes place November 18-22 in San Antonio, Texas. Based at Emory University in Atlanta, AAR counts some 9,000 members around the world.
For More Information