Political Science Major Earns Marshall Scholarship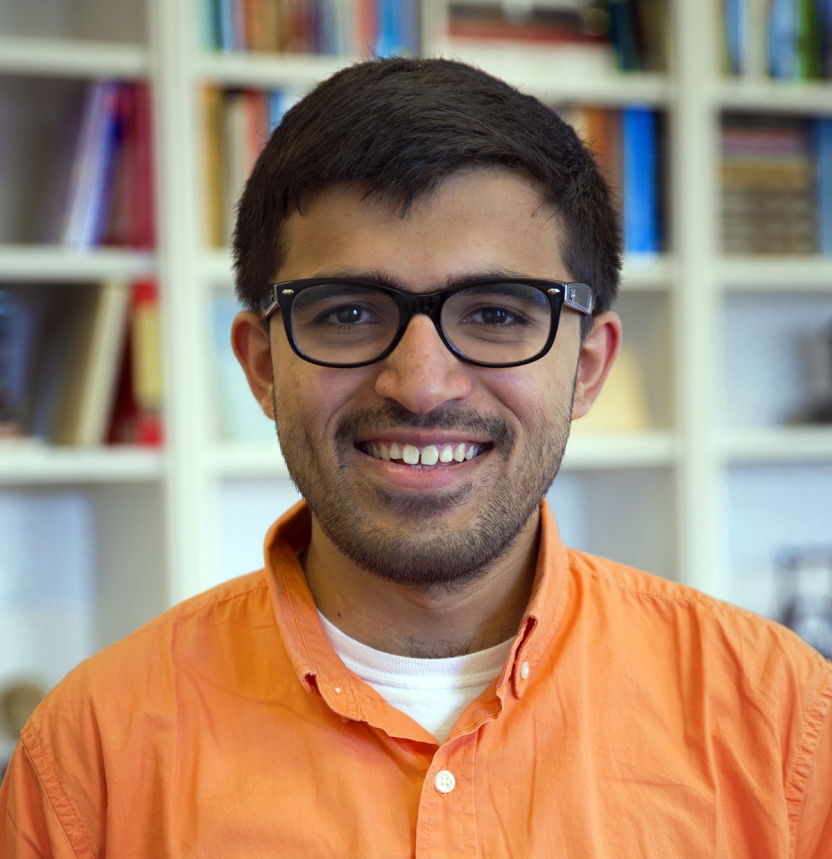 Hasher Nisar '16.6
MIDDLEBURY, Vt. – Middlebury political science major Hasher Nisar '16.5 has been awarded the prestigious Marshall Scholarship, which will support two years of graduate study in the United Kingdom. Nisar, who plans to pursue his master of philosophy in Islamic studies and history at the University of Oxford, is the fifth Middlebury student to win a Marshall Scholarship since the program's founding in 1954.
"I'm honored and humbled to have received the Marshall Scholarship," said Nisar. "I'm excited that it will allow me to continue my studies in the UK for the next two years."
Nisar says that much of his academic work and research at Middlebury focused on media markets and integration policies in the UK, and he was drawn to the work that scholars of Islamic studies had done there. He felt the Marshall scholarship would enable him to be at the forefront of research and policies on Islam and Muslim communities.
"I hope that my time in the UK will allow me to build ties between Muslims in both countries and start facilitating important discussions around our role in the public sphere," said Nisar. "This opportunity will not only allow me to continue the journey of promoting better relations between the Western and Muslim worlds, but also build a network of friends and colleagues that will refine my vision for a world in which both can co-exist."
The Cheshire, Connecticut native, who spent eight years of his childhood in Pakistan, has been an active scholar and member of the campus community at Middlebury. He has co-authored two scholarly journal articles with Erik Bleich, professor of political science, and fellow students on the effects of terrorism events on media portrayals of Muslims. He also served as a research assistant for Professor Shalom Goldman, of Middlebury's religion department. Earlier this year, Nisar was awarded the highly competitive Truman Scholarship for graduate study.
"Winning the Marshall scholarship provides Hasher with a truly exciting opportunity to study with some of the world's leading experts on Islamic studies, Islam in the West, and the politics of diversity," said Bleich, with whom Nisar worked as a research assistant. "It will allow him to build on the foundations he has laid at Middlebury in order to fulfill his goal of serving as a bridge across what are sometimes troubling cultural divides. I can't think of any student who has worked harder to earn this scholarship, and I am thrilled that the Marshall committee has granted him this opportunity."
"I'm delighted that Hasher has won the Marshall Scholarship, which will help him build his expertise in Islamic studies," added Bert Johnson, chair of the political science department. "Hasher's work ethic, his leadership skills, his intellectual curiosity, and his global perspective make him the perfect candidate for a Marshall. I congratulate him on this outstanding achievement."
Nisar has emerged as a recognized leader on campus, having served as co-president of the Middlebury Muslim Student Association, a first-year counselor, and community assistant. He is co-founder of Advancing Muslim American Leadership (AMAL), a leadership and funding group aimed at increasing public service among young Muslim Americans.
In 2015, Nisar was a Humanity in Action policy intern for the American Civil Liberties Union of Ohio. He was also selected as one of twelve students for a one-year appointment to advise executives at the world's largest learning company, Pearson, on educational issues and digital product designs.
Nisar says all of his study and work in the public sphere is aimed at bridging gaps of understanding between Islam and the West. After completing his master's degree, he plans a year of working at a think tank that "educates the public about Muslim communities and contributes to the resolution of conflicts in the Muslim world." Ultimately, he plans to pursue his doctorate in Islamic studies.
"I want to impact the public discourse on the 21st-century role of Islam," said Nisar, "and help Western governments avoid policy blunders, and address pressing issues within the Muslim world. My intended career will integrate scholarly research, policymaking, and public education to achieve these objectives."
Funded by the British government, Marshall Scholarships finance young Americans of high ability to study for a degree in the United Kingdom. Up to 40 Scholars are selected each year to study at graduate level at an UK institution in any field of study. The Marshall Scholarships honor the ideals of U.S. Army Chief of Staff Gen. George Marshall, who in 1947 proposed the idea of American economic assistance to help rebuild post-war Europe.