Middlebury Alumna Named Schwarzman Scholar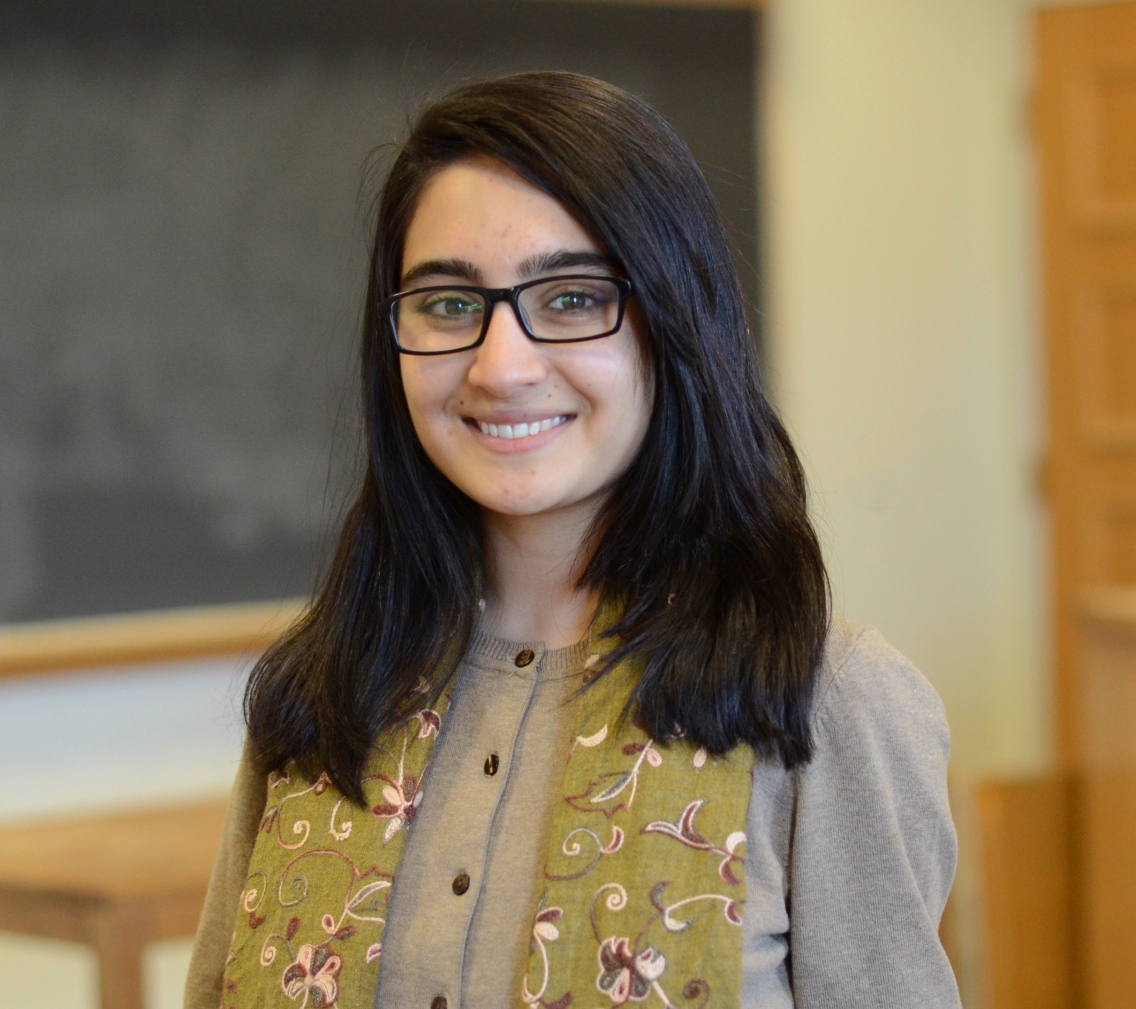 Naina Qayyum '15 has been named a Schwarzman Scholar for the class of 2018.
MIDDLEBURY, Vt. – Naina Qayyum, a Middlebury graduate from the class of 2015, has received a Schwarzman scholarship for graduate study in China. Qayyum is one of 129 students – members of the class of 2018 – to receive the highly selective scholarship, which fully funds a one-year master's degree at Tsinghua University in Beijing, one of China's premier institutions. Qayyum is part of the second class of Schwarzman Scholars, which is composed of students from 30 countries and 75 universities.
"We are very proud that Naina is Middlebury's first Schwarzman Scholar," said Lisa Gates, associate dean for fellowships and research. "It's an extraordinary testament to her talents as a young leader and to her commitment to positive change. Although only in its second year, the Schwarzman Scholarship has already become a premier program focused on leadership and the role of China on the global stage."
Qayyum, of Chitral and Gilgit-Baltistan, Pakistan, earned her bachelor's degree in economics and global health at Middlebury, where she was a Davis United World College scholar. In 2015, she won a Projects for Peace grant from the Davis UWC scholars program to fund a program she created called "Creative Youth for Community Leadership Enhancement" in Islamabad.
"I feel very humbled and grateful to have this amazing opportunity, because I knew this was a very competitive program," said Qayyum. "I was very excited to know that I would be embarking on a remarkable journey of learning, leadership, and meeting some amazing future and current leaders from around the world."
Since graduating from Middlebury, Qayyum has worked for a local NGO, a private local consulting firm, and is currently working at an international consulting firm on a countrywide monitoring and evaluation project. She runs design thinking workshops for youth in Pakistan under her organization, Design Soch Pakistan.
As a Schwarzman scholar, Qayyum will live in Beijing for a year of study and cultural immersion, attending lectures, traveling, and developing a better understanding of China. Students in the program choose a degree in one of three areas of study: public policy, economics and business, or international studies. Students live and study together on the campus of Schwarzman College, a newly built, state-of-the-art facility, where all classes are taught in English.
Schwarzman Scholars was founded by Blackstone Chairman, CEO and Co-Founder Stephen A. Schwarzman, who personally contributed $100 million to the program and is leading a fundraising campaign to raise an additional $350 million from private sources to endow the program in perpetuity. Inspired by the Rhodes Scholarship, which was founded in 1902 to promote international understanding and peace, Schwarzman wanted to create a program to meet the challenges of the 21st century and beyond.
According to the Schwarzman organization, recipients of the award complete a rigorous selection process designed to "evaluate leadership experience and potential, intellectual and academic ability, including the capacity to understand emerging trends, design solutions, and inspire others to a vision, as well as strength of character." From the initial pool of applicants, 373 semi-finalists were invited for in-person interviews in Beijing, Bangkok, London or New York.
Reporting by Stephen Diehl, photo by Robert Keren