Middlebury College Admits 343 Early Decision Applicants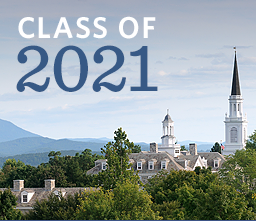 MIDDLEBURY, Vt. – Middlebury College has offered 343 students early admission to the Class of 2021. The admitted students were chosen from a pool of 673 applicants—an increase of 6.5 percent over last year—and represent about 51 percent of a class that is expected to total about 705.
"Our early decision applicants this year were among the best we've ever seen," said Dean of Admissions Greg Buckles. "The Class of 2021 will be exceptionally strong."
Buckles noted that students of color accounted for 28 percent of the students admitted, which represented a slight increase from the then-record of 26 percent who were accepted last year.
"Middlebury's excellent academics and vibrant campus life continue to attract a strong applicant pool," added Buckles.
The College deferred 60 applicants, who will be considered for regular admission in the spring, and denied admission to 270 students.
Middlebury's early decision program is binding, which means that students who apply have selected Middlebury as their first choice and are committed to attending if accepted.
While 316 of the newly accepted students will enroll in the fall of 2017, 27 will begin their first semester at Middlebury in February 2018 through the College's February Admissions Program.
Last year Middlebury College received 636 applications for early decision and admitted 338.
Buckles said that the 343 students accepted to the Class of 2021 are from 35 states, Washington, D.C., and 19 countries.
Most of the students learned of their admission by logging onto a special webpage starting at 8 a.m. on Saturday, December 3. Mailed letters arrived at their homes the following week. Thirty of the students were admitted last week through the College's Posse Foundation program. Middlebury College has three 10-student Posse Scholar teams, from New York, Chicago, and Los Angeles. Those students are chosen following a rigorous selection process in each city.
The 343 accepted students applied to Middlebury as Early Decision 1 applicants. Traditionally a smaller number—about 300 students—also apply through the Early Decision 2 program. The deadline for Early Decision 2 and for regular admission applications is January 1. Middlebury notifies Early Decision 2 applicants in mid-February and regular decision applicants in late March or early April.