Public Safety Officer Explains What Matters to Him, and Why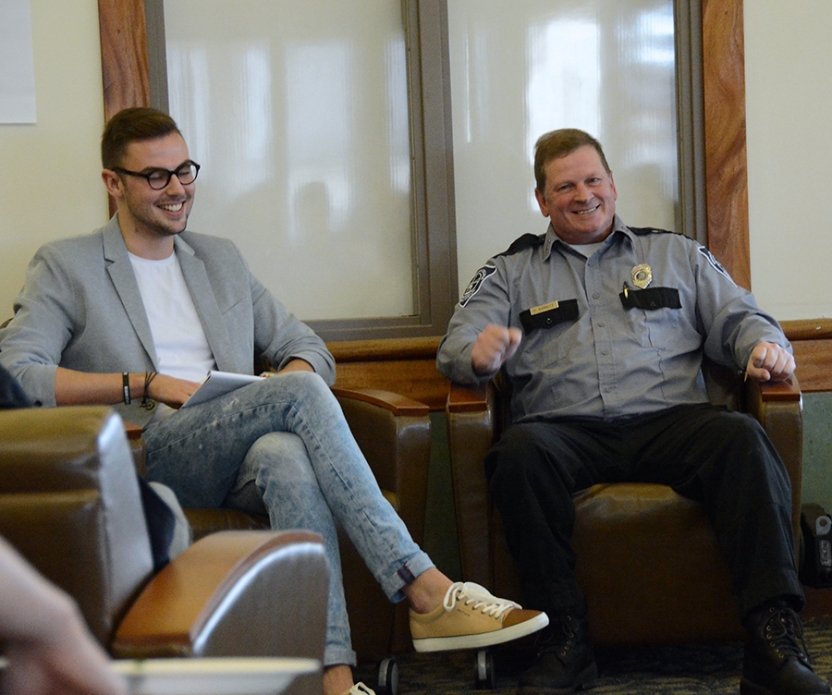 MIDDLEBURY, Vt. – Public Safety Officer Paul Barrett told a gathering of Middlebury students that the values he learned in business – honesty, sincerity, and respect – are the same standards he applies to his public safety role on campus.
"We are not citation cops. That's not our goal. We are safety cops. We do what we can to keep this community as safe as possible. And," he added, "we try to allow you to have fun too."
Speaking on December 2 at the request of the Center for Social Entrepreneurship (CSE), the veteran staffer known as "Officer Paul" addressed the topic "What Matters to Me, and Why?" The lunchtime presentation, which is a regular feature of the CSE, allows members of the campus community to reflect on their own "story of self" and offer insight into the challenges of social change.
"In business," Officer Barrett said, "if you deliver what you promise, then you will succeed. When you say you will do something for someone, then that's what you do. You follow through on your promise and it's the same thing [working] with the student body. Most often you end up with a friendship because people depend on you and you delivered. That's what I got from [being in] my own business, starting from scratch in 1993 as a dairy cattle inseminator and bringing it up to 150 customers."
The presentation was fashioned as an informal conversation between Barrett and Thomas Gawel, a junior from Poland, who observed that Middlebury public safety officers in general, and Paul Barrett in particular, often say "thank you" to the students who cooperate with them.
That's because "mutual respect is the ultimate goal for us. The overwhelming majority of the people that I interact with are fully respectful, and most officers will tell you the same thing. It is important to me that you understand why I am doing what I am doing. It isn't to be a jerk, and it isn't because I am the boss and you have to do what I say," Barrett explained.
"It is because I want you to [obey the rules] and have as much fun as possible as safely as possible. So when I say 'thank you for your time,' even though you might be the one who ends up with the citation, it's because I am hoping that our interaction meant something to you. That our interaction led to an understanding and an appreciation on both our parts."
Barrett, who kiddingly calls himself a "flatlander Vermonter" because his parents lived in Massachusetts when he was born but returned to Vermont soon after, talked about his affection for his wife, Charlene, and how their relationship of over 30 years has shaped his persona. "She is my best friend," he said. "I truly believe we are soul mates."
The guest speaker also talked about their four adult children and how it was his goal to ensure that they made better use of their education than he did. "I had a lack of love for school," he said, so he did everything he could so his children "could pick their line of work rather than have their line of work pick them."
Barrett also spoke about the teamwork skills he acquired by playing sports and the leadership skills he developed by coaching teams and officiating games. Similar to his philosophy about applying the rules as a public safety officer, he said, "I was always trying to keep the players safe while allowing them to also enjoy the game."
More than 25 students attended the session to hear "Officer Paul" talk about what matters to him and why – a strong indication of the admiration felt for him.
"I have tremendous respect for every one of you, for who you are and who you can be, and I believe in my heart that I play a part in all that with you. All the officers do. The faculty does and the staff does too.
"Everyone at Middlebury is working hard so you can get to where you want to be," Barrett added, and there wasn't a person in the room who doubted his sincerity.
– Reporting and photography by Robert Keren