Winter Term '17 Offers 110 'Deep Dive' Courses
MIDDLEBURY, Vt. – Undergraduates will return to campus on Monday, January 9, for a four-week winter term that is both an integral part of the curriculum and a time-honored tradition at Middlebury College.
For 2017, more than 110 on-campus J-term courses will be offered including a number that are a direct reflection of events in the world today. For example, Howard Torman, MD, the former health editor for CBS News, is teaching Modern Media and Healthcare; Stan Sloan, a former security analyst at the CIA, is offering Euro-Atlantic Relations; and Andrew Mahlstedt '98, a teacher at United World College of India, is profferring Environmental Justice at the Margins.
There are topical courses about Computer Systems Security, Bob Dylan's America, the Influence of YouTube, Investing for a Sustainable Planet, International Maternal and Child Health, and Crisis Diplomacy. There are courses specific to Vermont (but applicable elsewhere) such as Food Loss in Vermont, Vermont Government and Politics (taught by former four-term Governor Jim Douglas '72), and Kingdom Community Wind, which will explore the Green Mountain State's renewable energy development goals.
Scores of students use the winter term to advance their foreign language skills in any of 12 different languages including the less commonly taught Swahili, Arabic, Latin, Hebrew, and American Sign Language. Three courses will culminate in public performances: the Dance Theatre of Middlebury, the American Musical in Performance, and the Performance Landscape.
Middlebury has always invited an impressive array of guest instructors to campus for winter term, including numerous alumni. Among the visiting instructors and their classes are Elizabeth Toder '90, Extending Financial Services to the Unbanked; Ross Lieb-Lappen '07, Ice Cores: By Land and Sea; Andy Hale '06 and Russ Johanson '06, Infectious Disease: Historical Epidemics, Current Dilemmas, and Emerging Problems; and Adrienne Taren '09, the Science of Stress.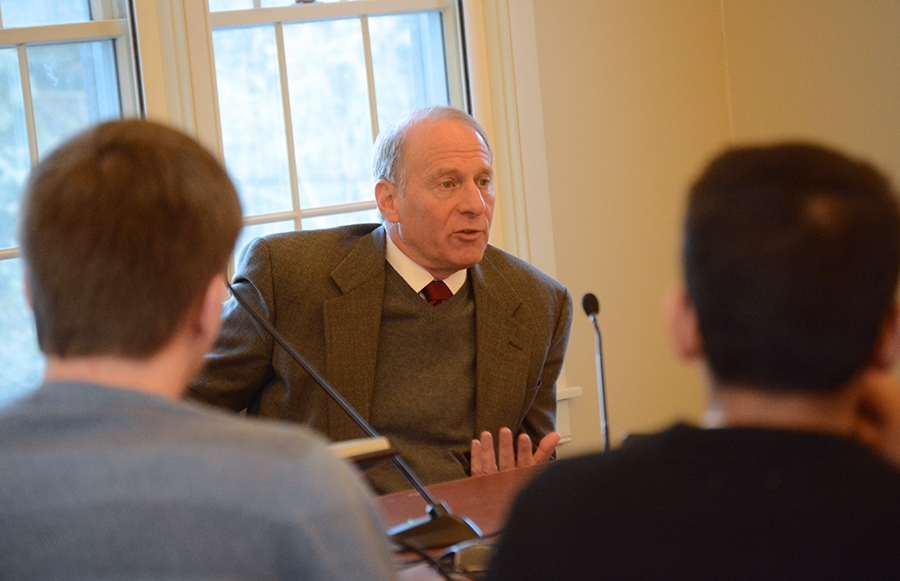 The president of the Council on Foreign Relations, Richard Haas, joined Prof. Allison Stanger's class on Crisis Diplomacy last January. (Click to enlarge image.)
Also, Margaret Moslander '11 and Heather Pangle '10, Introduction to Political Philosophy; Caitlin Wagner '02, Stress and Emotional Regulation; Caitlyn Olson '09, History of Islamic Philosophy and Theology; Gigi Gatewood '03, Introduction to Black and White Photography; Matthew Soule '00 and Jay Dunn '01, the Performance Landscape; and Jennifer Crystal '00, Healing Through Writing.
For Middlebury faculty members, winter term can be an opportunity to teach an experimental class or a course that crosses over the boundaries of traditional academic disciplines. For example, Fletcher Professor of the Arts John Huddleston is teaching Introduction to Meditation, and Battell-Stewart Professor of English and American Literatures Cates Baldridge is teaching Fictional Fictions. Students in Associate Professor of History Amy Morsman's J-term class are building a digital archive that captures the people, places, and issues of Solomon Northup ("Twelve Years a Slave") in the 1840s, while undergrads in Assistant Professor of Political Science Kemi Fuentes-George's class are studying Protest Music in Comparative Perspective.
Founded at Middlebury in 1969, the so-called January term, or "J-term," was common among liberal arts colleges during the latter part of the 20th century. But as other schools revised their curricula and dropped the requirement, Middlebury retained the monthlong class for its emphasis on encouraging deep intellectual commitment to a single topic.
Students "will experience the challenge of sustained absorption in a single endeavor, with no competing deadlines to divide energy or concentration," the Education Policy Committee wrote in a proposal 49 years ago, and the aim of winter term has remained unchanged. Beloved by students and alumni for its immersive experience, winter term has stood the test of time at Middlebury.
Middlebury has a 4-1-4 curricular structure and winter term courses carry the same credit as any course taught during the academic year. Undergraduates will complete the 2016 Winter Term on Friday, February 3, and return to campus for the start of spring semester on Monday, February 13.