Associate Chaplain Ira Schiffer Announces Retirement from Middlebury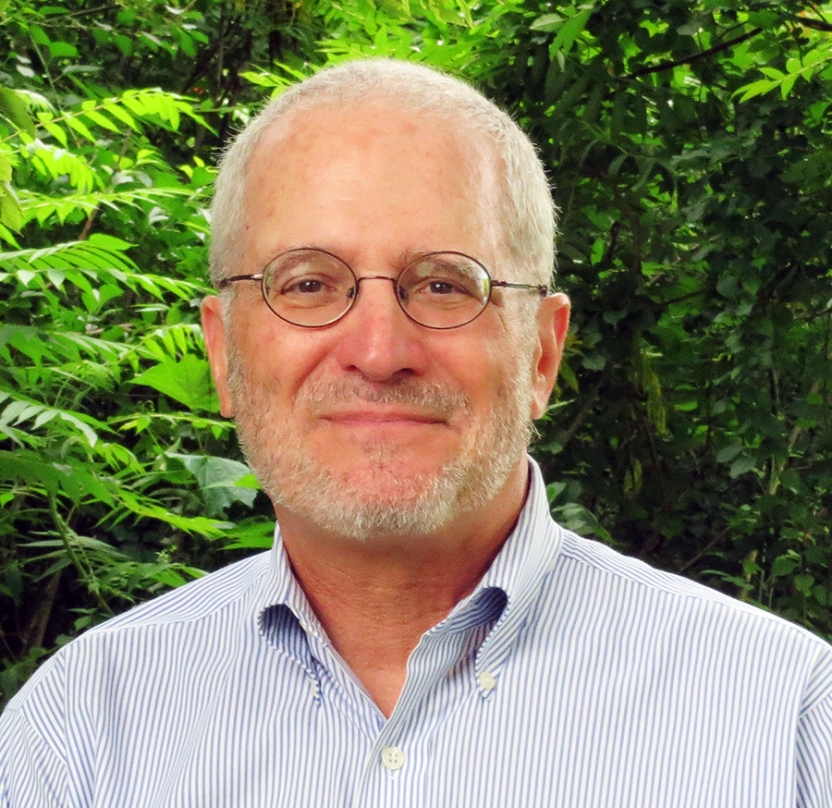 MIDDLEBURY, Vt. – Middlebury's first Jewish chaplain, Rabbi Ira J. Schiffer, will retire on June 30, 2017, after serving the college community for 16 years as the associate chaplain.
Schiffer has touched the lives of countless students, faculty, and staff since he arrived at Middlebury in 2001 with his wife, Linda, who later became coordinator of Cook Commons, and their children, Rachel '06.5 and Ben '10.5.
"It is difficult to imagine Middlebury without Rabbi Schiffer," said Mark Orten, dean of religious and spiritual life and director of the Scott Center for Religious and Spiritual Life. "Along with his devotion to Jewish life and culture that he brings to his work at the college every day, anyone who knows Ira will attest to his rich avocational interests that include, but are not limited to, deep family engagement, culinary delights, hunter education, and volunteerism."
His strengthening the college's chapter of Hillel and his work with under-represented groups on campus "will be among Rabbi Schiffer's greatest legacies and gifts to the college," Orten added.
Silberman Professor of Jewish Studies Robert Schine commented: "Rabbi Schiffer contributed vibrancy and variety to the academic scene too, through formal and informal teaching. He taught a number of winter term courses that introduced students to the rhythms of Jewish life, including an especially memorable one co-taught with [Professor Emeritus] Michael Katz that traveled to Odessa and Vilnius to explore the history of Eastern European Judaism.
"It also seemed that Rabbi Schiffer could never turn down students or faculty who wanted to meet for informal study – just the study of Torah for its own sake. Ira's teaching was not limited to the classroom."
Schiffer, who will turn 66 later this year, says his retirement "has been in the works" for a while. "I began my rabbinic training and work some 40 years ago, and I have always enjoyed the liminal moments of life when I have closed one door and opened another, even when I am not sure of what will be on the other side." In retirement he expects to continue his volunteerism with the United Way of Addison County, for whom he and Linda are co-chairs of the 2016-17 fund-raising drive, along with his interests as a hunter education instructor, chaplain to the Middlebury Police Department, and keeping up with his children's "professional circus exploits around the globe."
Reflecting on his tenure at Middlebury, Schiffer said, "Many of the Jewish students who attend Middlebury might not have sought out Hillel had they enrolled at a larger, more urban campus with a larger Jewish community. Finding themselves in rural Vermont and perhaps being in a minority for the first time, our Hillel has been a comfort and a support system they have embraced.
"And for students who arrive here conflicted or ambivalent about their Jewish identity," the rabbi added, "being involved in their self-exploration of who they are and who they want to become has been one of the most rewarding aspects of my work at Middlebury."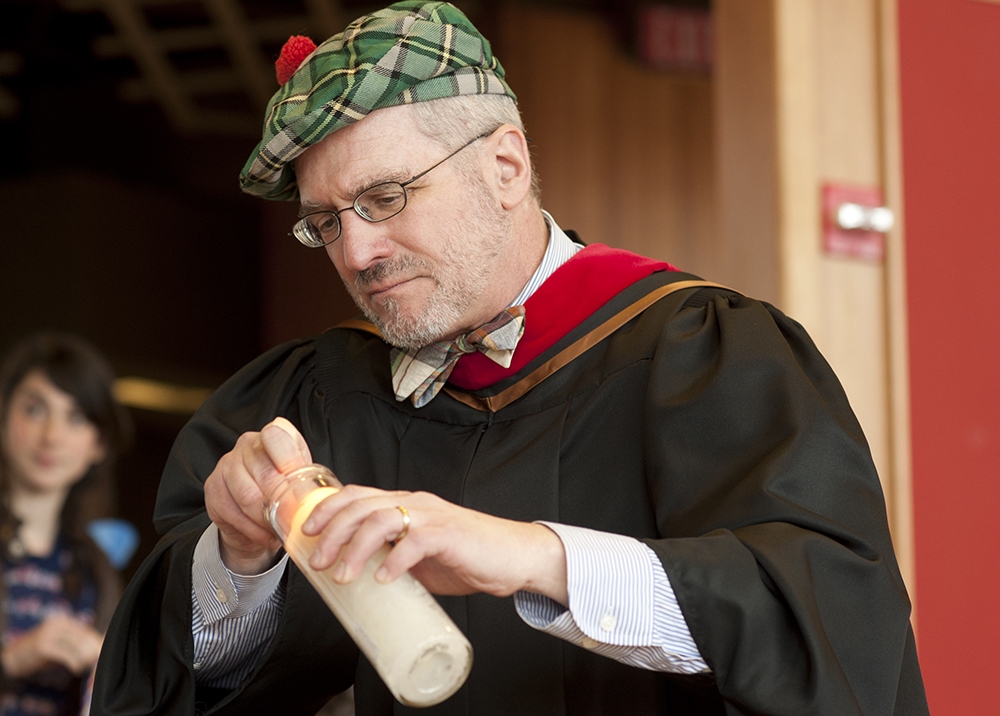 Ira Schiffer lights a candle at the 2011 Purim observance on the Middlebury campus. (Click to enlarge.)

The Schiffers came to Middlebury after a five-year family adventure living and working in the north of Israel. During his years at Har Halutz, Rabbi Schiffer worked on Arab-Jewish coexistence programs, directed an information center, coordinated conferences, was a Judaic lecturer, and taught English as a second language.
Before moving to Israel, Schiffer was the rabbi at Beth Am Synagogue in Baltimore from 1987 to 1996, and at Temple Beth El in Newark, Del., from 1977 to 1987.
Schiffer earned a bachelor's degree in philosophy from Temple University and a master's degree in the history of religions from Brown University. He was a visiting graduate student in Jerusalem in the mid-1970s before enrolling at the Reconstructionist Rabbinical College in Philadelphia, where he was ordained in 1981 and where, in 2006, he was honored to receive an honorary Doctor of Divinity degree. Active in the Jewish Reconstructionist movement, he served a term as the national president of the Reconstructionist Rabbinical Association, which numbers more than 300 members.
During his first 14 years in Middlebury, Schiffer also served as director of education and rabbinic consultant for Havurah, the Addison County Jewish Congregation.