Board of Trustees Awards Tenure to Four Middlebury Faculty Members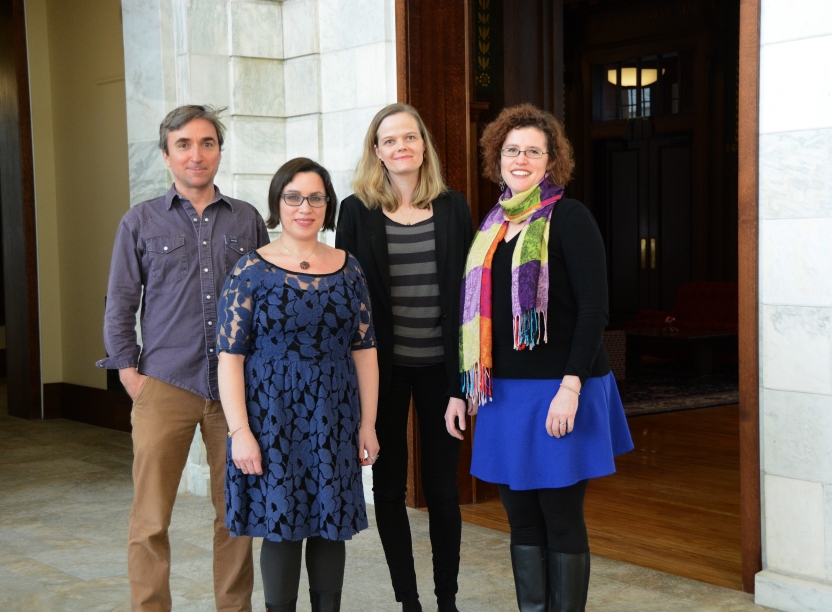 MIDDLEBURY, Vt. – Four members of the Middlebury College faculty have been promoted to the rank of associate professor without limit of tenure.
On January 27, 2017, the Middlebury Board of Trustees accepted the recommendations of President Laurie L. Patton and the College Board of Overseers in promoting: Maggie Clinton (history), Jeffrey Howarth (geography), Shawna Shapiro (writing and linguistics), and Louisa Stein (film and media culture).
The promotions from assistant professor to associate professor will take effect July 1, 2017.
Maggie Clinton is an historian of early 20th-century Chinese history whose new book, Revolutionary Nativism: Fascism and Culture in China, 1925-1937, will be published by Duke University Press later this year. A graduate of Wesleyan University (BA in history and East Asian studies) and New York University (MA and PhD in history), Clinton's scholarly work has been uniformly praised, and she has been characterized as one of the most promising historians of her generation on the political and cultural history of modern China.
At Middlebury, where she joined the faculty in 2009, Clinton teaches courses on modern East Asia and modern China, power and petroleum in Asia, culture and revolution in 20th-century China, imperialism in Asia, and an advanced seminar titled Oil, Opium, and Oligarchs. Students appreciate her deep base of knowledge and her ability to push them to think critically, said Andrea H. Lloyd, vice president for academic affairs and dean of faculty. Clinton has studied extensively in China and Taiwan, including a Fulbright fellowship while in graduate school.
Jeffrey Howarth of the Department of Geography currently has a National Science Foundation grant for improving STEM education titled "Collaborative research: multimedia learning principles for design-it-yourself online instruction of Geographic Information System (GIS) concepts." Vice President Lloyd said Howarth "gives deep thought to the question of what to teach and how to teach it," and that consideration has led him to "flip" his classroom by moving his lectures to video for out-of-class viewing while devoting in-class time to problem-solving and discussion.
Howarth, who joined the faculty in 2007, earned his BA in environmental studies at University of California, Santa Cruz and completed his MA and PhD in geography at University of California, Santa Barbara. At Middlebury he teaches the courses Fundamentals of GIS, Spatial Thinking with GIS, Cartographic Design, and Learning with Maps, and in 2014 he received the college's Gladstone Award Honoring Excellence in Teaching.
Shawna Shapiro is the Middlebury's first tenured faculty member in the Writing Program. Also appointed to the Linguistics Program she teaches a wide range of courses including Sociolinguistics, Discourse Analysis, Introduction to TESOL, English Language in a Global Context, and Writing Workshop I and II. VPAA Lloyd said Shapiro is "acclaimed by colleagues and students alike for her ability to create a respectful classroom environment that fosters full participation by all students, and is simultaneously challenging, rigorous, and infused with excitement."
As a scholar, Shapiro has gained national acclaim for her contributions in applied linguistics and composition-rhetoric, said Lloyd. The co-author of Fostering International Student Success in Higher Education (TESOL Press, 2014), she has a new book under contract about educating students with refugee backgrounds. A member of the Middlebury faculty since 2009, Shapiro holds a BA in English from University of Northern Colorado and an MA in Teaching English as a Second Language and PhD in English Language and Rhetoric from University of Washington.
Louisa Stein of the Department of Film and Media Culture is an inspiring teacher who encourages her students to find their passions and explore them fully, said Vice President Lloyd. "Her classrooms exemplify the departmental ethos of teaching theory and practice in an integrated fashion, with students going back and forth between discussions of theoretical texts and the creation of their own works." The author of Millennial Fandom: Television Audiences in the Transmedia Age (University of Iowa Press, 2015), Stein teaches the courses Television and American Culture, Millennial Media, Remix Culture, Theories of Spectatorship, and others.
Stein earned her BA at University of Massachusetts, Amherst and her MA and PhD from New York University's Department of Cinema Studies. She joined the Middlebury faculty in 2010 after teaching in the School of Theatre, Television, and Film at San Diego State University for four years. She has published more than 20 articles in books and academic journals, and serves as the book review editor for the publications Cinema Journal and Transformative Works and Cultures.
In addition to granting tenure to the above members of the faculty, the board of trustees in January promoted three associate professors to the rank of professor. They are Larry Hamberlin (music), Amy Morsman (history), and Stefano Mula (Italian). Their appointments to full professor will take effect July 1, 2017.
– With reporting and photography by Robert Keren