Campus and Community Turn Out to Support Muslim Students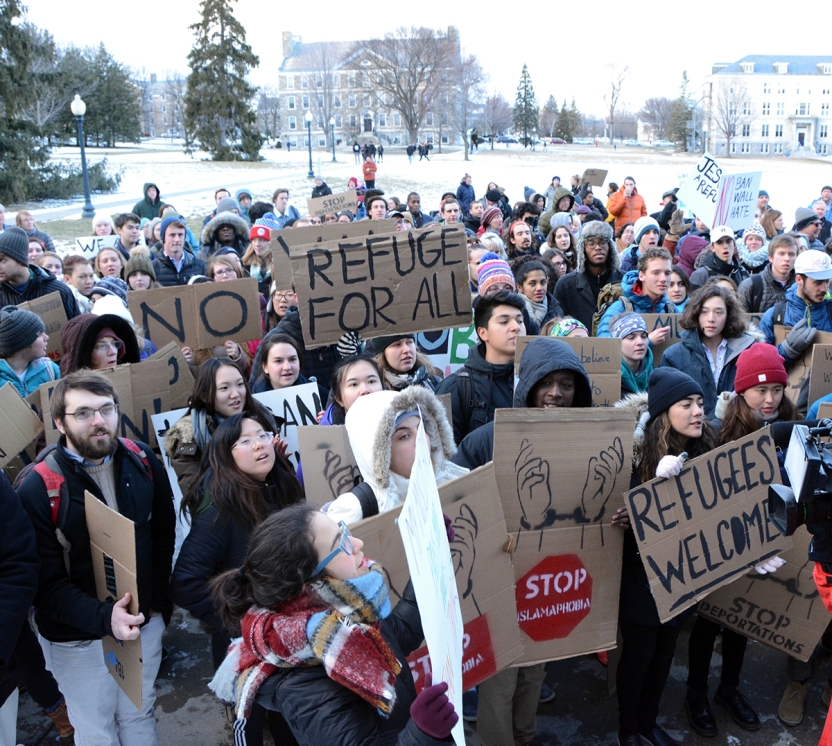 Click on player to view slide show[view:embed_content==545077]
MIDDLEBURY, Vt. – In a show of solidarity with Middlebury's Muslim students, hundreds of people, many carrying protest signs, braved frigid February temperatures to attend a rally at the steps of McCullough Student Center on February 2. The peaceful, yet pointed, gathering sponsored by the Muslim Student Association (MSA) attracted more than 500 fellow students, faculty, staff, and community members, including many children.
Seven speakers, including students, staff, and President Laurie Patton, voiced concern and anxiety over last week's executive order by the Trump administration barring travel to the U.S. from seven Muslim-majority countries.
"Trump's order begins with a 90-day ban," said MSA co-president Mehek Naqvi '19, who was first to take the stage. "I fear the day that will elongate these 90 days to 90 months to 90 years. I fear the day in which more majority-Muslim countries will be added to the list of seven—that seven will double to fourteen and fourteen will double to 28 and so on… I fear that one day I may go to visit my grandmother [in Pakistan] and not be allowed to return to the country that I have called home my entire life."
President Patton greeted the crowd next, expressing strong support for the Muslim Students Association and those affected by the executive order. "Education is about dignity and respect, and we stand with our brothers and sisters to say that this ban is about neither," she said. "No one should have to choose between family and work, which is what so many will now have to choose between. And no one should have to see their family turned away at the borders, simply because of their country of origin."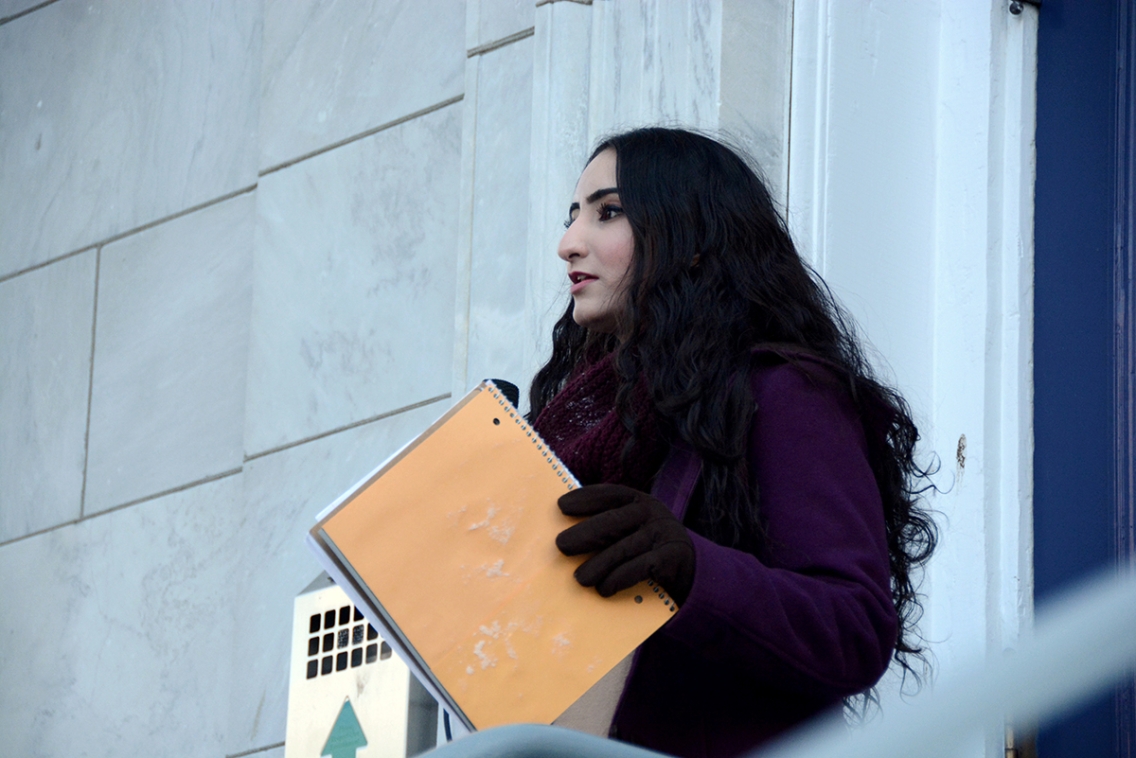 Mehek Naqvi '19, co-president of the Muslim Student Association, speaks to a crowd gathered at a rally on February 2.

Hasher Nisar '16.5 opened his remarks by teaching the crowd the common Muslim greeting "Al-Salam Alaykum," or "Peace be upon you." Nisar, a Marshall Scholar who co-founded a group called Advancing Muslim American Leadership (AMAL), described his unusual upbringing in which he was born in the United States, but then moved to his parents' native Pakistan for eight years to learn more about their religion and culture. That experience gave him an unusual perspective on what it means to be American and what the recent executive orders mean for him.
"As much as the rhetoric coming out of this administration is troubling…I am also heartened by the response across the country, across airports, and across campuses, and especially here where so many people came out to stand with their Muslim brothers and sisters," said Nisar.
The crowd also heard from students Travis Sanderson '19, Hannah Krutiansky '19, MSA co-president Garda Ramadhito '19, and Dean of Spiritual and Religious Life Mark Orten. Orten invoked the late peace activist William Sloane Coffin, returning continually to Coffin's famous refrain, "The world is too dangerous for anything but truth and too small for anything but love."
Mehek Naqvi implored the crowd to take action—to attend rallies, to write and call their congressional representatives, and to spread their ideas through social media. "Middlebury College prides itself on being number one in the teaching of foreign languages," she said. "So let us teach the world that humanity is a language which we all can speak."
Reporting by Stephen Diehl; Photos by Robert Keren