Feb Celebration Honors Class of 2016.5
MIDDLEBURY, Vt. – In one of Middlebury's most spirited annual events, 117 seniors celebrated the completion of their undergraduate careers on February 3-4. The weekend honored the achievements of a class that arrived at Middlebury in February 2013. The "Febs," as they are affectionately known, will officially earn their Bachelor of Arts degrees on March 1.
The festivities began Friday evening when President Laurie Patton hosted a presidential welcome reception for students and families at the Mahaney Center for the Arts. Assistant Professor of Dance Christal Brown, whom the class chose to be their guest speaker, offered some life lessons from her recent sabbatical in the small North Carolina town where she grew up. She advised the graduating students to "go home often" and to not forget the language of where they come from because it's an important part of their personal journeys.
On Saturday morning, under sunny skies, the class processed a short distance from Proctor Hall to a packed Mead Chapel to William Walton's Allegro Reale, performed by organist Jeffrey Buettner, associate professor of music. Following a brief welcome from President Patton, Beau Scurich, associate chaplain and Muslim advisor, gave the invocation.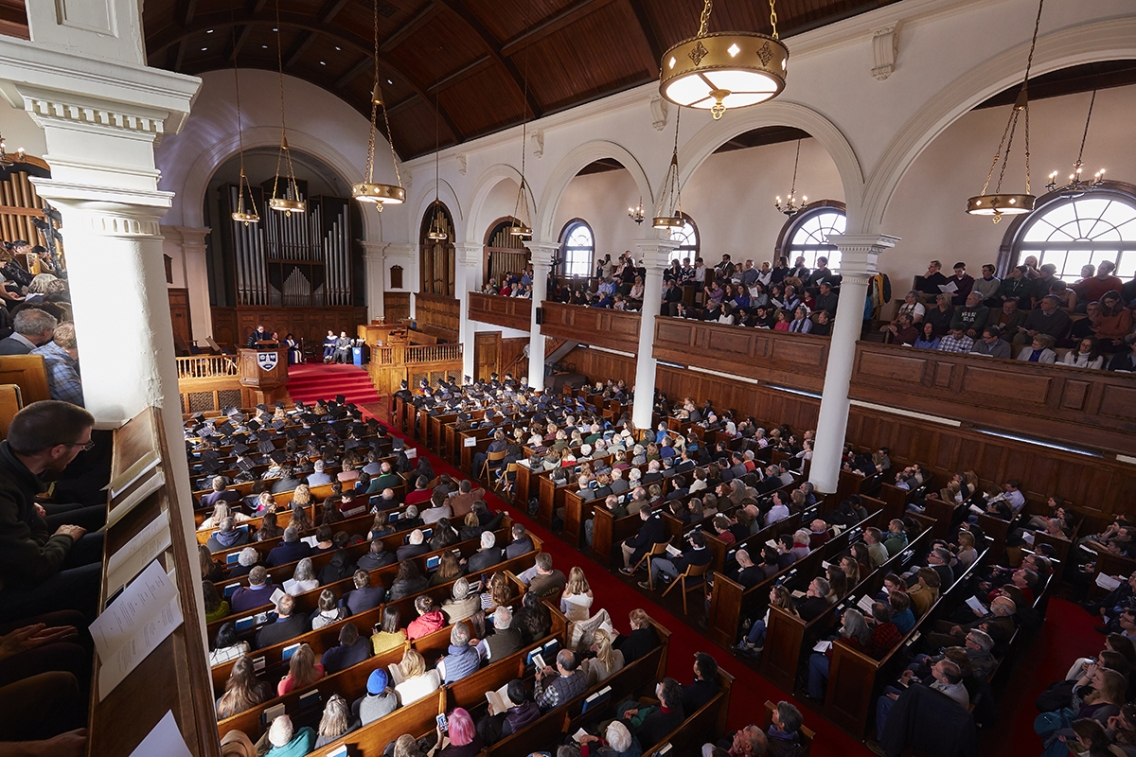 Friends, family, and the Class of 2016.5 filled Mead Chapel for Feb Celebration on February 4.
Christian Johansen, a joint geography and environmental studies major from Etna, N.H., was this year's student speaker. Johansen said one of the most often-asked questions the midyear graduates hear is, "What did you do for your Febmester?" referring to the time between high school graduation and arriving at Middlebury in February. He recounted classmates' excitement at pursuing work, travel, or other adventures during that time period, knowing that Middlebury awaited them at the end. It was a time of optimism and opportunity, he said.
Johansen suggested that the Febmester is a fitting metaphor for many of the challenges ahead and urged his friends not to let the pressures of post-college life stop them from recapturing the same sense of wonder and excitement they felt during that time.
"Now, we don't have Middlebury coming next," said Johansen. "In fact many of us might not know what is coming next… And this is not something to fear, it is an unknown that should be marked with the same possibility as…Febmester!"
Patton, in her remarks to the class, drew parallels between Mary Oliver's poem "Starlings in Winter" and the experiences of the Feb class, noting that every line of the poem felt like it was describing their journey. While Patton enumerated the many accomplishments of the class, she also asked them to reflect on how the difficult road to success had made them stronger.
"You wouldn't be here with us, 'flying in leafless winter,' if you had not struggled—if you had not come apart and then become whole again," Patton said. "Don't ever forget those moments even though they might be difficult to remember. Don't ever forget that, even though we marvel at you, you should marvel at yourselves. Because you have done what you thought you could never do. You overcame your own self-doubt, your own sense that you were not perfect at something."
Dean of Students Baishakhi Taylor presented the Jason B. Fleishman '03.5 Award to Matthew Witkin, an environmental studies major from Takoma Park, Md. The award, named in memory of Jason Fleishman who died shortly after his Feb Celebration in 2004, honors the Feb spirit of "pride, academic passion and determination, excellence in leadership, positive attitude, and care for others."
Taylor called each senior to the stage to receive a replica of Gamaliel Painter's cane, an historic symbol of Middlebury College, presented by Thomas Steinle '84, vice president of the Middlebury Alumni Association. Class member Elise Biette led the gathering in singing the traditional "Gamaliel Painter's Cane." Dean of Spiritual and Religious Life Mark Orten offered the benediction to conclude the Mead Chapel ceremony.
Still wearing caps and gowns, students then boarded school buses for the short trip to the Middlebury College Snow Bowl in Ripton, where they participated in the traditional "ski down." On skis, snowboards, snowshoes, and some by foot, the graduates descended the Lang trail, crossing over to Cameron, which took them to the cheering crowd below in one of Middlebury's most cherished traditions.
The annual February Celebration is sponsored by Middlebury's Alumni and Parent Programs Office. A student committee that included Christian Johansen, Carolina McGarity, Lucas Onetti, Morgan Raith, Anthea Vita Viragh, and Caroline Walters assisted with planning. All midyear graduates are encouraged to return in May to participate in the College commencement ceremony.
Reporting by Stephen Diehl; Photos by Todd Balfour and Yeager Anderson