Mellon Choreographer-in-Residence Invites Movement Across the Curriculum
MIDDLEBURY, Vt. – On a cold January afternoon in the Middlebury College dance theater, students stepped onto the dance floor in stocking feet.
These weren't veterans of the dance program — rather, they were students of economics and sociology and theater, among other disciplines. And they were ready to unveil works in progress outside their usual scopes of study. One student launched into a spoken word and movement piece in response to a news story about privilege and wealth on college campuses. Another two rocketed into a Mad Libs-inspired improv game.
All were participants in Andrew W. Mellon interdisciplinary choreographer Maree ReMalia's J-Term class, the theme of which was "Collaboration in the Arts." Along with collaborators from the Pittsburgh-based Hatch Arts Collective Paul Kruse and Adil Mansoor, ReMalia and her students spent the month exploring what happens when musicians dance, or choreographers write, or economists build sculptures.
Fitting — because ReMalia's time on campus has been an extended experiment in collaboration. ReMalia's residency is part of a three-year Movement Matters grant, supported by The Andrew W. Mellon Foundation and the Middlebury College Dance Program. The residency, which will conclude this spring, is designed to explore the significance of movement, and the ways movement intersects across disciplines and creative and intellectual endeavors.
It's a program that started, in a way, with a question: What would happen if a college set a choreographer loose on campus, with the luxuries of time, flexibility, and institutional support?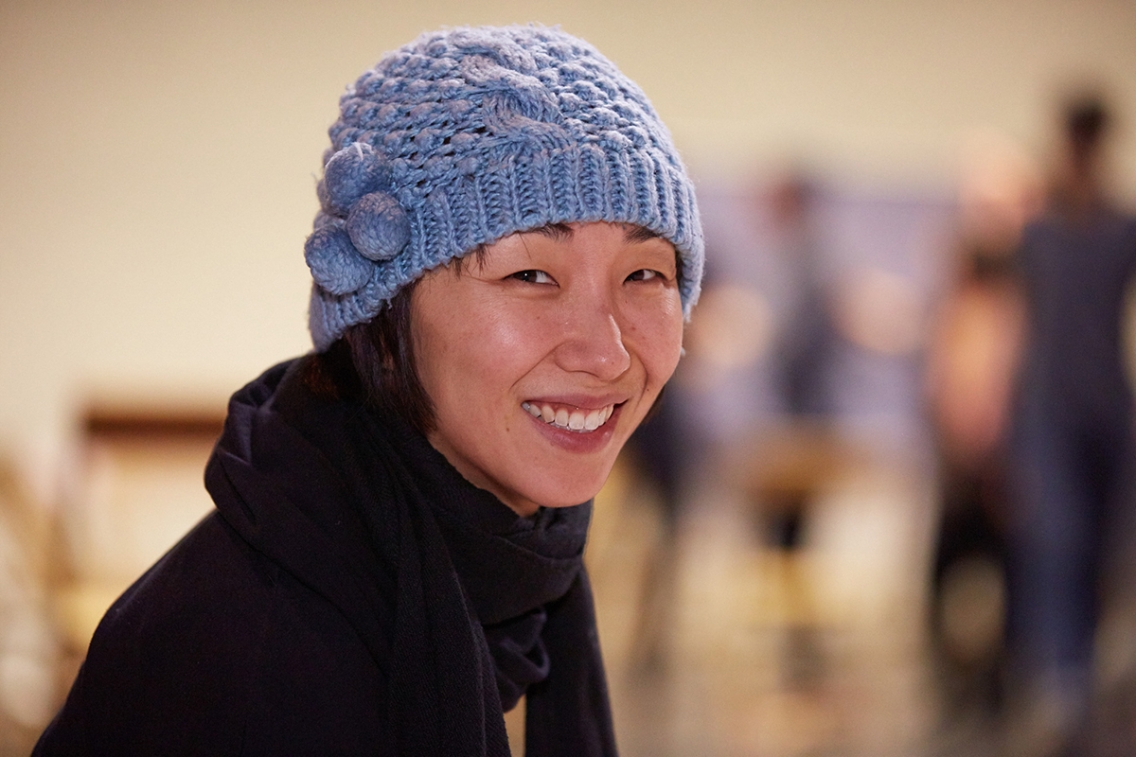 Over the course of her two-year residency at Middlebury, Maree ReMalia has collaborated with students, faculty, and staff across many academic departments.
The fruits of ReMalia's labors over the past year and a half hint at an answer. The choreographer has organized community dance classes and on-campus improvisational workshops. She's worked in education and global health classes, collaborated alongside architecture students, and contributed to a symposium on mindfulness. She's danced alongside students at arts residencies, at the College's Organic Farm, and in traditional studio spaces.
"It's been incredible to have this opportunity to be this free agent," said ReMalia.
Along the way, she's brought movement to students, faculty, and staff who might otherwise never have explored dance in their time at the College — including assistant professor in biology David Allen, who began attending ReMalia's movement workshops last fall. Many of her workshops are grounded in her training in the Gaga movement; in these accessible classes, ReMalia uses prompts to guide and encourage movement among participants.
"At first I was nervous, to be honest," said Allen. "It was just a very different type of movement and activity and way of thinking than I'm normally used to."
In the end, though, the workshops were fun — and inspiring. Watching ReMalia prompt participants through movement — in a way that was thoughtful but also organic — got him thinking about how to facilitate better conversations in his own classes and seminars. Now Allen and ReMalia are exploring ways that they might work together in his ecology class this spring.
"What would it mean for a choreographer to come in and teach one of my classes?" Allen wondered. "What would I want to get out of that? What would the students get out of that?" He doesn't know the answers yet, but he has a sense that it could be a fruitful experiment.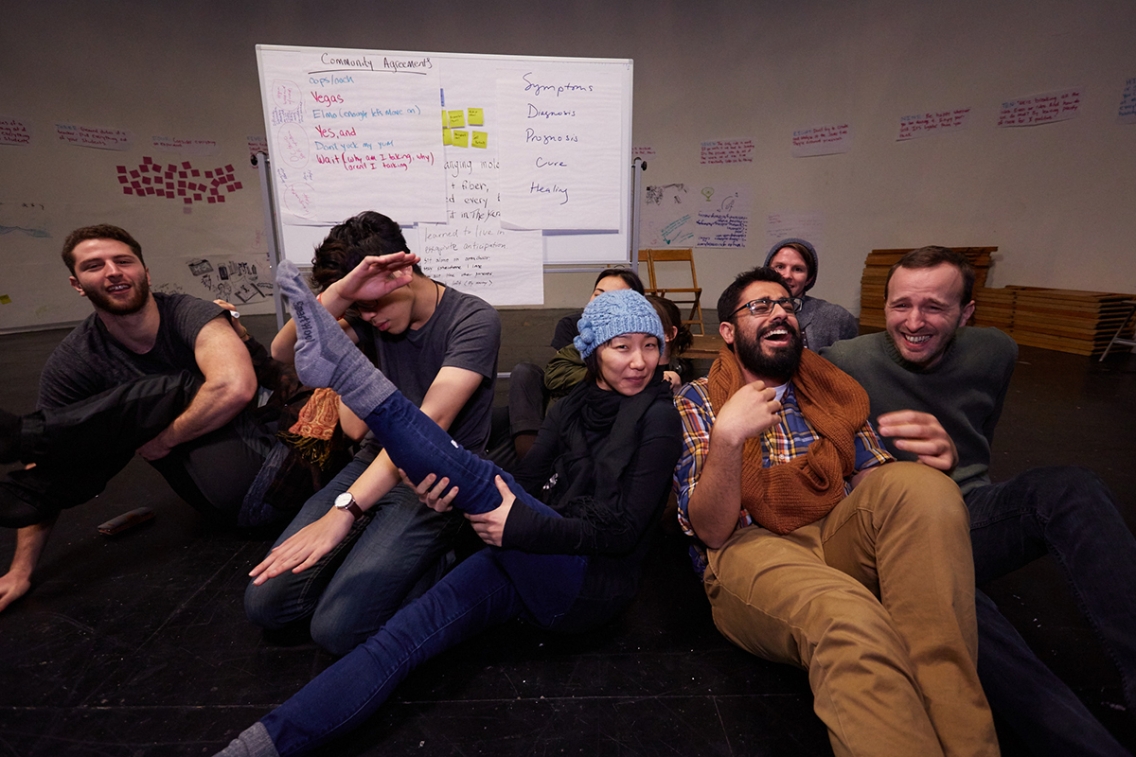 Students in a winter-term course led by choreographer-in-residence Maree ReMalia.
ReMalia was chosen as the Andrew W. Mellon interdisciplinary choreographer in 2015 from among nearly 100 applicants. "She's like a tiny force of nature," said Shannon Bohler, Middlebury's arts events manager. ReMalia is soft spoken and petite, and yet, Bohler said, "She has a way of working and collaborating with people that allows them to try things, to do things in a way they've never done, or that they never thought they could do."
That strikes Bohler as particularly important on a campus where high-achieving students might sometimes be too focused on finding the "right" answer or the "right" path. ReMalia's approach to movement, Bohler said, is a reminder that "it's OK to experiment, and it's OK to try things and not know where you're going."
For veteran dancers and newcomers alike, "there's always a little bit of discomfort" that comes from that kind of experimentation, said Andrew Pester '17, a senior dance major and one of ReMalia's research assistants on the Movement Matters project. But in Pester's experience as a dancer, and in working with ReMalia, the discomfort gives way to discovery. "There's a moment when you have to take a second, breathe, and trust that the movement is going to teach you something," Pester said. "That is definitely a hard thing to do, but the thing is, it happens."
ReMalia says that many of the students, faculty, and staff with whom she's worked appreciate the excuse to "move without thinking — to try and release the editor." From her workshops to classroom collaborations, she's interested in bringing new perspectives to that which might otherwise feel familiar.
Movement Matters, she said, has been in part about both "having a space to play," and creating a framework for exploring sometimes disparate seeming connections. What are the connections between movement and institutional racism? Between movement and education? Between movement and the environment?
"I would really, really appreciate that sense of collaboration to continue on this campus," said Pester. He's marveled at what happens when dance collides with architecture, or education, or science. Simply put, he said, "You can do so much more with others than you can do just by yourself."
By Kathryn Flagg; Photos by Todd Balfour