Middlebury's 94th Winter Carnival, February 16-19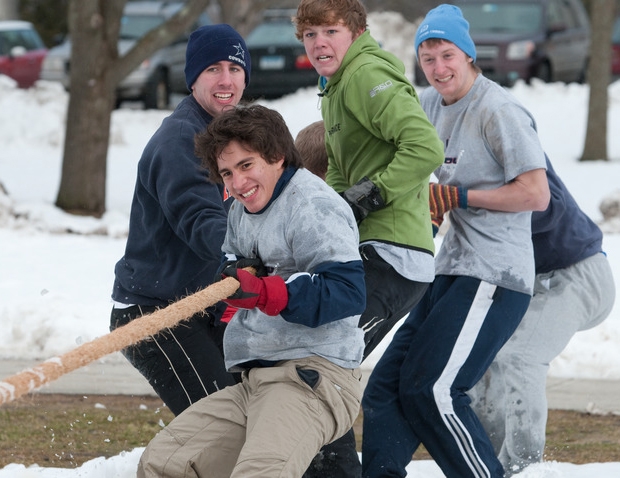 MIDDLEBURY, Vt. – With more than a foot of freshly-fallen snow on the ground and favorable weather in the forecast, Middlebury's 94nd annual Winter Carnival, February 16-19, promises to be a weekend filled with fun and excitement.
Co-chairs Christine Urquhart '17 and Hannah Morrissey '18 are excited about the abundant snow and are hoping to build on the success of last year's carnival.
"Unique to this year's festivities will be a live performance by Quinn XCII in memory of Murphy Roberts '17," said Urquhart. "We are also excited to announce our space theme and lower ticket prices in hopes of having a more inclusive event as we continue this original and wonderful Middlebury tradition."
Sponsored by the Middlebury College Activities Board, Winter Carnival 2017 will open on Thursday night, February 16, at 8 p.m. with a bonfire and fireworks display on the quad adjacent to Ross Residence Hall. Later on, the a capella ensembles Bobolinks and Mamajamas will perform from 10 to 11 p.m. in Crossroads Café.
A busy schedule of Winter Carnival events is planned for Friday, February 17, and, in keeping with the Middlebury tradition, there are no classes on that day. Starting at noon there will be broomball and other games in Kenyon Arena, and from 4:30 to 6 p.m. old Winter Carnival footage will be shown and hot cocoa served in Crossroads Café.
This year's carnival theme is "Outer Space" and the Free Friday Film will be "Space Jam" at 6 p.m. in Dana Auditorium. Next, Wilson Hall will be the site for a comedy show from 9 to 10 p.m. featuring Otter Nonsense and Middlebrow. Friday's events will conclude at the Marquis Theatre on Main Street with a Space Jam Party open to students from 10 p.m. to 1 a.m.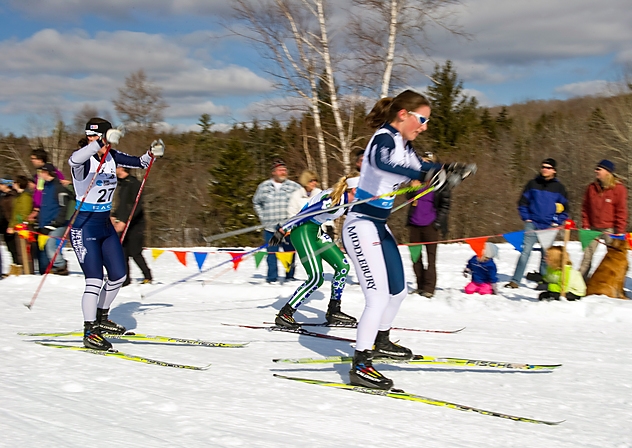 Middlebury takes the lead in a cross-country ski race at Rikert Nordic Center. (Click on photo to enlarge.)
Middlebury's men's and women's Alpine and Nordic ski teams will host the best intercollegiate racers in the East on both Friday and Saturday, February 17 and 18, at the Middlebury Snow Bowl and Rikert Ski Areas. Teams from Dartmouth, UVM, UNH, and other Eastern powerhouses are expected to compete. Middlebury will run free buses from campus both days to generate enthusiasm for Middlebury's varsity skiers.
The Winter Carnival Ice Show will take place on Saturday at 4 p.m. and Sunday at 2 p.m. in Kenyon Arena featuring skaters of all ages and abilities, including nationally competitive guest skaters, in a music-filled event hosted by the Middlebury College Figure Skating Club. Tickets may be purchased from the online box office or at the door.
Solo artist Quinn XCII will be the headline performer at this year's Winter Carnival Ball in Nelson Recreation Center starting at 10 p.m. on Saturday and going until the wee hours of the morning. For tickets to the Winter Carnival Ball, go to the online box office.
Middlebury College's Winter Carnival dates back to February 1920 and is believed to be the oldest collegiate winter carnival in the country. It has been presented in its current format since 1934 when, according to historian David Stameshkin, skiing and ski-jumping events took on place on Chipman Hill, and snowshoe and obstacle races were held on Storrs Avenue.
Originally called Winter Holiday at Middlebury, over the years the occasion has featured hockey games, skating shows, snow sculpture competitions, and two all-college dances including the formal Carnival Ball and the informal (and now defunct) Klondike Rush.