Middlebury College Admits 1,753 to the Class of 2021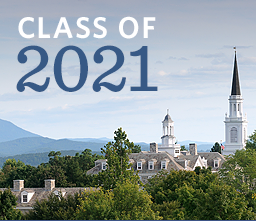 MIDDLEBURY, Vt. – Middlebury College has offered admission to 1,350 students in its regular decision round for the Class of 2021. That brought the total number of admitted students this year to 1,753, which includes 403 students who were admitted through the College's early decision rounds in December and early February. In all, this year's accepted students were selected from among 8,910 applicants, the third largest number in the College's history. This year, Middlebury admitted 16.7 percent of its regular decision applicants. The overall acceptance rate, including the early decisions rounds, was 19.7 percent.
"We are pleased that so many bright and accomplished high school seniors are interested in the liberal arts education that Middlebury provides," said Dean of Admissions Greg Buckles. "Our pool of admitted students is as strong as ever, with excellent records in academics and extracurricular activities."
According to Manuel Carballo, director of admissions, there was a 14.7 percent increase in admitted students of color. Carballo also noted that Middlebury saw an 8.5 percent uptick in international applicants.
The students accepted to the Middlebury College Class of 2021 are from 49 states (all except North Dakota), Washington, D.C., Puerto Rico, and 66 countries. The five states with the most admitted students are, in order: New York, California, Massachusetts, Connecticut, and New Jersey.
Middlebury expects to enroll about 605 students in September 2017 and another 100 in February 2018 as members of the Class of 2021. The College will award about $12.5 million in need-based financial aid to the class, with more than 40 percent of the students receiving support.
Students learned of their admission by logging onto a special website starting at 8 a.m. Eastern Time on Saturday, March 18. The College mailed letters to their homes on Friday, March 17.
Middlebury will provide admitted students with an opportunity to learn more about the College during Campus Preview Days on April 17-19, when those accepted through regular decision are invited to come to campus, take part in various events, and meet current students and faculty.
Admitted students have until May 1 to accept Middlebury's offer.