Middlebury Students Help High Schoolers Navigate Admissions Process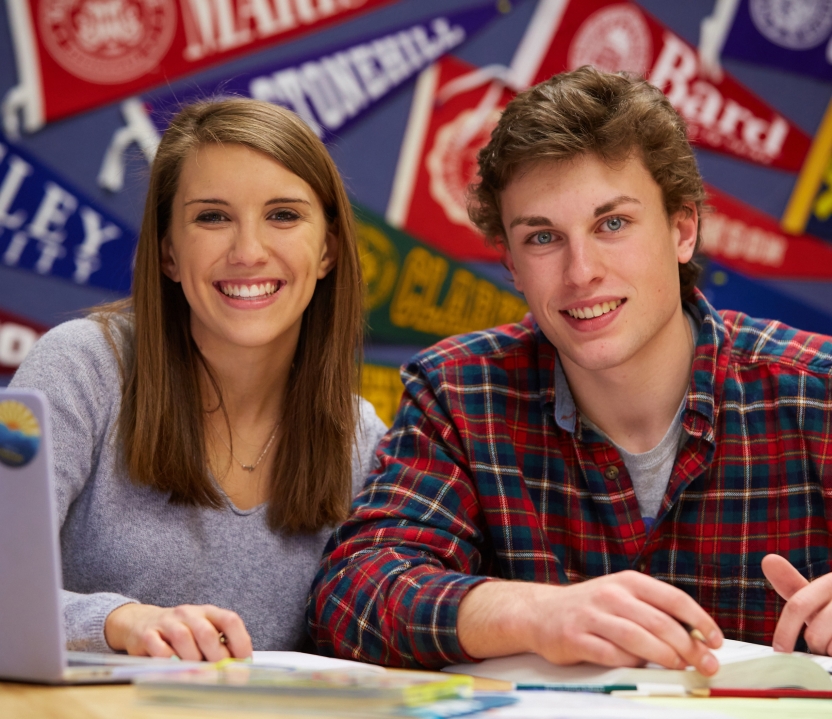 MIDDLEBURY, Vt. – For most Middlebury College students, arriving on campus means that the hard work of navigating college admissions is, at long last, over. But for some students, it's only a matter of time before they're revisiting the application process—this time not as applicants, but as volunteers with Middlebury College Access Mentors, or MiddCAM, a student-led program advised by the College's Center for Community Engagement.
The program partners Middlebury College students with high school juniors at Middlebury Union High School, with initial priority given to first generation or low-income college applicants. The goal is to help students navigate the sometimes-overwhelming path to college with the help of a mentor who is only a few years removed from the process.
The latest crop of mentors and high school students—19 pairs in all—met for the first time on a recent school day morning, as students began to fill the halls at MUHS. The high school students trickled in, dropping their backpacks and shedding coats. On a nearby wall, a map of the United States displayed names and locations for college acceptances for current high school seniors.
The high schoolers in the room on this morning were juniors, still a year removed from any college acceptance letters. They'd come to meet the Middlebury College mentors who will help them make decisions and tackle applications in the year ahead.
Once the College students arrived, breakfast treats in hand, Meg Poterba '17 began announcing the mentorship matches. "You want to get some food and we can go chill?" one college student asked a high schooler. Soon, pairs had retreated into offices and onto couches, others sprawling out on the floor of the guidance office.
"Mentor, mentee success story right here," said Poterba, whose mentee from the previous year—now a college-bound senior—stopped by to say hello. She asked about his classes, he asked about her job search, and the two caught up while new pairs around them got to know each other.
Poterba, MiddCAM's co-president, mentored two students during her time at Middlebury, and saw her role as "being able to be a friend and a resource" to the younger students. She enjoyed tapping into the community beyond the Middlebury College campus.
Mentors and high school students work together for more than a year, often meeting weekly to talk about standardized testing, prospective schools, complicated financial aid forms, or personal statements. The college students receive training in admissions work from both the College admissions staff and the MUHS guidance counseling team, and undergo background checks before being approved to work with students.
MiddCAM's roots date back to 2013, when Steve Zatarain '15 and classmates Megan Ernst and Jessica Kong were studying critical race theory in a J-term class. The students found themselves particularly interested in the issues around college access: who is able to apply, what barriers keep students from attending college, and what support is necessary to help break down those barriers.
"What we really wanted to do was provide literacy around college access, primarily targeting individuals who don't necessarily have the resources or the background that normally lead to effectively navigating the college system," said Zatarain.
From that goal grew a partnership between MiddCAM and MUHS. Zatarain's own first year as a mentor was a powerful one, he said. Meeting on weekends, he helped shepherd a local student through the college application process—talking through logistics, having honest conversations that the student didn't necessarily want to have with his own parents, and thinking about the road ahead.
Zatarain was the first member of his family to graduate from college, and benefited from having a mentor in high school himself. "It was really great being able to replicate those conversations now, being on the other side of the conversation," he said.
MUHS school guidance counselor Erin Dufault said the fact that the college students are that much closer in age to the high schoolers than parents or traditional guidance counselors adds another perspective to the college application process. Plus, establishing a relationship with a college mentor means that high schoolers get a sneak peek at college life; while they may have driven past the Middlebury College campus every day of their lives, they may not have had the experience of sitting in a college snack bar or attending a basketball game.
"The students realize, 'Wow, I can be that. Hey, that could be me,'" said Dufault.
Reporting by Kathryn Flagg '08, photo by Todd Balfour
For More Information