Middlebury Students Join BOLD Women's Leadership Network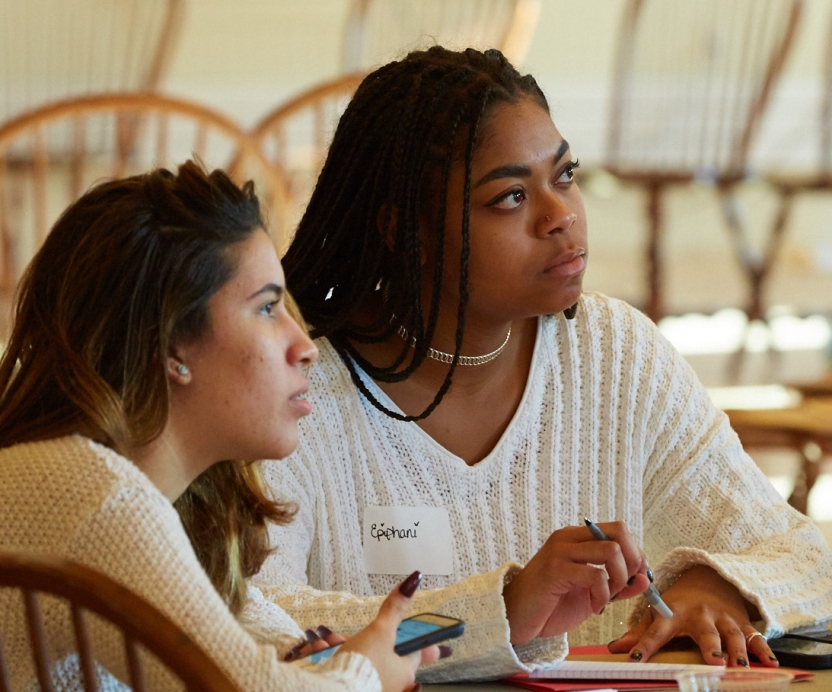 MIDDLEBURY, Vt. – Ten Middlebury students have joined a new national program of female scholars through the BOLD Women's Leadership Network. The Middlebury group is part of a national cohort that includes students from Smith College, California State–Fullerton, and Rutgers University–Newark. Members of the first class of BOLD scholars, 40 in total, are each eligible for up to $25,000 in scholarships annually along with important mentoring and leadership training opportunities.
The four BOLD campuses have launched the two-year pilot program that aims to sustain new opportunities, relationships, and experiences for young women leaders. The initiative also strengthens their collective ability to effect positive social change on their campuses.
BOLD scholars, at their first retreat at Bread Loaf in January, discussed ideas about an organizational mission statement.
Nationally, BOLD scholars will benefit from the cultivation of an intergenerational support network of BOLD students, staff, college administrators and presidents, as well as professional women leaders from diverse backgrounds and sectors. This community will gather for a summit in fall 2017 focused on women's leadership and equity.
Founded by Shirley M. Collado, executive vice chancellor and chief operating officer at Rutgers University–Newark, the BOLD Women's Leadership Network is funded by The Pussycat Foundation, a private foundation established to honor Helen Gurley Brown, the longtime editor of Cosmopolitan magazine. Upon graduation, each woman will be eligible to apply for a "Helen Gurley Brown Fellowship" to fund employment at an organization that embodies BOLD's values.
"The vision of BOLD is a critical opportunity to impact and honor college women and give them the space to stand firm in their authentic selves as they develop as leaders, cultivate the courage to embrace difference and push for dialogue as a tool for growth, says Collado, who formerly served as Middlebury's vice president for student life and dean of the college. "In the spirit of Helen Gurley Brown's life, BOLD Scholars can be visionary in their efforts to transform themselves and their communities for the better."
Middlebury's first class of BOLD scholars includes:
Nyimas Amirah Fauzi, a psychology major from Athens, Ohio; Tania Flores, a psychology major minoring in education studies from Gary, Indiana; Kizzy Kimberly Joseph, an American studies major with a concentration in race and ethnicity from Brooklyn, New York; Sarah Meher Karerat, a joint gender, sexuality and feminist studies and history major, minoring in theatre, from India, Saudi Arabia, and Maryland; Yuliana Lopez, a molecular biology and biochemistry major, minoring in global health, from Chicago, Illinois; Ojaswi Pandey, an economics, pre-medicine track major from Greenbelt, Maryland; Eliza Renner, a theatre major from Atlanta, Georgia; Emilie Marie Seavey, a conservation biology major from Orono, Maine; Quincy Dereka Simmons, a theatre major from Brooklyn, New York; and Trisha Singh, a math and economics major from New Delhi, India.
.
Photos by Todd Balfour
For More Information