NER Out Loud Features Student Literary Readings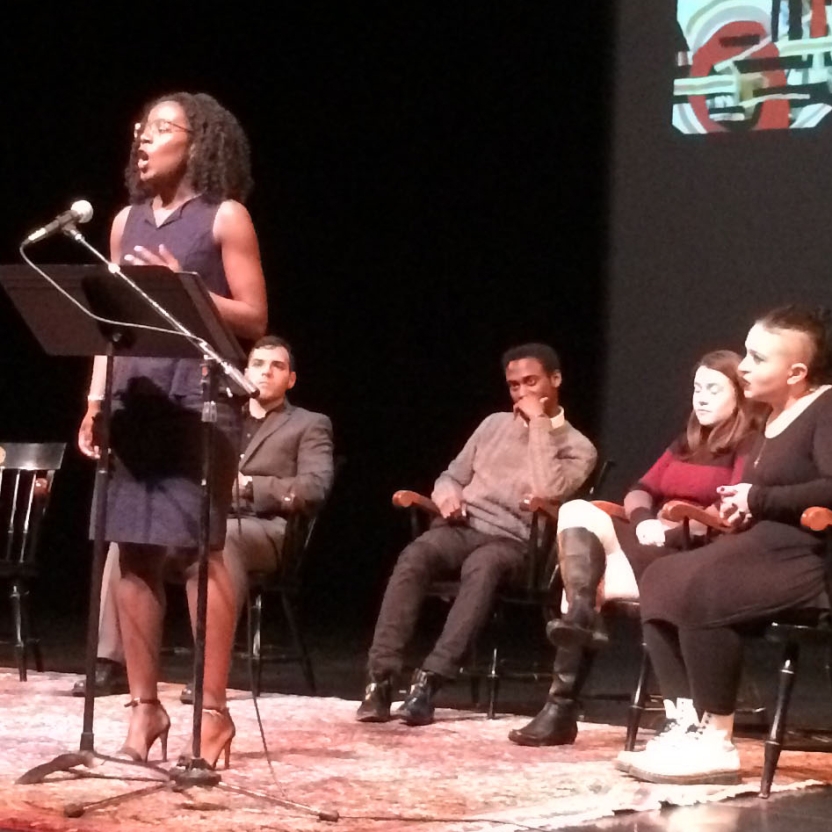 Six students from the student group Oratory Now lit up the stage at Middlebury's Dance Theatre on Friday, February 24, with readings of poems and prose from the New England Review. Gathered for the annual NER Out Loud event, the students gave readings that are now available as recordings on the NER website.
After the program, the audience gathered in Mahaney Center for the Arts lobby for more readings and a reception, where they browsed copies of NER plus three student publications—Blackbird, Frame, and Translingual—and heard another 10 students read their own work from those magazines.
Students readers from Oratory Now were Josh Espy '17, reading Maciej Milkowski's "The Week of German Cinema," Ellen Colton '19, reading Alison Stagner's "Midnight," Steven Medina '17, reading Alex McElroy's "Endure," Nia Robinson '19, reading Franny Choi's "The Price of Rain," Melanie Rivera '19, reading Alia Volz's "Chasing Arrows," and Jabari Matthew '17, reading Cortney Lamar Charleston's "Still Life with Young Black Woman's Face Etched into a School Desk." Eliza Goodhue added her riveting kinetic interpretations of all the readings in American Sign Language. All selections presented by Oratory Now were originally published by New England Review in 2016.
At the "S'more Readings" reception (the campfire treat is served at the event), NER intern Matthew Blake '17 welcomed the student magazines and readers. Middlebury students edit and publish a wide range of literary magazines each year. Blackbird is a literary arts magazine presenting fiction, poetry, and artwork by students. Frame is a handmade staple-bound booklet featuring highlights from a student-led creative writing workshop. Translingual offers translations by Middlebury students of their own writing, and writing by others, in multiple languages.
Student readers from Translingual included Ariana Hernandez '19, Jeff Holland '19, Bernardo Andrade '18, Kian Waddell '19, and Tamri Matiashvili '18. Each student from Translingual read their pieces in the original and in translation. Persian, Georgian, and Portuguese were among the languages heard by the packed crowd of students and community members who stayed for the reception. From Blackbird Jordana Solomon '20, Maria Bobbitt-Chertock '20, and Matthew Blake '17 read their work. Elana Schrager '17 and Daria Cenedella'18 read poems from their work as members of Frame.
For more about NER Out Loud, visit the New England Review website.