New Middlebury Podcast Explores Life's Unexpected Turns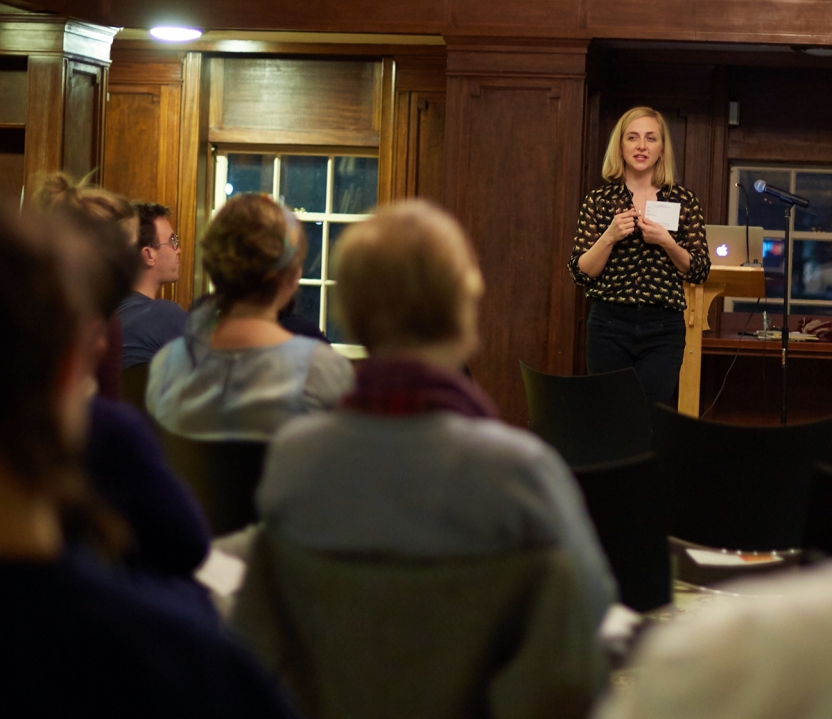 MIDDLEBURY, Vt. – What do you do when you lose a job? When a spouse dies? When anxiety kicks in? What happens when you achieve what you set out to achieve — and realize it's not actually what you wanted?
Those are the kinds of questions upon which Middlebury College students, faculty, staff, alumni, and special guests reflect in the new podcast series "It's Not What You Think," a show about the unexpected twists and turns that life throws our way. Narrated and produced by Professor of the Practice Erin Davis, the podcast is the latest offshoot of a speaker series of the same name that began in 2016. Both tie into broader programming at the College designed to encourage resiliency, well-being, and grit among students.
The idea from the start, said Assistant Professor of American Studies Rachael Joo, was to focus on these questions of "how do you manage change — radical change — and unexpected circumstances that throw you off this linear trajectory of success."
Joo launched the speaker series more than a year ago, and reached out to Davis with the idea of expanding the talks into a podcast. Together, they introduced the new venture, which is available for download on iTunes, to an audience at in the Abernethy Room of the Axinn Center on a February evening.
During the live event Davis narrated the podcast in real time — a mash-up of radio story and public performance. The first episode features Brandon Hawkins '11, who initially shared his story during one of the live "It's Not What You Think" events. He'd been at the top of his class in high school, but at Middlebury, found himself struggling to keep up. He went on to teach with Teach for America in Mississippi, and then enroll in law school.
Through all of this, Hawkins found this piece of wisdom: "When we compare ourselves to other people, we really do a disservice to ourselves," said Hawkins, "because what we're doing is devaluing our story and our strength. … I have learned to stay in my own lane, and make my own path. "
Davis will release new podcasts periodically, with six episodes on the docket so far. Some, like the Hawkins episode, feature recordings of live events; others will feature new storytellers sharing their tales for the first time. Additionally, the INWYT channel will link to more programs, podcasts, and media that explore questions of resilience and managing change.
In future episodes, a young alum shares a story of coping with anxiety. Faculty open up about devastating diagnoses and tragedies in their own lives. The idea, Davis says in the final moments of the podcast, is to highlight stories that show "success is not a straight line from awesome to awesomer." Life is full of messy, and unexpected, twists and turns.
In short: It's not what you think.
The speaker series and podcast are just one small part of an overarching effort at Middlebury to encourage resilience among students, faculty, and staff. Spurred on by tragedy — a sophomore student's suicide on campus in 2015 — students and administrators alike have been looking for ways to address student stress and bolster individuals' sense of well-being.
It's played out in a number of ways: The College increased its counseling staff, adding three graduate interns and two graduate fellows to grow capacity. New mindfulness initiatives include increased yoga classes on campus and workshops on guided meditation. This spring the Center for Health and Wellness launched a six-week workshop called "Growing Resilience," designed to help participants identify passions, manage stress, and enhance grit.
"It's really about options," and providing an opportunity to observe and reflect upon the intensity of students' lives at Middlebury, said Vice President for Student Affairs and Dean of the College Katy Smith Abbott. The idea behind many of the resilience efforts is to provide "an invitation to explore and create a life that feels sustainable, one that feels meaningful, one in which you can see yourself flourishing rather than surviving."
In the case of "It's Not What You Think," the resilience initiatives also aim to peel back a veil of perfectionism or effortless success. In that way, it's similar to the student-led Resilience Project, an initiative that asked others to answer the question, "What's the hardest thing you've ever done?" The collection of stories shone a light on depression, anxiety, suicidal thoughts, family trauma, and struggles that might otherwise have gone unnoticed in, as Smith Abbott put it, "an environment where people often feel the need to present a mask of perfection."
In expanding "It's Not What You Think" to a podcast, Joo and Davis hope to reach more listeners, and encourage more storytellers — particularly those who might be put off by public speaking.
"I hope that someone who listens to it, no matter how old they are, is reminded that our flaws are the most interesting parts about us," said Davis. "We especially in the Middlebury community get very caught up in the day to day of executing tasks and fulfilling obligations and doing our best to be our best, and it can be very disorienting when we don't meet our expectations. I hope that hearing these kinds of stories reminds us to be more gentle with ourselves."
Subscribe to It's Not What You Think at iTunes, and learn more at http://middcast.middcreate.net/inwyt/.